Easy No Bake Nutella Cookies Recipe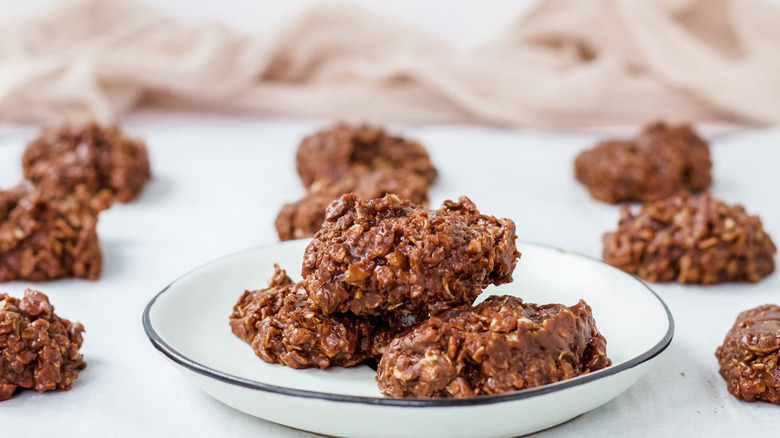 Jaime Bachtell-Shelbert/Mashed
No-bake cookies are an extremely popular dessert choice for a variety of reasons. Some people like them because most of the time, they are pretty easy to prepare. Others who may not like spending a lot of time cooking in the kitchen find no-bake cookies a happy medium. And then there are those who enjoy how no-bake cookies taste. Whatever your thoughts may be on the subject, if you love traditional no-bake chocolate cookies, you will completely love these easy no-bake Nutella cookies from recipe developer Jaime Bachtell-Shelbert. Shelbert says this recipe adds a hazelnut chocolate twist to the classic versions of no-bake cookies. In the end, it comes down to a personal preference between peanut butter or its hazelnut flavored counterpart, but one thing's for sure: Nutella lovers are sure to go nuts for them.
Not only will these yummy bites taste delicious, but they will make a great presentation on a platter. You should get around 22 cookies from making this recipe. While that number may sound like plenty of bite-sized snacks, be forewarned. It's quite possible that your batch of no-bake Nutella cookies may not last long because they are so delicious. Whether they hang around for a few hours or a few days, you can bet these sweet treats will be a big hit among family and friends. The recipe will definitely be one you will pull out and prepare time and time again. They're great with milk or a cup of your favorite tea.
Gather the ingredients to prepare these no-bake Nutella cookies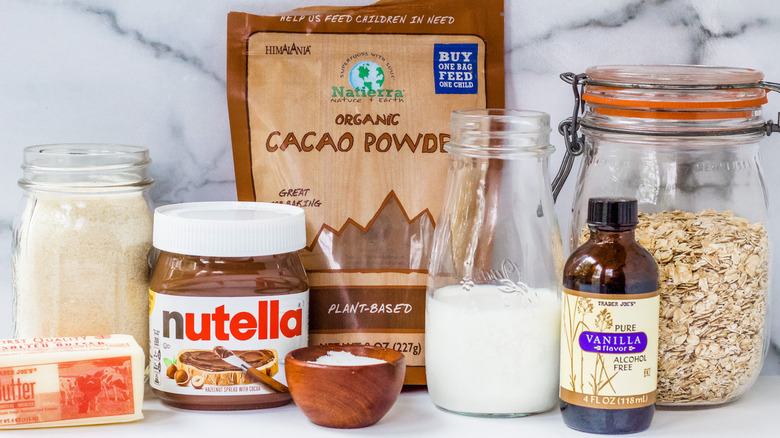 Jaime Bachtell-Shelbert/Mashed
Nutella is a really tasteful and fun ingredient to include in any cookie. If you're a major fan of Nutella, it's likely you might already have some in your pantry, along with the other basic ingredients you will need to prepare this quick recipe. Quick cooking oats provide the biggest part of these cookies, and you will need 2 ½ cups of them. In addition, you'll need 1 cup of Nutella and 1 cup of sugar. One stick of butter adds richness to the cookies, and cacao adds a rich chocolatey flavor. This recipe also calls for ½ cup of milk, 2 teaspoons of vanilla, and a pinch of salt. Pull it all together on your counter so you can get started. After all, the sooner you make these treats, the sooner you can eat and enjoy them.
Prepare the cookie sheets, and combine the base for the cookies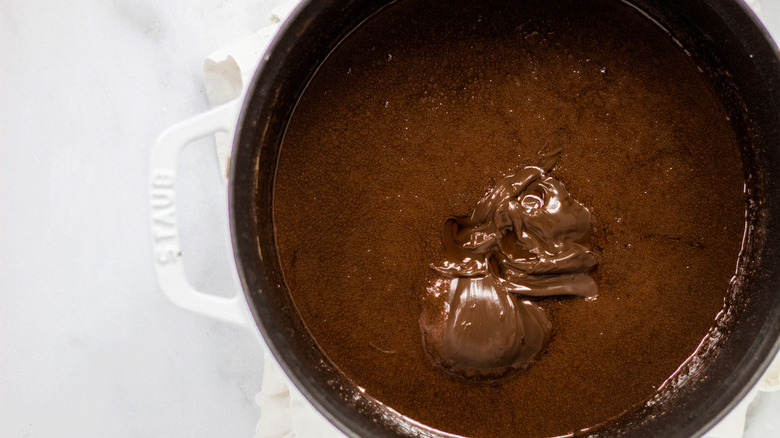 Jaime Bachtell-Shelbert/Mashed
You'll want to get your cookie sheets ready to put the cookies on, so go ahead and line them with wax paper, and keep the sheets on your counter. 
The next step in the process will be to blend the base for the cookies. To do this, mix the butter, sugar, almond milk, and cacao powder together in a saucepan over medium heat on the stove. Mix it well, and bring the mixture to a boil. Let it boil for one minute before removing it from the heat. Things are going to smell pretty good right about now.
Add the remaining ingredients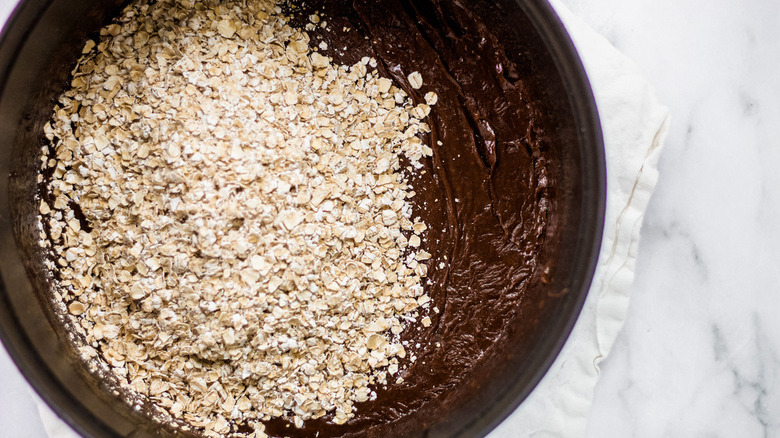 Jaime Bachtell-Shelbert/Mashed
The next step is to add the Nutella and vanilla to the mixture. Be sure to stir everything really well until the ingredients are thoroughly combined. After all, everyone will want to taste a bit of Nutella in every bite. 
Then, after the mixture is well-blended, fold in the oats and salt. You will want to be sure the oats get completely covered with the mixture. You should plan on using an extra bit of elbow grease while blending in this step to ensure that the batter is mixed well, but the effort will be worth it in the end result.
Spoon the cookies on the wax paper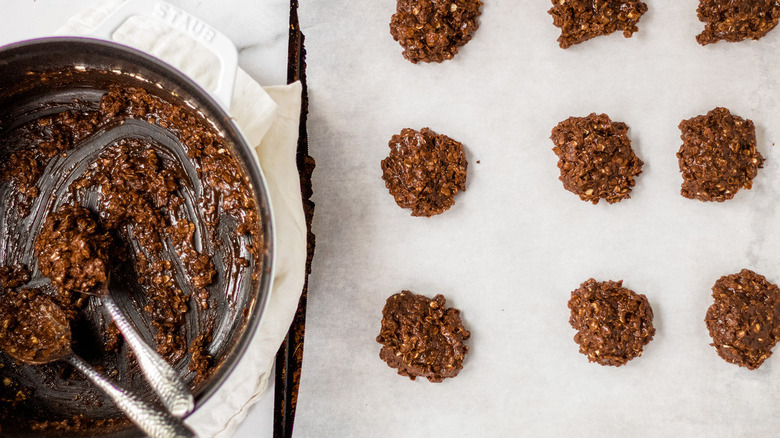 Jaime Bachtell-Shelbert/Mashed
Be excited, because you're almost done with preparing your Nutella cookie recipe! The next phase will be to spoon out the cookies on the baking trays you previously covered with wax paper. Use a tablespoon to scoop up some of the batter. Scrape the batter off of the spoon with a second spoon, and continue the process. You should space each of the cookies a couple of inches apart from one another. Keep on scooping and scraping until you're out of dough, and this step will go by pretty quickly.
Allow the cookies to set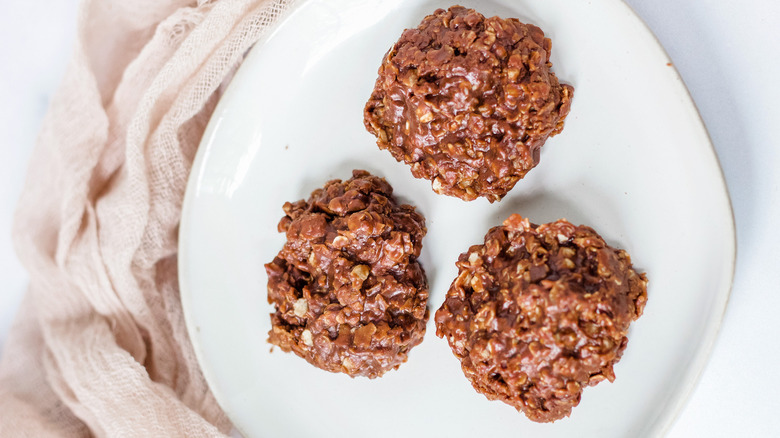 Jaime Bachtell-Shelbert/Mashed
Now comes the hardest part of the recipe: waiting for the cookies to set. Try to be disciplined! We know it will be difficult, but you'll want to let your cookies cool for about 30 minutes. Some people like eating the cookies while they are still warm. Others can't help but eat them right out of the pan. If you can wait, allowing them to cool gives them a chance to harden. 
Once the cookies are ready, you can store what's leftover at room temperature or in the refrigerator. You can even make these cookies ahead of time and freeze them, but make sure you give them time to thaw before serving, if you do. It's so convenient to have some in the freezer to pull out on an unplanned movie night or when you have unexpected guests. Our guess is that there won't be any leftovers to store, because they're just that tasty. But good luck with that.
Pull out a platter deserving of these scrumptious delights, and enjoy how they look before everyone finds out they're ready to eat!
Easy No Bake Nutella Cookies Recipe
If you love traditional no-bake chocolate cookies, you will completely love these easy no-bake Nutella cookies.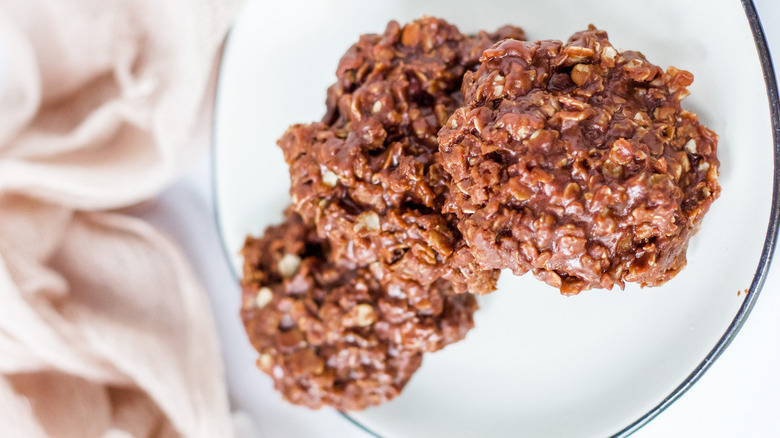 Ingredients
8 tablespoons butter
1 cup sugar
½ cup almond milk
¼ cup cacao powder
1 cup Nutella
2 teaspoons vanilla
2 ½ cups quick cooking oats
pinch of salt
Directions
Line two cookie sheets with parchment paper, wax paper, or a silpat baking mat.
Combine the butter, sugar, almond milk, and cacao powder in a saucepan over medium heat. Bring the ingredients to a boil, and boil for 1 minute. Then, remove pan from the heat.
Add the Nutella and vanilla to the pan, and stir well to combine.
Fold in the oats and salt, coating the oats completely.
Using two spoons, drop the batter into cookie mounds onto the prepared baking sheets.
Allow the cookies to set for 30 minutes before eating. Store in the refrigerator.
Nutrition
| | |
| --- | --- |
| Calories per Serving | 218 |
| Total Fat | 9.6 g |
| Saturated Fat | 6.8 g |
| Trans Fat | 0.2 g |
| Cholesterol | 11.1 mg |
| | |
| --- | --- |
| Total Carbohydrates | 29.9 g |
| Dietary Fiber | 3.0 g |
| Total Sugars | 16.4 g |
| Sodium | 17.3 mg |
| Protein | 4.0 g |