Lotus Root Pork Rib Soup Recipe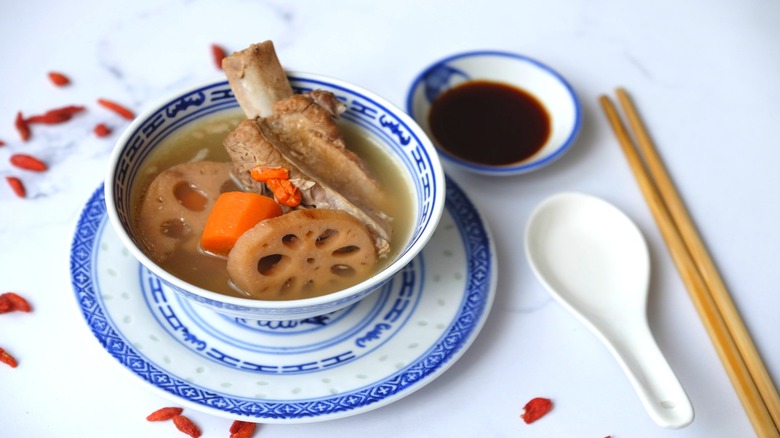 Eric Ngo/Mashed
You may have heard of the Lotus Flowerbomb fragrance, but have you ever heard of the flavorful lotus root? This starchy rhizome is inviting and palatable when soaked in wine broth with veggies and succulent pork ribs. We wanted to impart this warm array of Asian inspiration right to you. Eric Ngo, recipe developer and food photographer of Frenchie the Toast, re-imagined this customary clear soup for us. In Chinese Cantonese (Ngo's native tongue), the soup is called "Lin Ngau Jyu Gwat Tong," and it will be sure to the spot every time you prepare it. 

According to Umami Insider, lotus root is chock full of vitamins and minerals, making it a popular ingredient used in healthy dishes throughout East Asia. This aquatic root is known to boost heart health, enhance the immune system, and it has natural doses of Vitamin B that is great for relaxation. Our steaming lotus soup with ginger and carrots will give you that warm, fuzzy feeling of calm after a long workday. Soup recipes are always comforting to have on hand, especially when the weather is rainy or chilly. We are sure you'll put this dish together with complete ease and relish every moment of serving it to your family. It will be a favorite that you will definitely want to make again, so you can easily take it out and serve it up for dinner on a rushed weeknight.
So, let's get started making this lotus root pork rib soup!
Compile the ingredients to prepare lotus root pork rib soup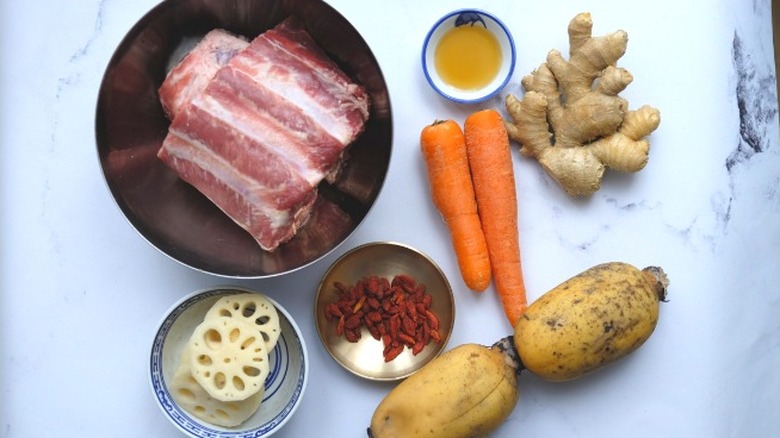 Eric Ngo/Mashed
The shopping list is pretty short for this steamy stew. All you'll need to get together will be pork ribs, lotus roots, carrots, a cluster of ginger, water, and cooking wine. You'll most likely have several of these items in your kitchen already. Most of your veggies will need to be peeled and cut, but we'll get to that in the next step.
Altogether, your prep time will only take about eight minutes. After the ingredients have come together, the cook time will be four hours, but not to worry — this pot of soup can be set to simmer once most of the work is done, and you can have that time to get other things done or just sit back and relax while its cooking.
Peel and cut the fresh vegetables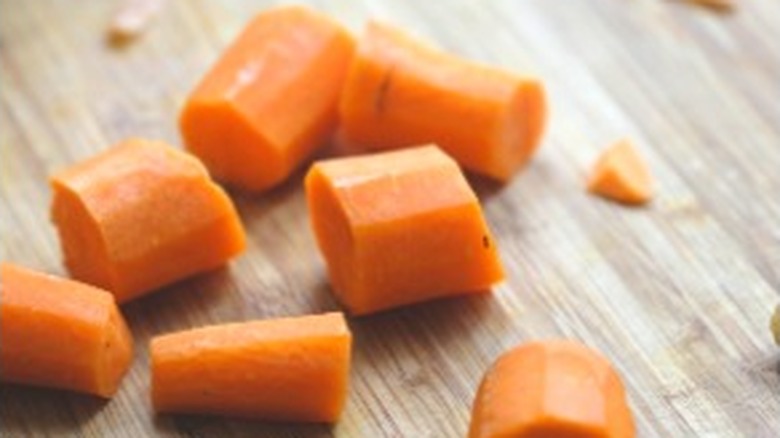 Eric Ngo/Mashed
Now that you have all of your ingredients together, you can get started by peeling two medium-sized carrots, 1 ounce of ginger, and 10 ounces (or two pieces) of lotus root.
When you're done peeling, take your carrots and cut them into large 1-inch chunks. Set the carrot chunks in a bowl to be used later on. Next, go ahead and thinly slice or shave your ginger. The size of the lotus root slices really depend on personal preference. If you want fuller pieces, feel free to cut the root into thick pieces. If your family prefers smaller bites, slice the root thin. For variety, you can even consider varying the sizes of root slices for a different look.
Divide the ribs into pieces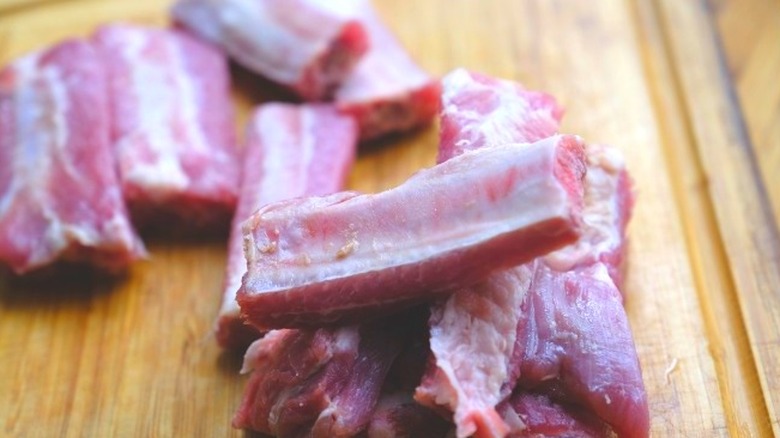 Eric Ngo/Mashed
After the (25 ounces of) pork ribs have been thoroughly washed, using a sharp knife, slice through the meat between each rib bone. This cutting technique makes for stout pieces of juicy rib in each cut.
To accommodate anyone preferring red meat or poultry, Ngo says, "You could substitute the pork ribs for beef ribs, and even a whole chicken." In the case of using a whole chicken, one would simply remove the innards, wash very well, and set aside until the next step is complete.
Boil the pork ribs
Eric Ngo/Mashed
Find yourself a large-sized stockpot, and fill it with just enough water to submerge your ribs. Set the pot on the stove over medium-high heat. Once the water has began to boil, drop in the rib slices. When the ribs hit the water, the water itself will require more heat to boil up again. Keep a close watch on your water, because once it boils again, you'll want to drain the water and place the ribs in a separate bowl.
Fill the pot, and drop all your ingredients in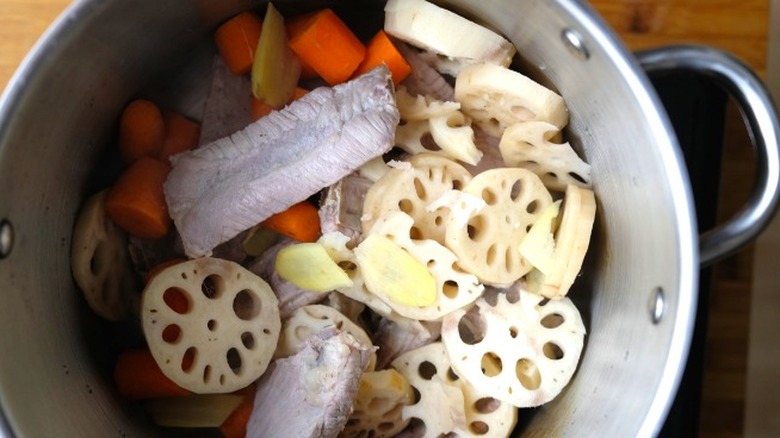 Eric Ngo/Mashed
In the same stockpot, combine the chunky-chopped carrots, slices of lotus, and ginger with the ribs. This time around, you can incorporate 8 full cups of water to cover your ingredients.
Ngo also splashes in 2 tablespoons of Shiaoxing wine for an authentic piquancy. Shiaoxing is traditional rice wine often used in numerous dishes across Asian cuisine. It is optional, however, and can also be substituted for similar liquids such as mirin or dry sherry. To add a non-alcoholic, broth-y flavor to your soup, opt for using chicken broth, vegetable, or beef stock.
Set the pot on high heat, this time for 10 minutes so it boils quickly. Once the stock boils, Ngo mentions to skim off any foam that appears atop the broth. Skimming the foam keeps the stock clear of any build-up. "Not skimming results with tiny bits floating all through the stock, and it can have a distinct and unpleasant off-flavor," Ngo says.
Add the sweet goji berries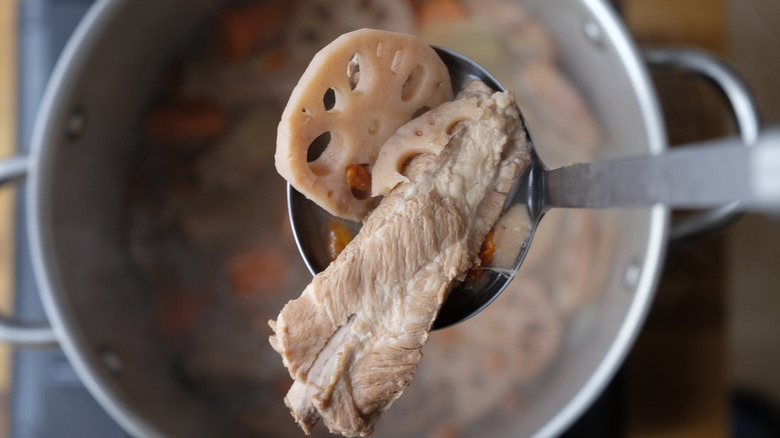 Eric Ngo/Mashed
Now, you're all set to turn your stovetop on low, cover the soup with a lid, and let it simmer. Ngo recommends four hours to cook, or until the rib meat is cooked through. When the ribs are tender, pour in 1 tablespoon of goji berries. "Adding goji berries adds sweetness," Ngo says. "The goji berries are added at the end to prevent them from becoming too soft and falling apart in the soup." Give the berries about 15 minutes to cook in the soup to soften up, and voila! 
Simmer, and serve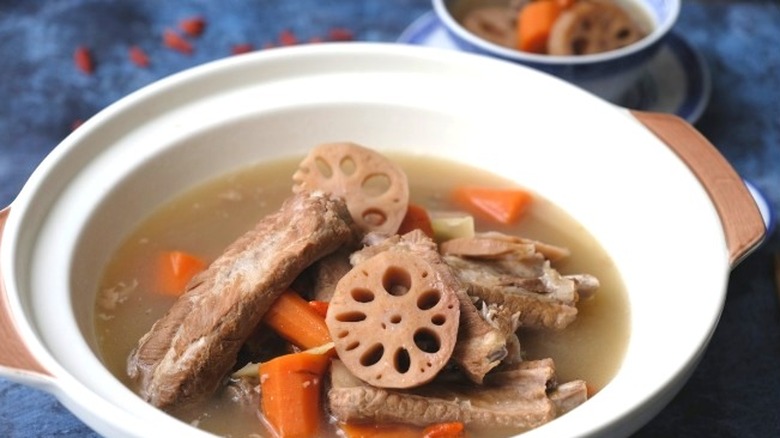 Eric Ngo/Mashed
As far as sides to complement this soup's delicious Asian flavor is concerned, Ngo notes, "I recommend pairing this soup with jasmine rice." This dish is served best when it's steaming hot. After dinner, it will store in the fridge for about two days. Soup is really a meal just in itself, for lunch or for dinner. Any leftovers are easy to stretch for another meal if you don't have a lot left. You can make a side salad to serve along with some buttered rolls or crackers of your choice.
Lotus root pork rib soup is enjoyable anytime, but it is a special dish to have for the Chinese New Year, as the lotus root represents abundance (via Malaysian Chinese Kitchen). May this dish bring your family closer together in abundant joy, as you gather 'round the table to share memories of great food and good times!
Lotus Root Pork Rib Soup Recipe
This lotus root pork rib soup with ginger and carrots will give you that warm, fuzzy feeling of calm after a long workday.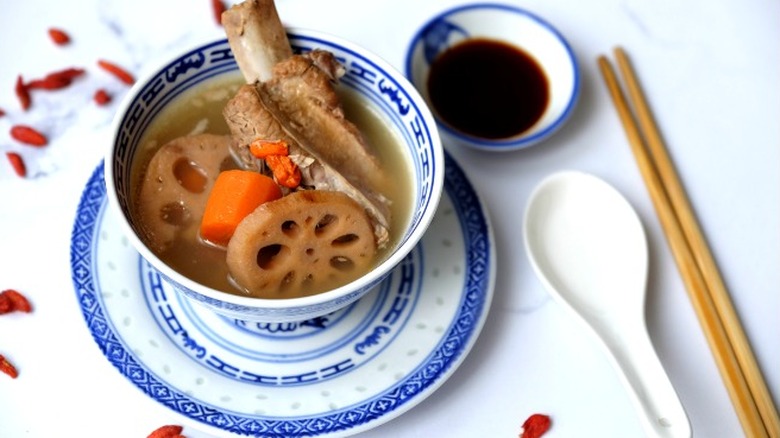 Ingredients
2 medium-sized carrots, peeled and chopped
1 ounce ginger, peeled and chopped
10 ounces (2 pieces) lotus root, peeled and chopped
25 ounces pork ribs, cut
8 cups water
2 tablespoons Shiaoxing wine or white cooking wine
1 tablespoon goji berries
Directions
Peel the carrots, ginger, and lotus root.
Cut the carrots into 1-inch pieces. Then, slice the ginger and lotus.
Cut the pork ribs into individual pieces.
Fill a large pot with water, and bring it to a boil. Once the water boils, add the pork ribs, and bring the water back to a boil.
Once the water comes back to a boil, along with the ribs, pour out the water, and set ribs aside in a bowl.
In the same large pot, add the carrots, lotus, ginger, and ribs. Fill the pot with water until it covers all of the ingredients, about 8 cups of water. Add 2 tablespoons of Shiaoxing wine.
Bring to a boil on high heat for 10 minutes, and skim the foam that appears. Skimming prevents the solids from breaking up and preventing a clear stock.
Lower the heat to low, cover with a lid, and simmer for 4 hours, or until the rib meat is tender.
After 4 hours, add the goji berries, and boil for 15 more minutes.
Add salt and pepper to taste, and enjoy!
Nutrition
| | |
| --- | --- |
| Calories per Serving | 573 |
| Total Fat | 41.7 g |
| Saturated Fat | 13.4 g |
| Trans Fat | 0.4 g |
| Cholesterol | 141.7 mg |
| | |
| --- | --- |
| Total Carbohydrates | 18.6 g |
| Dietary Fiber | 4.8 g |
| Total Sugars | 2.7 g |
| Sodium | 265.1 mg |
| Protein | 30.0 g |