Everything You Need To Know About Bethenny Frankel's New Wine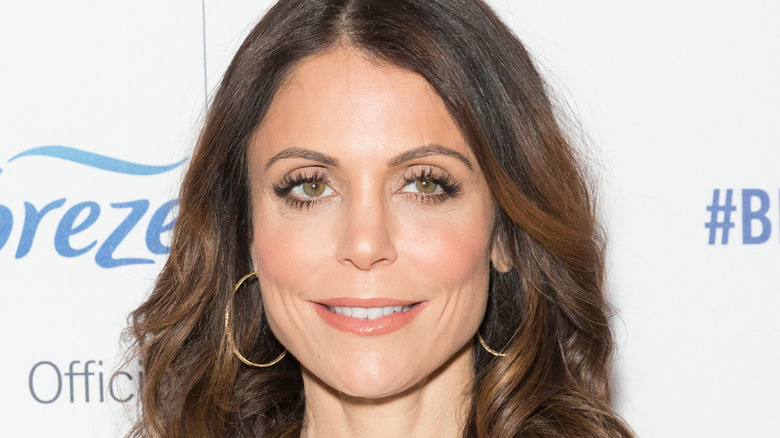 Shutterstock
Bethenny Frankel shook up the wine world when she introduced her flagship low-calorie wine, Skinnygirl Wine, back in 2012 (via Wine Spectator). This "Real Housewives of New York" personality changed the alcohol game with her red, white, and rose wine blends that clocked in at 100 calories per serving and prominently featured the nutritional content as a key advertising point. This product followed her incredibly successful Skinnygirl Margarita, a low calorie margarita that Frankel eventually sold to Jim Beam for $120 million (via The New Yorker). With a track record like this, Frankel has positioned herself to once again take on the world with a new product that has already turned some heads. 
In a recent Instagram post, Frankel waxed nostalgic about her past successes in alcohol branding and announced "it's a whole new world for women, thanks to my little brand that could. I waited until I found another brand and concept that I wanted to call my own. I want to do it again with a new [wine]. I'm 50. I feel great and I, like you, want to be and feel FOREVER YOUNG. In the world of wine, it has become all about marketing and price and no taste. Forever Young wine is absolutely superb. It is next level. Every note is delicious. It is balanced. It is elevated. It is legit. With every sip, you will understand why I entered back into this space."
Can lightning strike twice?
According to People, Frankel's new wine brand, called Forever Young, features a Sauvignon Blanc, Malbec, Cabernet Sauvignon, and a soon-to-be-announced rose. Each bottle should retail between $10.49 and $16.99, with distribution and production handled by hospitality developer Seth Greenberg and Dozortsev & Sons Enterprises. Frankel first teased the new product in her HBO Max show "Big Shot with Bethenny" and the product has steadily gained hype ever since.
If you count yourself as a fan of Frankel's previous alcohol ventures, make sure to keep an eye peeled for this new beverage. The jury's still out on when you can expect to pick up a bottle of this wine for personal enjoyment, so keep your fingers crossed for more news regarding release dates soon. With any luck, you can plan to sip this wine poolside as you soak in some extra sun this summer and enjoy the bold taste of each bottle.