Aldi Shoppers Are Loving These Ramen Bowls
Eating ramen requires a specific set of skills. In order to get the most out of this delicious experience, you have to make sure that you place your soup spoon under your noodles to catch and hold the broth. If that sounds difficult, you also have to figure out how to grab the perfect amount of noodles in each bite, as to avoid twisting the noodles and ensure you pick up some toppings. The right type of bowl can easily make all of these challenges that much easier, and luckily, Aldi has stepped in with a dish for anyone looking to enjoy an optimal ramen experience. 
A Redditor recently discovered that Aldi now sells special ramen bowls, and posted a picture of the find alongside the caption, "Today the Aldi gods have bestowed upon me the gift of ramen bowls. These were a special buy back in January/February and I went all over town searching for them with no success. Today they miraculously reappeared at my local Aldi." Shoppers took notice, and couldn't help but chime in.
Aldi's perfect bowl for ramen lovers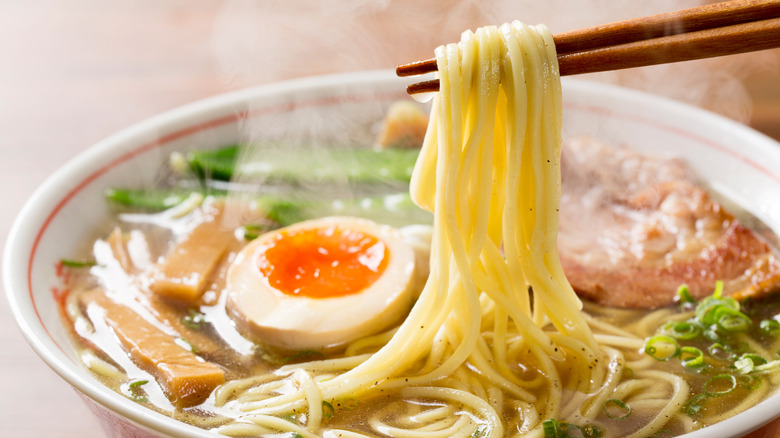 Shutterstock
Envious Aldi fans flooded the post with responses, ranging from "I almost bought one last week. I convinced myself that it was pointless. Now looking at your post, I am starting to regret it. They're so cute and deep!" all the way to "I fill mine with cheesy popcorn and use the chopsticks to eat them on movie night, keeping my fingers clean and my evening classy." Redditors that have already picked up these bowls have taken notice of the quality, stating, "I ended up snagging a second one when i saw them at my local store this week too. they're just... really nice deep bowls. pasta, cereal, whatever, i put them to use pretty often."
If you have always wanted an ideal bowl to slurp ramen out of, make sure to snag a few of these products next time you make your next Aldi run. Whether you end up eating ramen or popcorn out of them, these bowls can easily make any dining experience that much better and you won't regret having them in your life.