3-Ingredient Red Velvet Cake Recipe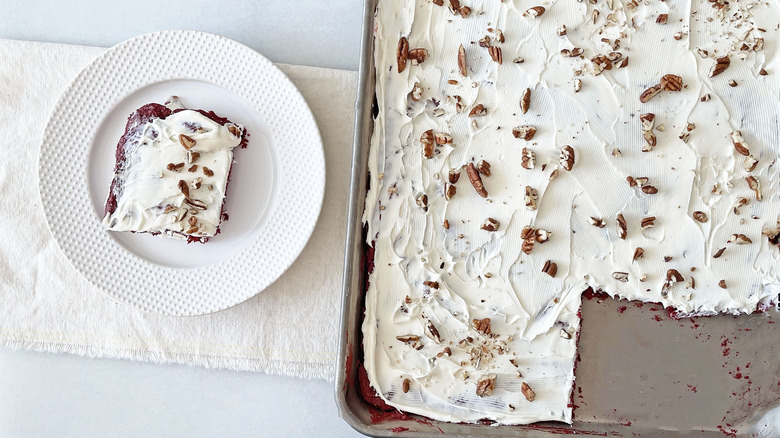 Jason Goldstein/Mashed
Red velvet cake is an American staple. Between its namesake eye-catching color and its tangy cream cheese frosting, there's a whole lot to love. Despite being known as a classic Southern dish, according to Southern Living, historians can't quite pin down exactly where red velvet was invented. They do know, however, that a chemical reaction between acidic vinegar and cocoa powder originally gave it its red color in the era before food dye. In fact, red food coloring did not become a staple in red velvet recipes until World War II, when rations made cocoa scarce, and one business man decided to create a recipe to sell more of his company's food dye. Luckily for him it caught on, and the cake retains its not-so-subtle coloring to this day.
If you love red velvet as much as the next guy, but don't want to spend all day in your kitchen trying to produce the perfect chemical reaction (or dye-to-batter ratio), look no further than this 3-ingredient recipe. Yep, you read that right! Just three ingredients and you'll have yourself a delicious red velvet cake. According to recipe writer Jason Goldstein of Chop Happy, this fun cake hack produces a fluffy, buttery cake without all the hassle. Get to baking and you'll have yourself a beautiful red velvet cake in no time!
Gather the ingredients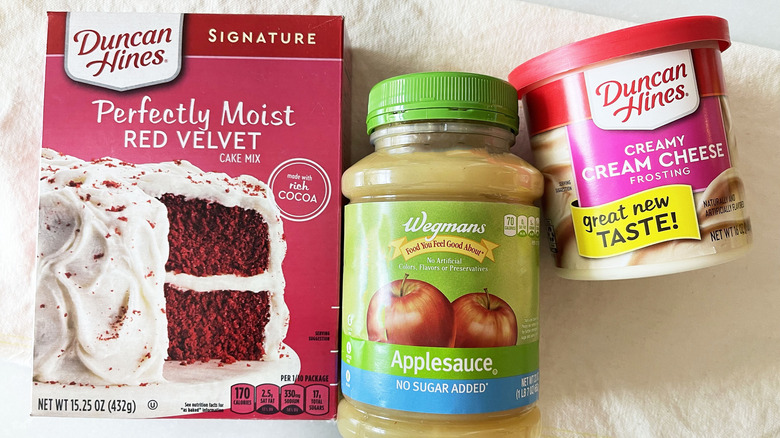 Jason Goldstein/Mashed
Before you can make your red velvet cake, you'll have to gather your ingredients. Luckily, there are only three of them, so this step shouldn't take too long! All you'll need is boxed red velvet cake mix, applesauce, and a 16-ounce can of cream cheese frosting. The best part about this is you can pick whichever boxed cake mix and frosting brand your heart desires. Goldstein used Duncan Hines for both his frosting and cake mix, but he says "any boxed cake mix works!" To combine, you'll also need a medium mixing bowl and a spatula. 
Get to mixing your ingredients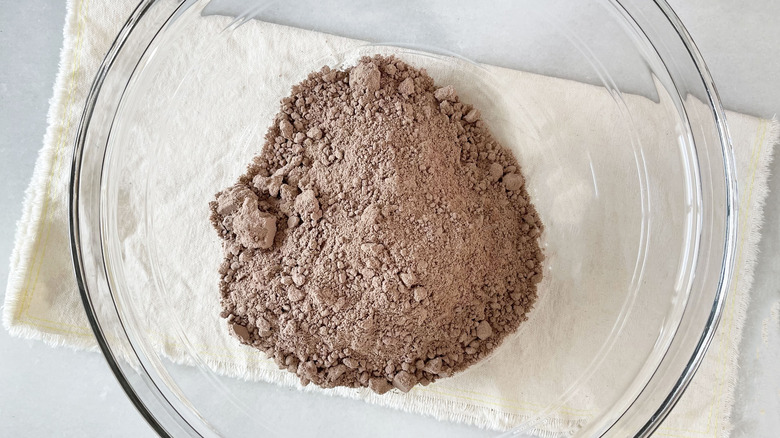 Jason Goldstein/Mashed
Once you've gathered your ingredients, it's time to combine them. For this step, keep in mind that although the boxed cake mix will list additional ingredients like eggs and vegetable oil, these are not necessary in this 3-ingredient recipe (seriously!). Since the applesauce acts as the wet ingredient, all you'll need to do is combine the box of cake mix with 1 cup of applesauce in a mixing bowl. Stir with a spatula until lumps are gone and the batter has combined, and you're ready for the next step. 
Why the applesauce?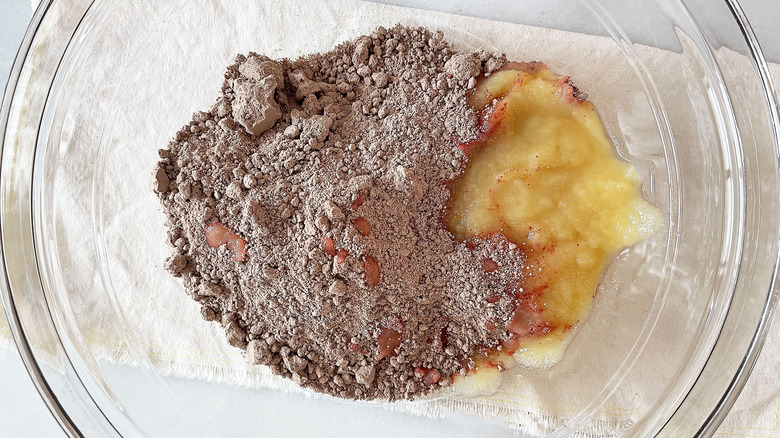 Jason Goldstein/Mashed
So why are we swapping all the wet ingredients for applesauce? Goldstein says that the applesauce adds a ton of moisture to the cake, ensuring you get that rich, velvety texture that red velvet is known for. Additionally, since you don't have to fiddle with eggshells, it makes this recipe a snap! As Goldstein specializes in "simple recipes for happy, busy people," it's no wonder that he has such a handy cake hack up his sleeve.
Pour your (very red) batter into the pan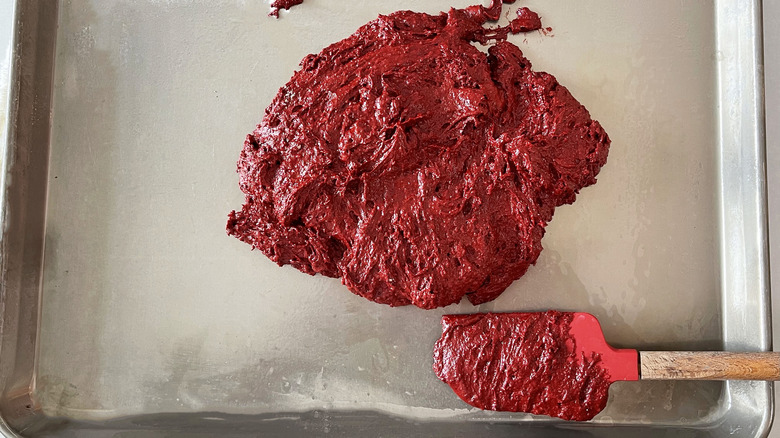 Jason Goldstein/Mashed
Now that you've got your batter, you're almost ready to bake. Take a cake pan and grease it with butter or cooking spray. Next, you'll want to pour the batter into the pan, spreading into an even layer with your spatula. 
If you want to go the cupcake route, Goldstein says that is totally fine too. Just line the muffin tin with cupcake wrappers and bake them for slightly less time, watching them to make sure they don't over bake.
Time to bake!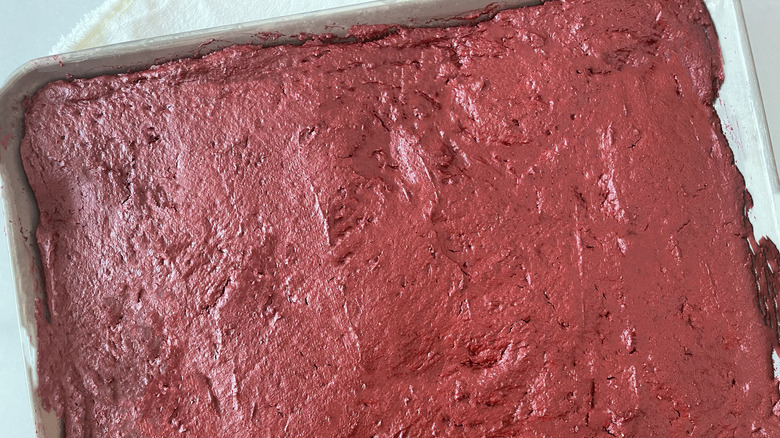 Jason Goldstein/Mashed
Woohoo! You're almost there. Goldstein says that baking time and temperature will differ slightly between brands of cake mix, but when in doubt, he recommends baking at 350 degrees Fahrenheit for 20 minutes. If you are making cupcakes, which tend to bake for shorter amounts of time and sometimes at a different temperature, now might be a good time to consult your cake mix box. 
Whether you choose cake or cupcakes, wait for the oven to heat and place your pan on the middle rack. And now ... we wait.
Cool and frost your red velvet cake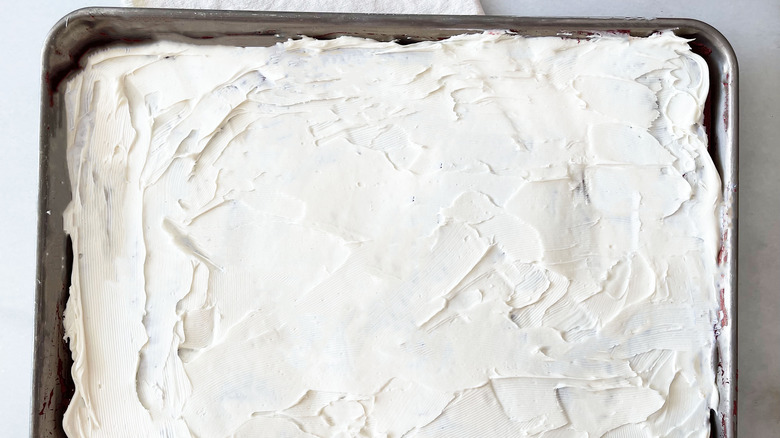 Jason Goldstein/Mashed
Now that your home is filling with a chocolatey aroma, it's finally time to remove your cake from the oven. Take it out and let it cool in the pan for at least 20 minutes before frosting. If you are too impatient, the frosting will start to melt into the cake, or the cake could crumble away as you spread — and since it's bright red cake with white frosting, your guests will notice those stray pieces! Once cooled, take a clean spatula and your can of cream cheese frosting, spreading a smooth and even layer over the top.
Finally, it's time to serve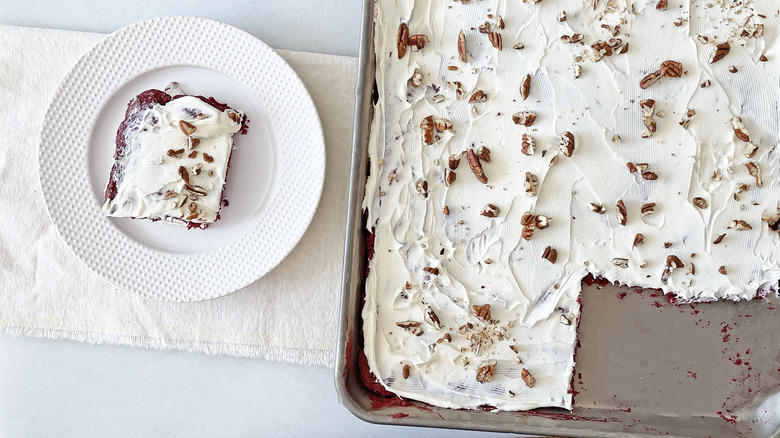 Jason Goldstein/Mashed
Now that your cake has been frosted, you can add some additional toppings if you'd like. Goldstein recommends crushed pecans for a bit of crunch. Sprinkle them over the top in a nice pattern, and you have yourself a wonderful-looking cake!
The beautiful color of red velvet makes it a joy to serve. Enjoy your cake with friends, family, or even keep it all for yourself! Just make sure you enjoy all the tangy, chocolatey goodness this dessert has to offer — you've earned it!
3-Ingredient Red Velvet Cake Recipe
This easy 3-ingredient red velvet cake is fluffy, buttery, and moist -- you'll want to eat the whole thing in one sitting!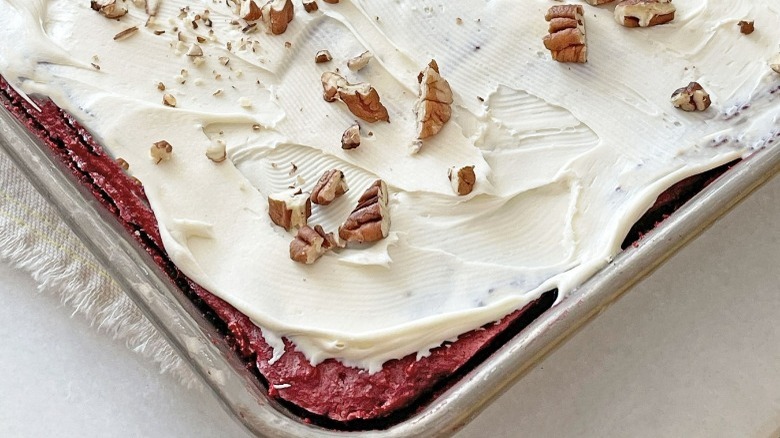 Ingredients
1 box red velvet cake mix
1 cup applesauce
1 16-ounce can of store-bought cream cheese frosting
Optional Ingredients
Crushed pecans, for topping
Directions
Preheat the oven to 350 degrees Fahrenheit (or to the temperature listed on the cake mix box).
In a bowl, mix together 1 box of red velvet cake mix and 1 cup of applesauce to make your batter.
Pour the cake batter into a greased (with butter or cooking spray) cake pan and spread evenly.
Place the pan in the oven on middle rack and bake for 20 minutes (alternatively, follow the cooking instructions on the box).
Let cake cool for at least 20 minutes.
Once the cake is cooled, spread the cream cheese frosting over it in a smooth layer. Add crushed pecans as an optional topping, if desired.
Slice and serve!
Nutrition
| | |
| --- | --- |
| Calories per Serving | 493 |
| Total Fat | 12.1 g |
| Saturated Fat | 3.6 g |
| Trans Fat | 0.2 g |
| Cholesterol | 0.0 mg |
| | |
| --- | --- |
| Total Carbohydrates | 95.3 g |
| Dietary Fiber | 1.1 g |
| Total Sugars | 67.2 g |
| Sodium | 585.7 mg |
| Protein | 2.5 g |