Read This If You Have Ground Coriander From HomeGoods In Your Spice Rack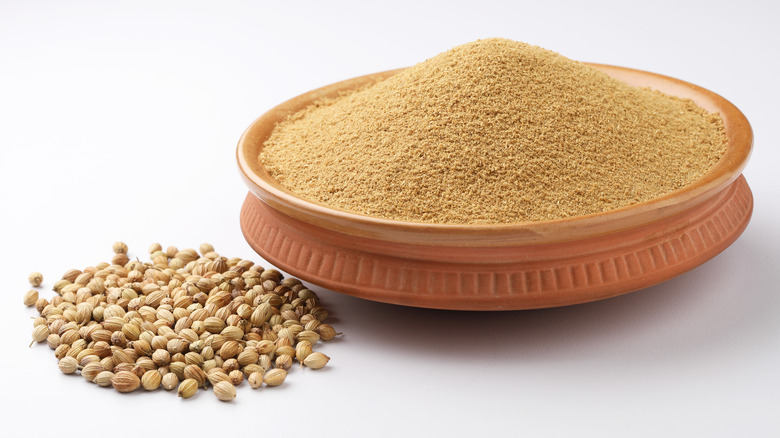 Shutterstock
A few pinches of ground coriander can make any recipe that much better. This powder made from ground coriander seeds defines Mediterranean, Middle Eastern, and Indian cuisines, while providing a mellow touch of flavor that can make many recipes feel complete. While this spice tastes great, one particular variety currently poses some health risks that can easily ruin anyone's dish — or day.
According to the FDA, Olde Thompson LLC has started a voluntary recall on its name brand ground coriander, in addition to Sun Harvest Organic Ground Coriander. Both come packed in 1.5 ounce glass jars with flip tops. These goods, which the brand distributed to HomeGoods, Jungle Jim's International Market, and Smart and Final in Arizona, California, Georgia, New Jersey, Indiana, and Ohio between May 26th and June 4th, 2021, have potentially come in contact with salmonella and can make anyone ill if consumed. While the FDA notes no one has contracted salmonella from the contamination thus far, 776 bottles of the spice may contain the contaminant.
Stay vigilant and throw out your coriander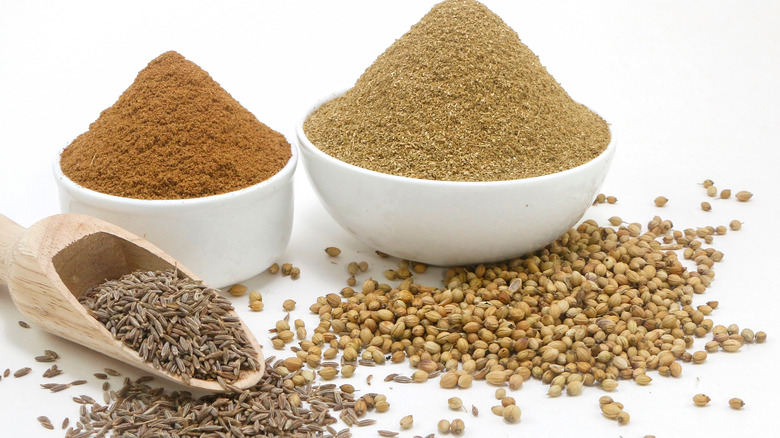 Shutterstock
If you live in the affected regions and bought ground coriander from any of the affiliated stores, make sure to check the LOT number on the bottle. According to the FDA, bottles with LOT Numbers 23632 and 23631 fall under the recall. Experts identified the contamination during a routine sampling of the goods, so hopefully, distributors caught this mistake before too many bottles made it onto shelves. If you have picked up a bottle of the tainted spice, you can either throw it away or call an Olde Thompson Customer Care representative at 1-805-793-4888 anytime from Monday to Friday at 7:30 AM to 5 PM PST. You can also reach representatives on Saturday between 9 AM and 5 PM PST, as well as Sunday between noon and 5 PM PST.
For the time being, make sure to stay vigilant and avoid buying coriander from these brands if you live in an affected state. With a bit of time, you can return to shopping confidently for all of the best spices.