TikTok Swears By This 'Miracle Paste' For Cleaning Tough Kitchen Messes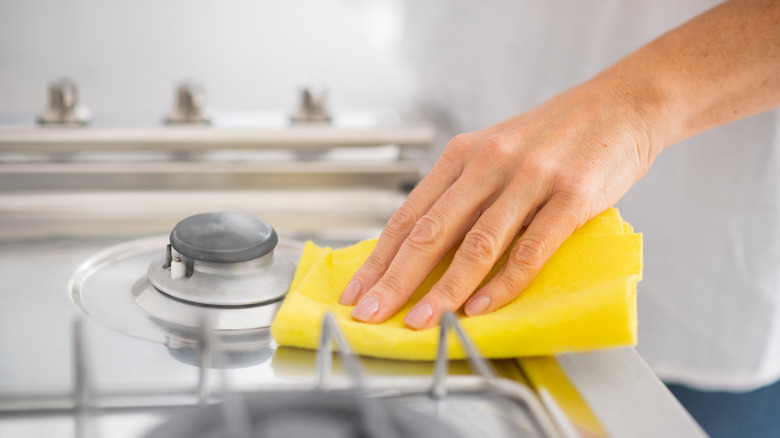 Shutterstock
Cleaning up messes can prove challenging, even if you have the right supplies. Homeowners swear by products like Windex, Dr. Bronner's Castile Soap, and Parker and Bailey's Kitchen Cabinet Cream when it comes to getting a kitchen spotless, but sometimes, even these time-tested products fall short (via Bob Vila). One enterprising brand has stepped forward with a viral new product that has the internet talking, and anyone who has tried it out has been left a believer in the new cleaner. 
According to Today, The Pink Stuff is a vegetable oil-based cleaner features quartz, baking soda, and soap, giving it an ideal texture to get down into deep spots and really scrub away dirt and scum. Thanks to its active ingredients, it doesn't leave behind a chemical smell that many of its other competitors feature. It can clean anything you throw at it, from car paint scratches all the way to baked-on stove grease, which has led to the product currently ranking as the number one cleaning product on Amazon at the moment. Due to its abrasive nature, it might end up scratching glass or polished stainless steel, but it does wonders when you need to clean oil off non-stick pans or really get caked-on grime off your kitchen surfaces.
A cleaner that has TikTok talking
Virtual demonstrations of The Pink Stuff working its magic have quickly won over everyone on TikTok. One post shows the grease-removing action contained in each tub of The Pink Stuff as a user takes layers of grease off of their oven door. Enticed fans quickly fell in love with the product, claiming "okay where do you buy this stuff from?" and "The pink stuff is amazing. It has to be my fave cleaning product." Others checked out the cleaning power on a post demonstrating how The Pink Stuff cleans a sink, and users quickly fell for how clean it left the bathroom. Comments ranged from "So satisfying," all the way to "Why cleaning videos so satisfying?"
If you feel tempted to try out the maximum scrubbing power locked away in each jar of The Pink Stuff, make sure to grab a tub while you can. With an internet sensation like this, you need to tap into the trend before everyone else catches on and see all the ways this cleaner can revitalize your kitchen.