5-Ingredient Oatmeal Cookie Recipe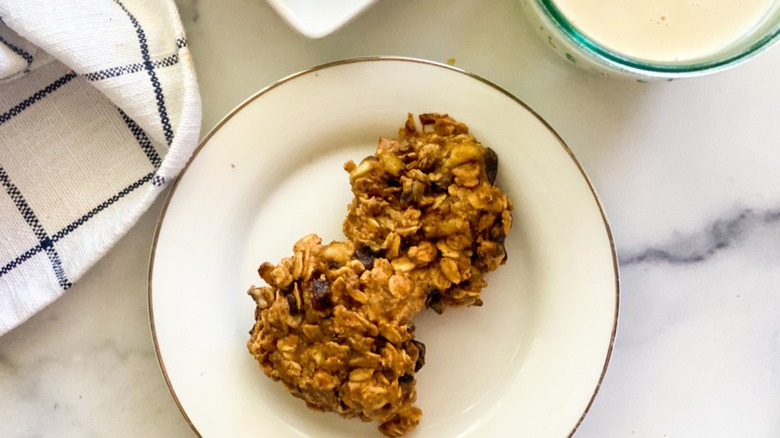 Miriam Hahn/Mashed
There's something really appealing about five-ingredient recipes. First off, the number "five" happens to be highly auspicious in the culinary arts. For example, five is the number of "tastes" that the human tongue can traditionally pick up, though LiveScience notes that it could actually be more. Five is also, by many people's estimation, the number of senses through which we can experience food. 
More importantly, however, while five-ingredient recipes are only slightly more involved than three-ingredient recipes, the addition of two more ingredients almost always ends up making a significant difference. Take, for example, these five-ingredient oatmeal cookies. Sure, you could make them with three ingredients (that is, banana, almond butter, and oatmeal). But adding the next two is a complete game-changer, with the cranberries lending a tart, fruity bite, and the chocolate chips or cacao nibs transforming these cookies from a healthy snack into a fun culinary experience. 
In addition, this particular five-ingredient recipe from recipe developer Miriam Hahn happens to be ideal if you're looking to involve kids in cooking and baking. All of the ingredients are fairly easy to work with and there's not much work to be done with them other than mixing it all together. But don't take our word for it. Dive into the delightful simplicity of it and decide for yourself.
Gather your ingredients for five ingredient oatmeal cookies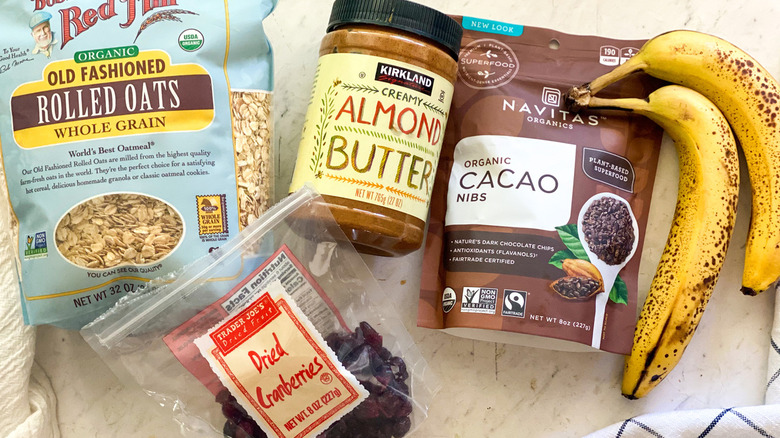 Miriam Hahn/Mashed
Guess how many ingredients this five-ingredient oatmeal cookie recipe calls for? Five. Yeah, no, it wasn't a trick question. You'll need two ripe bananas (they should be spotted, advises Hahn), one-third of a cup of almond butter (Hahn recommends using almond butter that has one ingredient, almonds), one and a half cups of rolled oats, two tablespoons of dried cranberries, and two tablespoons of cacao nibs or chocolate chips. 
Regarding cacao nibs, Hahn told Mashed that cacao is the raw form of chocolate and is very high in antioxidants. "When you use straight cacao you are getting the chocolate flavor without all of the added sugar,"  she said. It's worth noting that these cookies are sweet because of the ripeness of the bananas, not because of any added sugars.
And if you don't mind adding an extra sixth ingredient, Hahn says that you can add two tablespoons of shredded coconut to the mix, too. If you like a vanilla-flavored cookie, you can also add one teaspoon of vanilla. But both coconut and vanilla are purely optional here, of course, but could be an interesting variation for your home kitchen.
Smash the bananas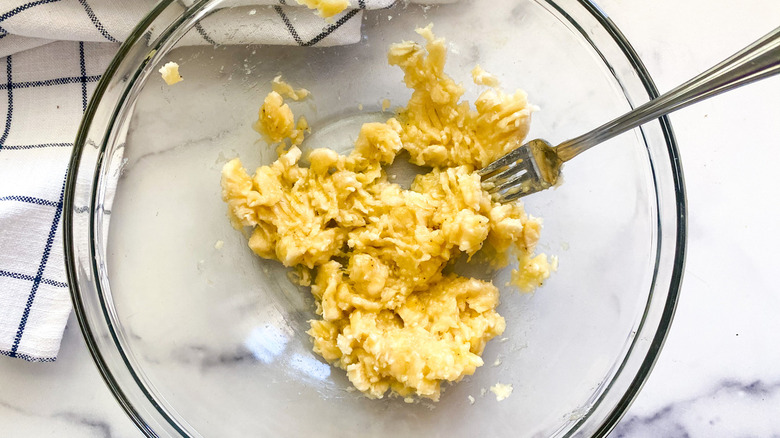 Miriam Hahn/Mashed
Start the baking process by preheating your oven to 350° Fahrenheit. Next, peel your bananas, drop them into a large bowl and, using a fork, mash them into a lumpy paste. You'll probably notice that those extra ripe bananas that have started to show some spots are quite easy to mash. That's one reason Hahn uses them. The other reason is that the riper a banana gets, the sweeter it is. So, using bananas that have ripened to the point where they're becoming spotted translates into a cookie that's sweet without added sugar. We say "added" sugar because bananas naturally have sugar. Plus, the riper a banana is, the higher its sugar content, according to Healthline. 
Also, if you're planning on adding vanilla, now would be the time to do so.
Add the rest of the ingredients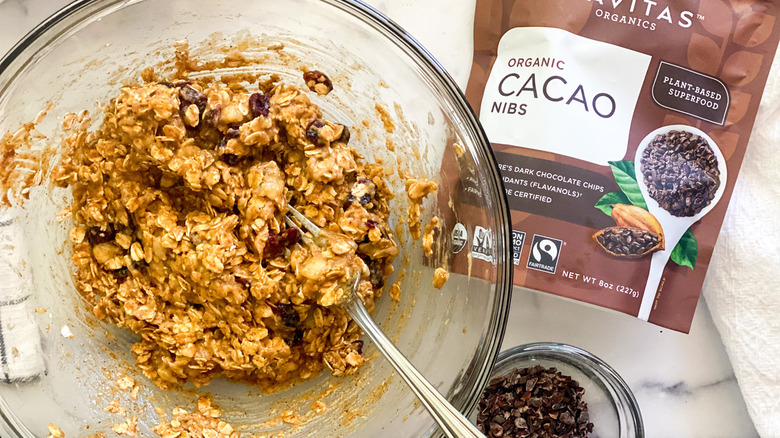 Miriam Hahn/Mashed
Before you start measuring out the almond butter, here's a bit of advice from Hahn, who recognizes that if you're opening a new jar of almond butter, you'll probably be faced with an inch or so of oil at the top of the jar. "Oil at the top can be a pain," Hahn told Mashed, but her way of dealing with it is to stir with a long dull knife. Then store the almond butter in the refrigerator, which prevents the oil from resurfacing at the top. 
And here's one more piece of advice in regard to the almond butter, which can get a bit sticky: if you want it to slide right out of the measuring cup, make sure to spray a bit of cooking spray into the cup first. 
After adding the almond butter to the mashed bananas, stir well. Then add the oats and cranberries and mix again. Next, stir in the cacao nibs or chocolate chips. If you're planning on adding shredded coconut, add this as well, stirring again to make sure that everything is evenly distributed.
Portion out the cookies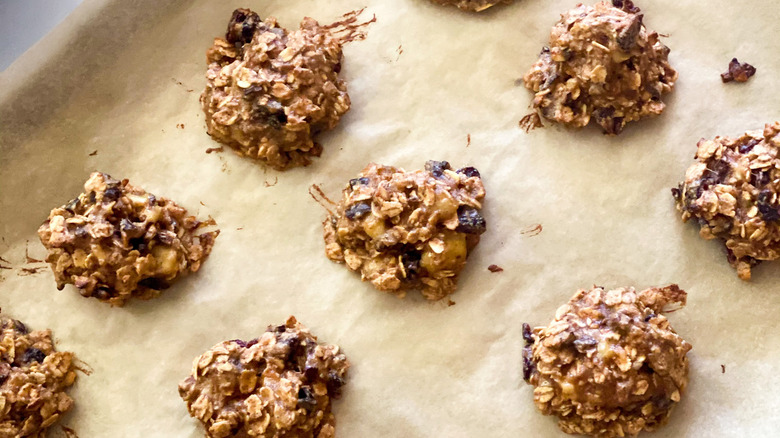 Miriam Hahn/Mashed
Even though your oven is probably not preheated yet (what has it been ... three minutes?), now is as good a time as any to get everything ready and line a baking sheet with parchment paper. 
This recipe for five-ingredient oatmeal cookies makes 12 cookies of equal size. This means that they should all fit on one baking sheet. The cookies don't need much room in between them since they don't spread much as they bake, especially when compared to other types of cookies. As you'll surely notice, your five-ingredient oatmeal cookie dough has a texture that is actually similar to regular cookie dough, so feel free to use a cookie scoop to "plop them on the baking sheet," as Hahn told Mashed. 
Start baking your five-ingredient oatmeal cookies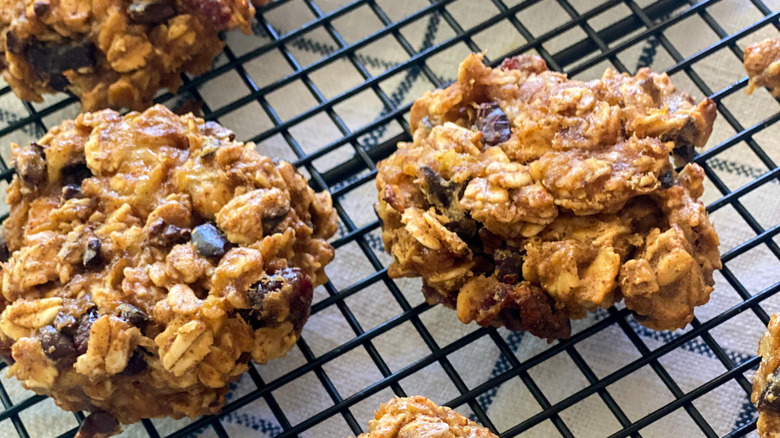 Miriam Hahn/Mashed
At this point, it may be that your oven is still likely making its way to the cookie-baking goalpost of 350° Fahrenheit, but please be patient. There's really good logic behind preheating your oven, after all, and we want to make sure that your cookies bake up just right. Perhaps you can make yourself a mug of tea or brew some coffee in the meantime. 
When your oven does reach that exalted number, pop the baking sheet onto the middle rack, and bake for 10 minutes. When the timer goes off, take out the cookies. Even if they still look "kind of gooey," take them out anyway because these cookies firm up as they cool. 
Let the cookies cool on a wire rack for five minutes, then serve and enjoy. Any leftovers can be stored in the refrigerator. 
5-Ingredient Oatmeal Cookie Recipe
This simple five-ingredient oatmeal cookies recipe will have you baking up some sweet treats in no time. Even better, it skips added sugar for a healthy boost.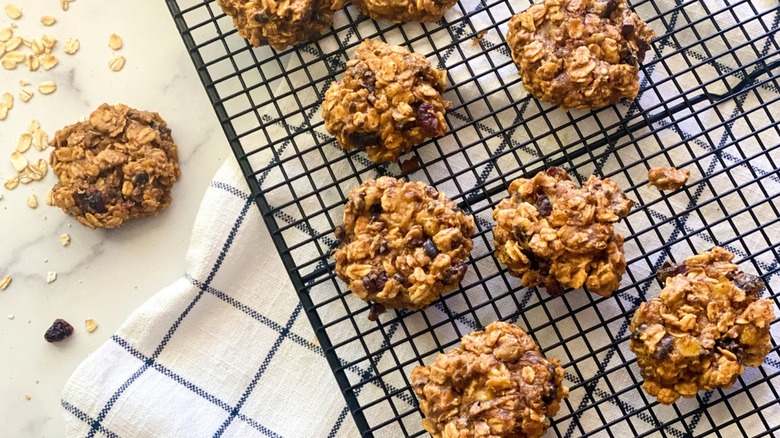 Ingredients
2 ripe bananas
⅓ cup almond butter
1 ½ cup rolled oats
2 tablespoons dried cranberries
2 tablespoons cacao nibs or chocolate chips
Optional Ingredients
2 tablespoons shredded coconut
1 teaspoon vanilla extract
Directions
Preheat oven to 350° Fahrenheit.
Peel bananas, drop them into a large bowl. Using a fork, mash them into a lumpy paste. Add vanilla extract if using.
Add the almond butter into the banana mixture and stir well.
Stir in the oats and cranberries.
Stir in the cacao nibs or chocolate chips and shredded coconut, if using.
Divide into 12 cookies on a baking sheet lined with parchment paper
Bake for 10 minutes.
Remove from oven and let cool on a wire rack for 5 minutes.
Serve. Leftovers can be stored in the refrigerator.
Nutrition
| | |
| --- | --- |
| Calories per Serving | 225 |
| Total Fat | 10.3 g |
| Saturated Fat | 1.5 g |
| Trans Fat | 0.0 g |
| Cholesterol | 0.7 mg |
| | |
| --- | --- |
| Total Carbohydrates | 30.3 g |
| Dietary Fiber | 4.6 g |
| Total Sugars | 10.2 g |
| Sodium | 5.2 mg |
| Protein | 6.3 g |