The Spicy Version Of Wendy's Baconator You Forgot Existed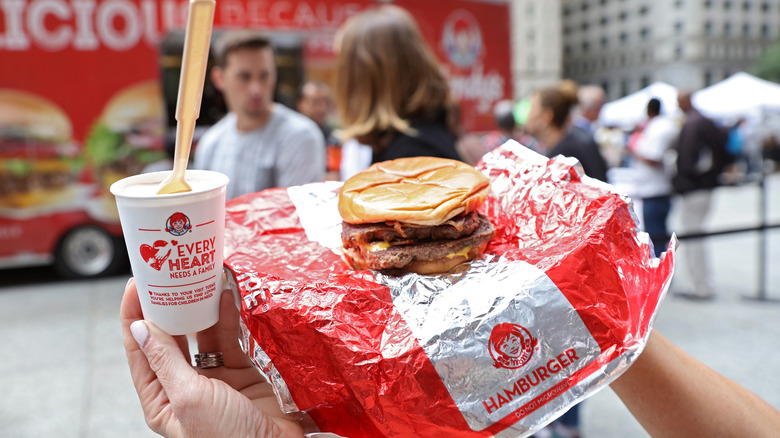 Jeff Schear/Getty Images
When it comes to American "cuisine," it seems as though anything with bacon is guaranteed to be delicious. From the Five Guys bacon milkshake to the Krispy Kreme maple bacon donut, and of course, don't forget the iconic Wendy's Baconator, whenever bacon takes center stage in a meal, it's an immediate hit. Chowhound reported that within the two months following the 2007 addition of the Baconator to the previously lackluster menu, Wendy's famously sold a whopping 25 million Baconators. Apparently, all it took was adding six slices of bacon to a burger to revive Wendy's declining popularity and get people craving their fast food again.
In light of the success of the Baconator, Wendy's announced a Spicy Baconator one year later, expecting it to get the same amount of attention. Unfortunately, it was such a commercial flop, that once it was taken off the menu, it never returned. According to Houston Chronicle, the Spicy Baconator swapped Swiss cheese for pepper jack cheese and mayonnaise for chipotle ranch sauce. Though the sandwich still had the two beef patties and the six strips of bacon, it was also topped with a generous serving of pickled jalapeños. Overall, the flavor just didn't hit the spot for fans of the original Baconator.
Wendy's claims the Spicy Baconator was never meant to stay on the menu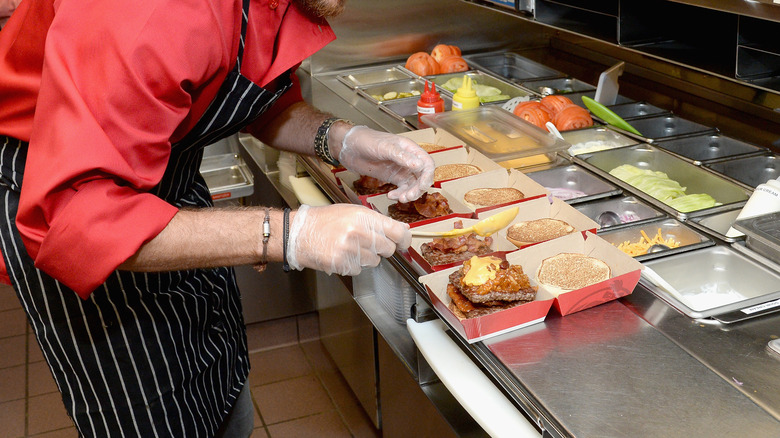 Lester Cohen/Getty Images
By mid-May, two months after its release, the Spicy Baconator was pulled from Wendy's locations in the U.S. and Canada, a night and day difference from the two months following the release of the first Baconator. According to Wendy's Interim Chief Marketing Officer Paul Kershisnik, this mid-May discontinuation was actually pre-planned, and supposedly, the Spicy Baconator was only meant to be a special edition of the Baconator (via QSR). "It's another example of how we're continuing to innovate, bring new news to our menu and more fully leverage our core strengths built around fresh, never frozen beef and superior quality," Kershisnik stated in 2008. 
Whether the Spicy Baconator was really a special edition Baconator, or simply a way for Wendy's to test the market for another bacon burger, customers weren't impressed. Perhaps it was that the three layers of heat overpowered the flavor of the bacon, but considering how much of a fan favorite the Spicy Chicken Sandwich is, the most likely reason was that customers felt the original Baconator was just too good to be messed with. Since the only other Baconator that has been able to live up to the hype is the Son of Baconator (the mini Baconator released in 2012, according to HuffPost), it's safe to say Wendy's won't be changing up the OG recipe anytime soon.