Homemade Stromboli Recipe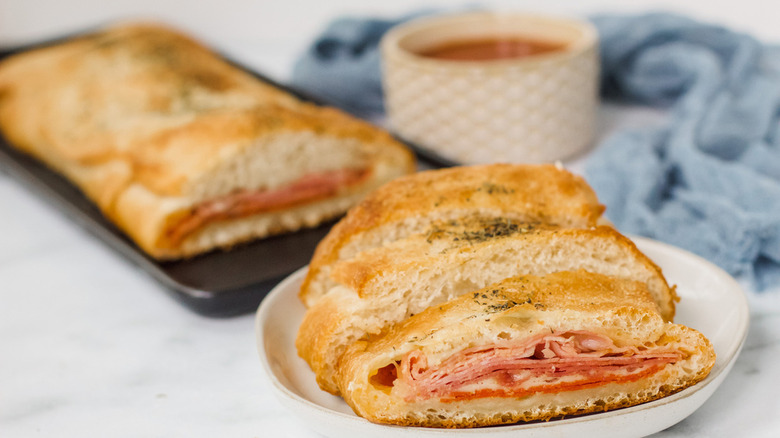 Jaime Shelbert/Mashed
Stromboli not only is an island in the Tyrrhenian Sea off the north coast of Sicily and an active volcano in Italy, but it happens to be an absolutely delicious meaty turnover supposedly named after Mount Stromboli found on that very same island. Filled with various Italian cheeses and meats, even a few veggies, stromboli uses either pizza dough or Italian bread for its exterior. According to San Pellegrino, a Philadelphia restaurant owner named Nazzareno Romano can be credited for creating this delectable Italian pizza spinoff aptly named because the ingredients appear as if they're exploding from a volcano.
Holistic dietitian Jaime Shelbert designed an easy homemade stromboli recipe that can be prepared in a mere 10 minutes and requires only 18 minutes of baking time in the oven. These are perfect for a busy night when everyone's starving and time is of the essence.
"This recipe was born out of the need for quick and easy weeknight meals," Shelbert says.
Gather up the stromboli ingredients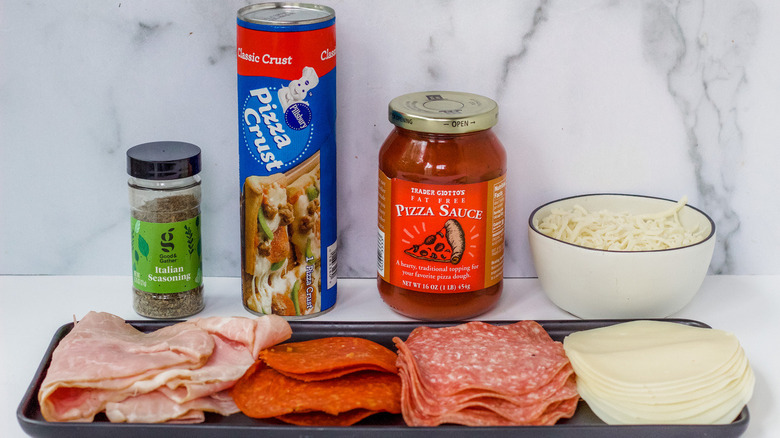 Jaime Shelbert/Mashed
For this tasty treat, you will need a can of refrigerated pizza dough along with shredded mozzarella cheese. Melted butter and Italian seasonings are a must with this recipe, along with the hearty meats and cheeses for the filling that includes pepperoni, provolone, salami, and ham. You'll also want some pizza sauce on hand for dipping each bite of stromboli into.
If you want to spice up the recipe, you can swap out the type of cheese you use, possibly for an Italian blended cheese. The pepperoni you'll need to snag from the deli counter, not the type that's packaging. Shelbert's favorite pizza sauce for dipping happens to be Trader Joe's, but "any favorite pizza sauce will do," she says.
Prep the stromboli dough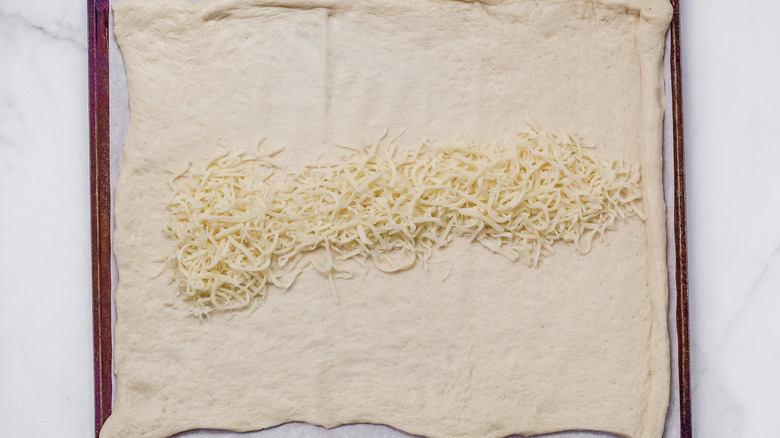 Jaime Shelbert/Mashed
First preheat the oven to 375 degrees and fight the urge to sample each of the meats and cheeses, since you need them for the recipe. Open up the 13.8-ounce can of refrigerated pizza dough, being careful when you whack it on the edge of the counter and it pops in half. Lightly coat a baking sheet with cooking spray and place the dough on top of it, stretching it out to the shape of a large rectangle.
Measure out 1 cup of shredded mozzarella cheese and sprinkle it down the center of the dough lengthwise, making sure it stretches from one end to the other.
Load up the stromboli with the filling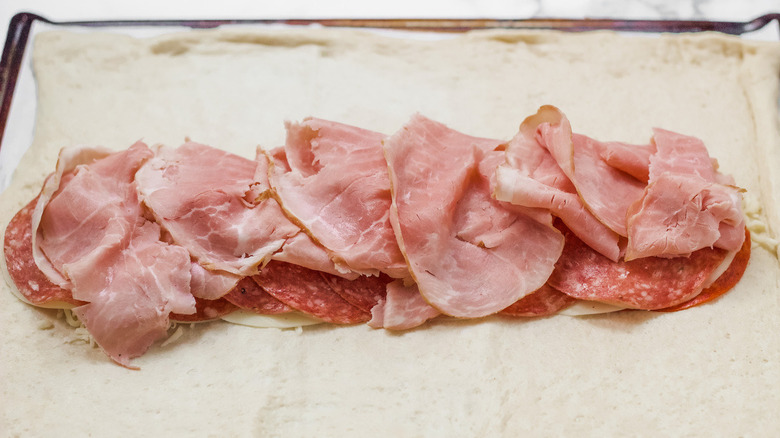 Jaime Shelbert/Mashed
Place on top of the line of shredded mozzarella cheese a layer of large pepperonis sliced thin; you will need 1/8 of a pound total. Next lay down on top of the pepperonis the thinly sliced provolone, a total of ¼ of a pound. The fourth layer should be ¼ of a pound of thinly sliced salami followed by a layer of thinly sliced ham, ¼ of a pound total.
You can modify the stromboli to fit your family's preferences, such as adding sliced mushrooms, a sprinkling of broccoli florets, diced onions, or finely chopped peppers. The sky's the limit with this recipe!
Fold the stromboli dough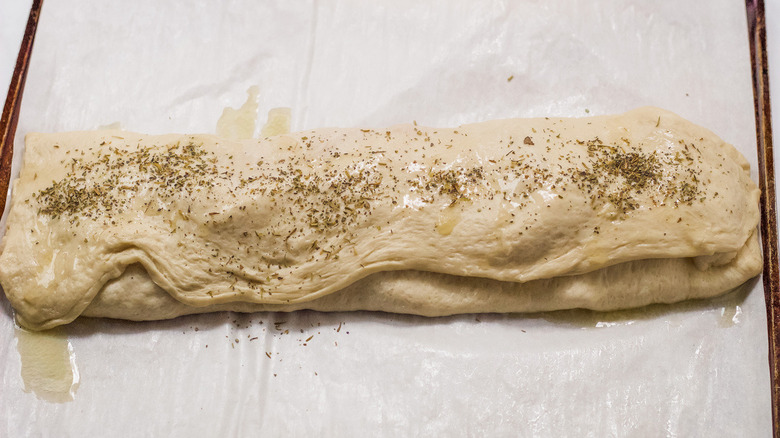 Jaime Shelbert/Mashed
Now it's time to fold up the stromboli dough and tuck the filling inside. Gently take ahold of each long edge of the dough and bring each edge to the center, folding one side over the other. Pinch together the two ends of the stromboli to seal it off.
Brush or pour 1 tablespoon of melted butter on top of the stromboli and season with 1 teaspoon of Italian seasoning. If you like your food extra spicy, you could sprinkle red chili flakes atop the stromboli dough, too. Be sure not to overload the stromboli with too many ingredients inside or it can become soggy.
The finishing stromboli touches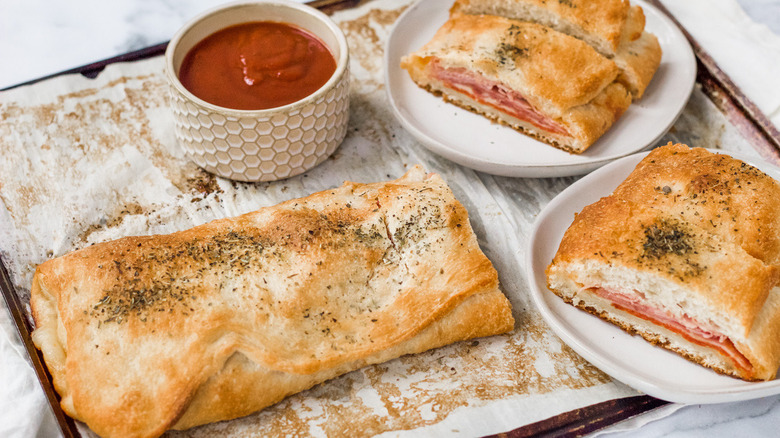 Jaime Shelbert/Mashed
Slide the stromboli into the oven and bake for 18 to 20 minutes until the crust is lightly browned. After it cools briefly, slice it like a loaf of bread and serve it with pizza sauce for dipping. If you wanted, you could pour a line of red sauce on top of the filling before closing up the dough, although traditional stromboli does not use red sauce.
"The whole family loves this, even the kids and it's so customizable. It tastes much like a pizza," Shelbert says. If you're feeding a big crowd or serving this at a special event or gathering like on game day, you could easily double the recipe.
So what's the difference between stromboli and calzone?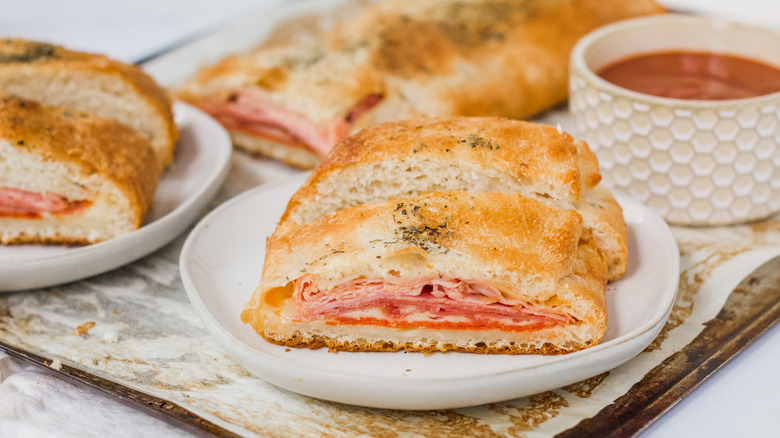 Jaime Shelbert
Stromboli and calzone look incredibly alike, so what's the difference between the two? Stromboli's origin hails from Philadelphia while the calzone has solely Italian with roots ingrained in the southern regions of Italy. Stromboli also uses a rectangular-shaped slab of dough for its exterior while calzones are made from a round shape of dough folded in half to make a "half moon."
Both are made with similar ingredients although calzones usually are not served with dipping sauce in Italy because it's contained within the filling. Just know when eating either stromboli or calzone, be wary of wearing your dinner on your shirt as they tend to be a wee bit messy to eat.
Homemade Stromboli Recipe
Whether whipping up a gameday spread or a weeknight meal, this stromboli recipe is sure to satisfy. It's customizable and comes together in under 30 minutes.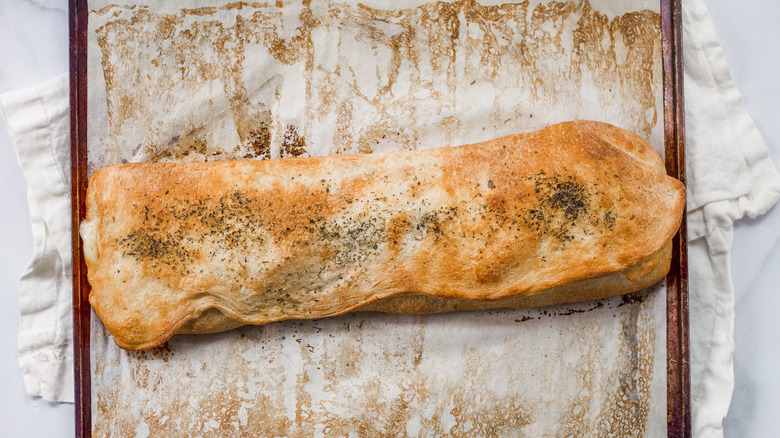 Ingredients
1 can 13.8 oz refrigerated pizza crust
1 cup shredded mozzarella
⅛ pound large pepperoni, sliced thin
¼ pound provolone, sliced thin
¼ pound salami, sliced thin
¼ pound ham, sliced thin
1 tablespoon melted butter
1 teaspoon Italian seasoning
pizza sauce for serving
Directions
Preheat oven to 375 degrees Fahrenheit.
Place dough on a lightly greased baking sheet and stretch to a large rectangle.
Spread one cup of mozzarella down the center of the dough lengthwise.
Top with a layer of pepperoni followed by the provolone, the salami and finishing with the ham.
Bring each long edge of the dough to the center folding one over the other. Pinch and seal the ends of the stromboli.
Brush or pour the melted butter on top of the stromboli and season with the Italian seasoning.
Bake in the oven for 18-20 minutes until lightly browned.
Slice and serve with pizza sauce for dipping.
Nutrition
| | |
| --- | --- |
| Calories per Serving | 565 |
| Total Fat | 30.3 g |
| Saturated Fat | 13.9 g |
| Trans Fat | 0.4 g |
| Cholesterol | 88.8 mg |
| | |
| --- | --- |
| Total Carbohydrates | 42.2 g |
| Dietary Fiber | 2.7 g |
| Total Sugars | 1.5 g |
| Sodium | 1,718.7 mg |
| Protein | 29.1 g |