Slow Cooker Mushroom Risotto Recipe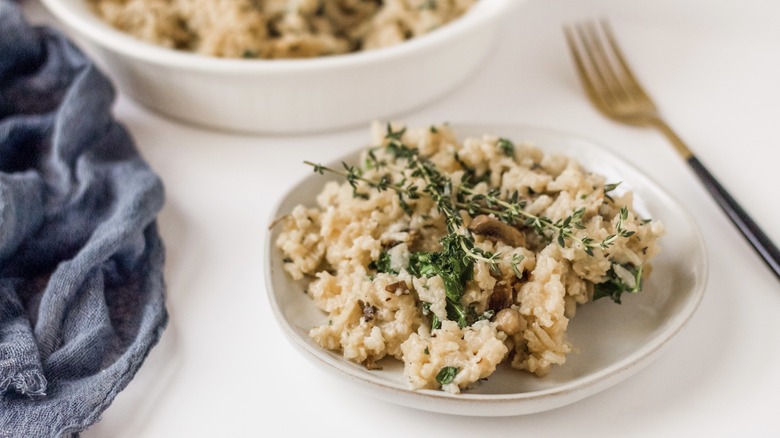 Jaime Bachtell-Shelbert/Mashed
Risotto is an all-time favorite to find on any menu. It is a dish that's hard to beat in terms of taste and texture, but it's also a pretty time-consuming and hands-on meal to prepare. Who has time to spend an hour or more standing there beside the stove, slowly and steadily adding tablespoons of broth and endlessly stirring? But without that constant care, your risotto will invariably come out all wrong, right? Wrong, actually.
As a matter of fact, you can get your risotto just right when you trade in the traditional pan and stovetop cooking approach for trusting that slow cooker of yours to do all the cooking. Provided you measure out the ingredients just right and follow the prep and initial cooking steps with care, you really can put together a batch of delicious slow cooker mushroom risotto that's almost completely hands-off. How sweet of a deal is that?
If you're looking to turn this into a full meal, recipe developer Jaime Bachtell-Shelbert of Wholly Nourished has some tasty ideas. "Serve [this risotto] with your favorite protein such as grilled chicken or pork tenderloin or a hefty side of roasted vegetables," she suggests. Or, you can consider adding a bit more kale than what's already included in the recipe, and enjoy this dish as a wonderful one-pot-style meal, because thanks to the arborio rice, this is one filling dish.
Your dinners at home have just moved up a notch, and your family will love this risotto dish.
Gather your ingredients to prepare slow cooker mushroom risotto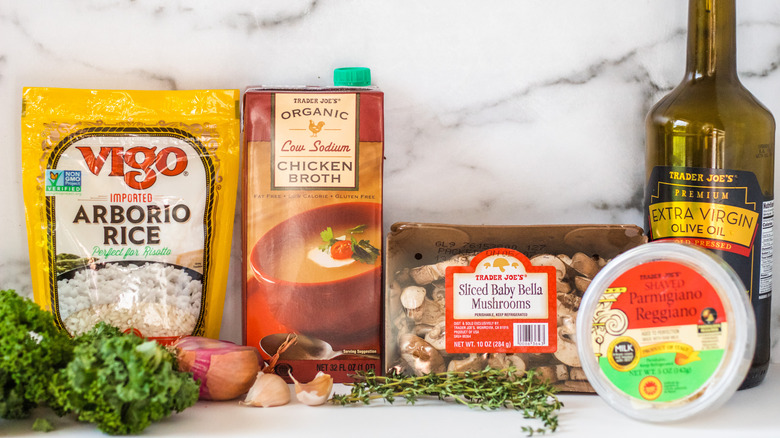 Jaime Bachtell-Shelbert/Mashed
Risotto is one of those dishes that can accommodate all sorts of different ingredients cooked into the recipe, from diced carrots, to zucchini, to peppers, and so much more. You can and should try a different variety of foods in each batch of the dish that you prepare, but if you're new to making your own, or at least new to cooking your risotto in a slow cooker, go ahead and stick with Bachtell-Shelbert's recipe as-is for a first try. You'll have plenty of time to be creative after you are used to the process.
To get started with preparing this particular recipe, you need to get the ingredients together. Many are items that you already have on hand in your kitchen or garden. You'll need extra-virgin olive oil, butter, diced shallot, minced garlic cloves, roughly chopped mushrooms, arborio rice, chicken broth, Parmesan cheese, shredded kale, chopped fresh thyme, salt, and pepper. Of course, you'll also need to pull out your slow cooker, and you will be ready to put together some delicious risotto!
Sauté the shallots, garlic, and mushrooms, then stir in the rice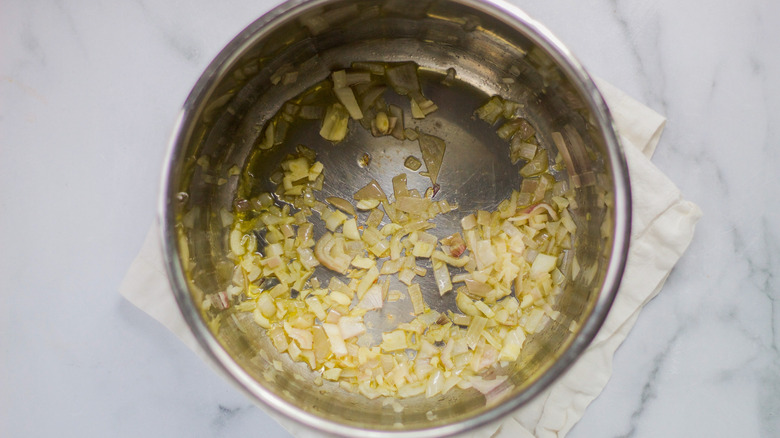 Jaime Bachtell-Shelbert/Mashed
On the stovetop, heat up the olive oil and butter in a pan on medium heat. Once the butter has melted and is combined well with the oil (you can give a quick stir so the two mix up nicely), add the diced shallots and the minced garlic cloves, and cook them in the pan for one minute. Stir these items in your pan once or twice to make sure everything is nicely coated and cooks evenly.
Now it's time to add in the mushrooms, and sauté everything together for five to seven minutes until the mushrooms have softened and have begun to reduce. Next, you will add in the arborio rice, and stir it up to coat your rice with oil and butter and to mix everything together really well.
Your kitchen is going to be smelling pretty fine right about now, and it will get even better when your risotto continues to cook.
Transfer to the slow cooker, and add the broth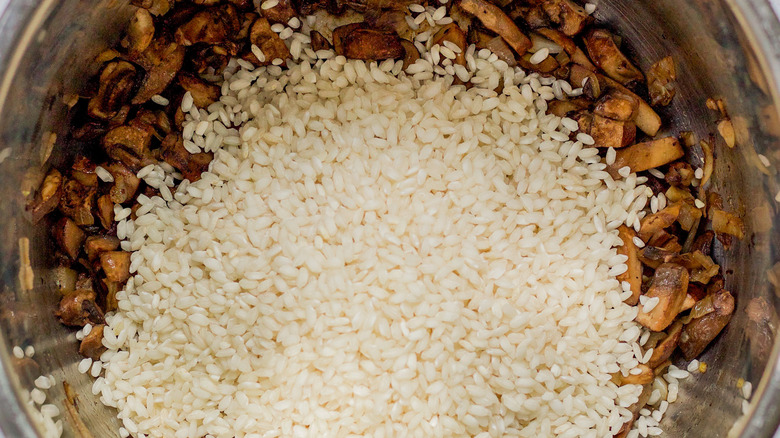 Jaime Bachtell-Shelbert/Mashed
Transfer the mixture you have been cooking on the stovetop into the slow cooker, then pour in the chicken broth. (Note that Shelbert says, "Vegetable broth works equally as well," so you can make this dish vegetarian-friendly.) Now, plan to cook the risotto in the slow cooker on high for one hour and 15 minutes or on low for two hours and 45 minutes. This will give you some down time to do other things, and that's a really great feeling.
Once the time is up, remove the lid to your slow cooker, and stir in the Parmesan cheese, the shredded kale, and the chopped thyme. Season the dish with salt and pepper to taste, and your delicious risotto is ready to put on a large serving platter or serve on individual plates.
This is definitely one of those meals that has your family or guests thinking you were in the kitchen working on it forever. We say, take in all of the compliments, and enjoy your dinner!
A few words on arborio rice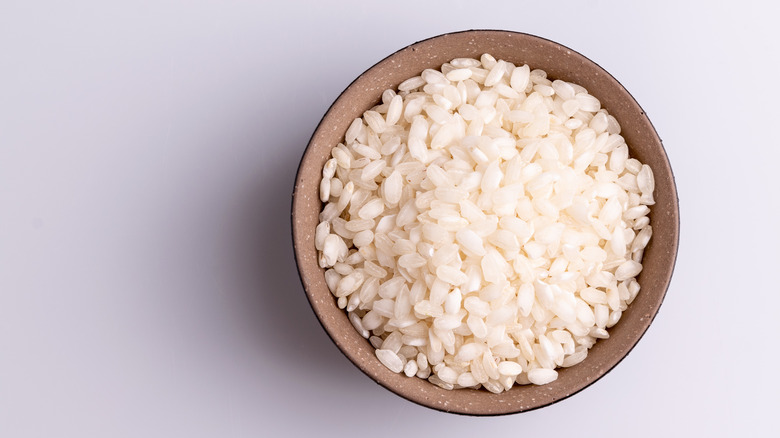 Shutterstock
Arborio rice is named for the "commune" (or municipality) of Arborio in Northern Italy (via Google Maps). It is an extremely starchy variety of rice, which is why it can be tricky to cook properly, but this starch content is also why arborio rice is so rich and creamy in texture when prepared well, according to MasterClass. The rice is very low in fat, it's relatively low in protein, and is a good source of fiber, as compared to most other types of rice, according to Livestrong. And while arborio rice is relatively low in vitamins and minerals itself, when used to make risotto, it can still be the basis for a rich, nutritious dish, thanks to all the vegetables you can mix in.
Since it has a great shelf life, it's a good idea to always have some on hand. The next time you want to whip up some slow cooker risotto, you'll be glad you're prepared!
Slow Cooker Mushroom Risotto Recipe
You'll want to have all the ingredients to whip up this slow cooker mushroom risotto on hand on the regular.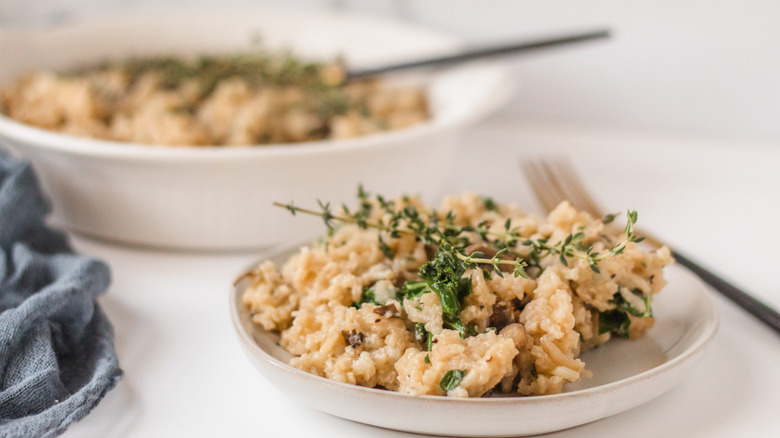 Ingredients
1 tablespoon extra-virgin olive oil
1 tablespoon butter
1 large shallot, diced, about ½ cup
2 large garlic cloves, minced
3 cups mushrooms, roughly chopped
1 ½ cups arborio rice
4 ½ cups chicken broth
½ cup Parmesan cheese
1 cup shredded kale
2 tablespoons fresh thyme, chopped
salt, to taste
pepper, to taste
Directions
On the stovetop, heat up the extra-virgin olive oil and butter in a pan on medium heat.
Add the shallots and garlic cloves, and cook for 1 minute.
Add the mushrooms, and sauté for 5 to 7 minutes until softened and reduced.
Add in the arborio rice, and stir to coat.
Put the mixture from the pan and the chicken broth into the slow cooker, and cook on high for 1 hour and 15 minutes or on low for 2 hours and 45 minutes.
Once the time is up, remove the lid, and stir in the Parmesan cheese, shredded kale, and chopped thyme.
Season with salt and pepper, and serve.
Nutrition
| | |
| --- | --- |
| Calories per Serving | 353 |
| Total Fat | 10.0 g |
| Saturated Fat | 4.2 g |
| Trans Fat | 0.1 g |
| Cholesterol | 18.9 mg |
| | |
| --- | --- |
| Total Carbohydrates | 51.3 g |
| Dietary Fiber | 2.6 g |
| Total Sugars | 4.8 g |
| Sodium | 700.8 mg |
| Protein | 14.0 g |