Rosé Strawberries Have Returned To Grocery Stores Just In Time For Summer
As warm weather reaches every corner of the country, fruit fans should start rejoicing. The rising temperatures mean hungry shoppers can take advantage of great deals on in-season fruit, including blackberries, cherries, passion fruit, and strawberries (via PBS). If you count yourself as a strawberry lover, farmers have an extra special treat in store just for you that can really make the summer great.
According to Today, the produce brand Driscoll's has introduced rosé strawberries, a strain of pink berries that took their inspiration from rosé wine. Don't worry about the berries containing any alcohol — farmers bred the fruits to mimic the wine's distinct coloration, light peach flavor, and floral aftertaste. The strawberries took 20 years to perfect and Driscoll's created the berries without the help of any GMOs. If you can score a container of these berries, make sure to scoop them up. They made their debut in 2019, appearing at select markets in New York City and Northern California, and while they should see a broader distribution this year, not every area intends to carry them. The strawberries have since popped up in a Los Angeles Whole Foods, but have yet to make an appearance in other large cities like Chicago, Denver, and Salt Lake City.
A must-try strawberry for the summer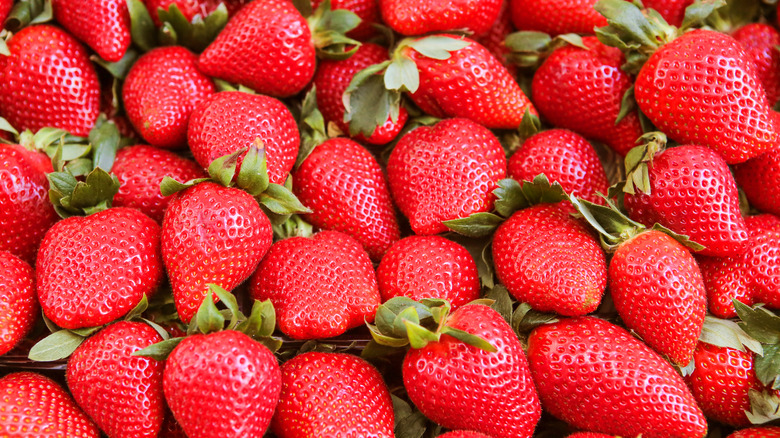 Shutterstock
If you love strawberries, you have to hunt down some of these signature rosé berries. According to AndNowUKnow, Driscoll's has released the fruits — along with a rosé raspberry version — just in time to celebrate National Rosé Day on June 12. As such, make sure to pair them with a traditional rosé wine to see if they can complement the flavor of the beverage. Despite the fruit's pale exterior, the flavors take the experience to new levels, ending up a bit more tart than a traditional strawberry while capturing the unique floral notes found in rosé wine. As such, these berries could serve as the ultimate cocktail garnish this season, in addition to providing an incredibly unique snack.
Make sure to stake out the produce section of your local grocery store next time you go shopping. With any luck, you might end up spotting these elusive strawberries in your area and get the chance to experience a flavor sensation like no other. If you get the chance, make sure to try these berries and see if they live up to the hype.