Copycat McDonald's Sweet Tea Recipe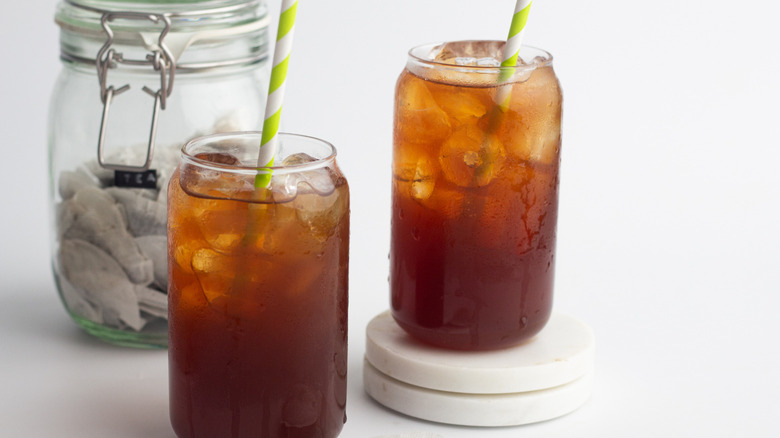 Susan Olayinka/Mashed
When most people think of great items on McDonald's menu, solid food usually comes to mind. The Big Mac and French fries are two of the most popular sellers at the fast-food giant, but they also happen to have a lot of great drinks as well. Sweet tea is one of the top menu items that isn't soda, but it's still got that little extra bit of sweetness to curb any sugar cravings.
Susan Olayinka is the brains behind this copycat recipe, which is sure to bring a smile to your face. She shares that her favorite part is "how simple it is. I'm not really a tea drinker. But iced tea is another story," she says. "This drink is amazing I was pleasantly shocked." Luckily, it's super easy to make and requires only a few minutes of prep time. Keep scrolling for more details on making this delicious sweet tea that is perfect for a hot summer day or a crowd.
Gather the ingredients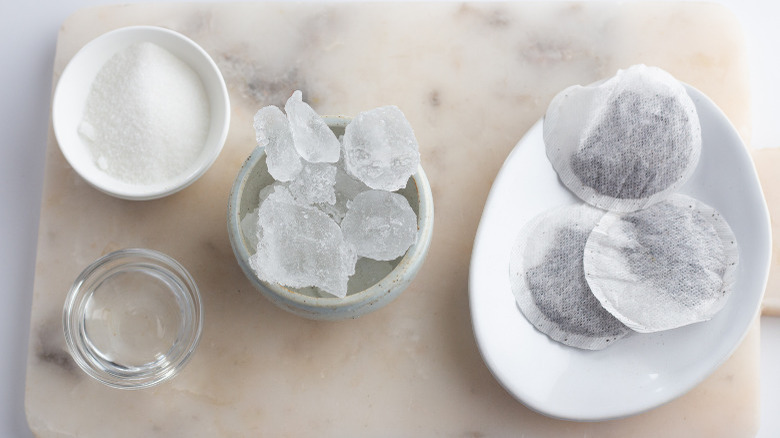 Susan Olayinka/Mashed
Like any recipe, the first step is to make a grocery list to see what you need to get versus what you already have at home. For this sweet drink, you only need four ingredients, and out of those four, there are only two you need to get from the store. These two ingredients include black tea and sugar. The other two items are water and ice cubes, making this delicious drink incredibly easy and affordable for most. It really doesn't get much better than that, does it?
Once you have everything gathered together, it's time to begin making your sweet tea.
Measure out your ingredients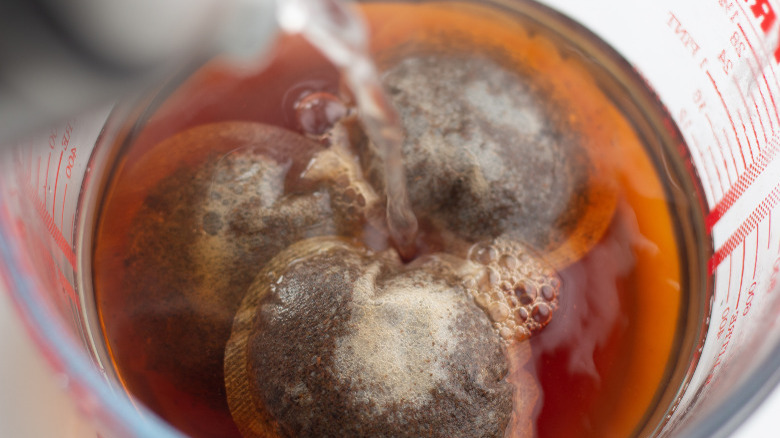 Susan Olayinka/Mashed
Take out a large measure cup and add both the tea bags and the hot water. Stir everything together for about 10 seconds to make sure everything is well-mixed. Once you are finished stirring, take the tea bags out immediately. This step is really important to remember. If you leave the tea bags in too long, it will make the tea bitter. Since this is a recipe for sweet tea, that's the last thing that we want to happen. Bottom line? The sooner you take the tea bags out, the better!
Now that you're done with the first step, it's time for another really easy one.
Add sugar to the tea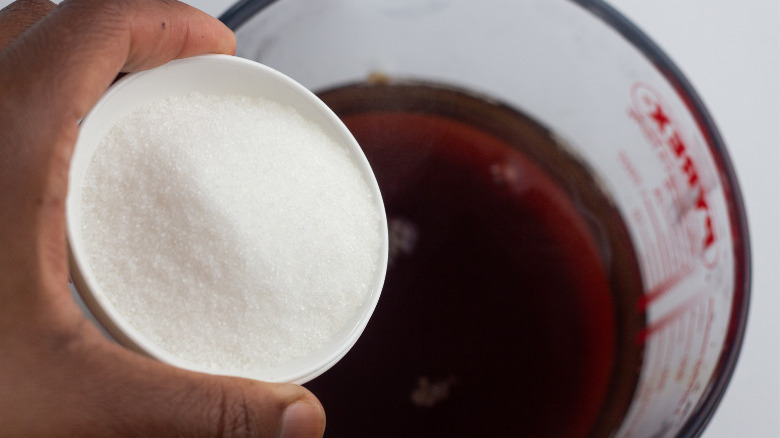 Susan Olayinka/Mashed
For the next step in the process, you'll want to add a slight hint of sweetness because what good would sweet tea be with no sweetness? Mix in the sugar and give the entire drink another good stir. After you have done that, put it in the fridge for 45 minutes. "Chilling in the fridge helps it to cool quicker, and the ice blocks won't melt as fast," Olayinka shares. Let's be honest, a cold glass of iced tea just hits a little different, so this step is very important. You may also leave the tea mix in overnight instead — Olayinka just recommends 45 minutes minimum. 
Serve your sweet tea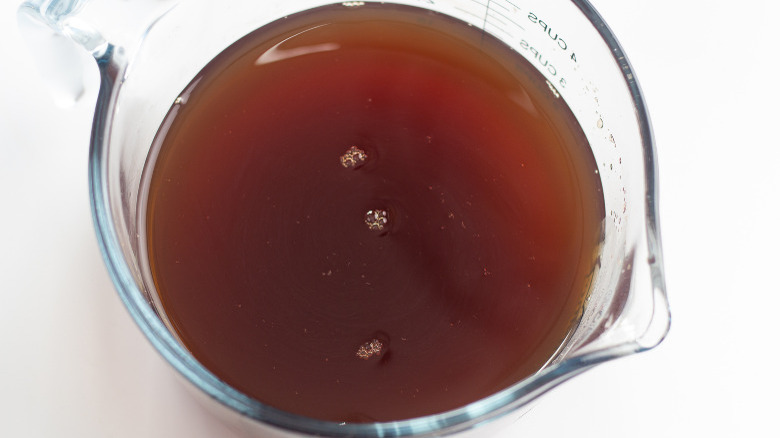 Susan Olayinka/Mashed
Once your timer beeps after 45 minutes, it's time to take your sweet tea out of the fridge. Take out your favorite serving glasses and add ice cubes to each one. Then, distribute the tea equally into glasses. It is now ready to be served to you and your lucky guests or family members. Trust us when we tell you that this tastes just as good as the real thing from McDonald's, and you'll know what we're talking about once you finally get to try it. 
Leftovers will stay good for two to three days, but we're going to go out on a limb and say that you won't have any. 
Serving suggestions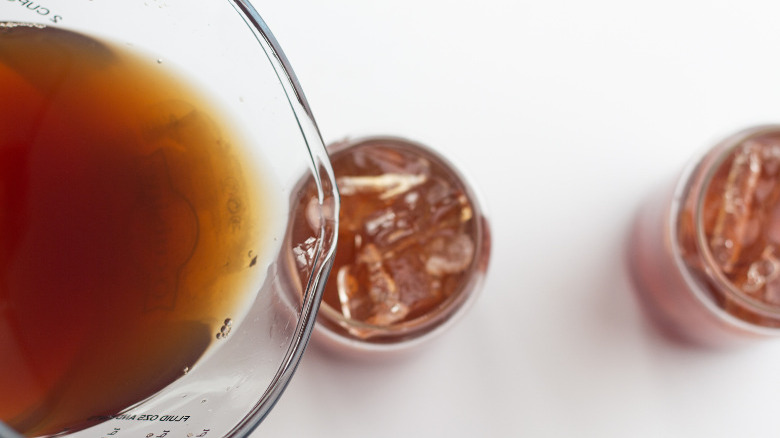 Susan Olayinka/Mashed
There are a few food items that pair well with this sweet tea. "This will definitely pair with something savory since it's so sweet! Maybe a grilled cheese or breakfast sandwich," Olayinka suggests. If you love an Arnold Palmer, you can also use half sweet tea and half of any lemonade of your choice to make one for yourself. We hope you loved this recipe as much as we do because it's oh so good and oh so sweet.
Copycat McDonald's Sweet Tea Recipe
Luckily, this copycat McDonald's sweet tea is super easy to make and requires only a few minutes of prep time. Try it out when you want a refreshing beverage.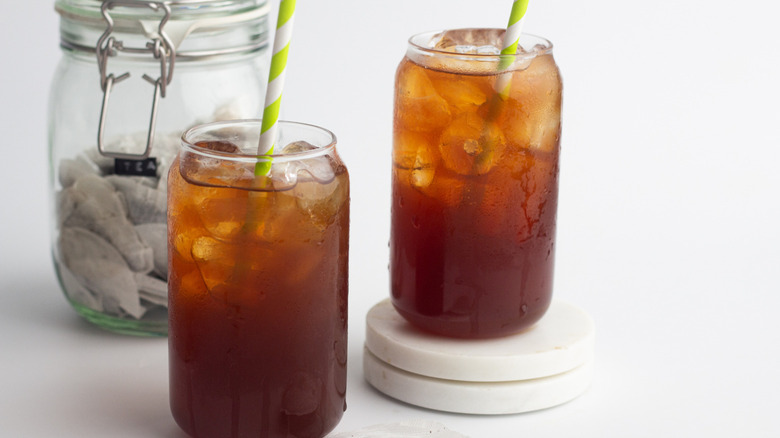 Ingredients
3 black tea bags
3 cups of hot water
½ cup of sugar
2 cups ice cubes
Directions
To a large measuring cup, add tea bags and hot water.
Stir for 10 seconds and take the tea bags out immediately so the tea won't be bitter.
Add the sugar and stir.
Chill in the fridge for 45 minutes.
After 45 minutes, get the ice cubes and place into the serving glasses, then equally pour the tea into the glasses. It is now ready to be served.
Nutrition
| | |
| --- | --- |
| Calories per Serving | 129 |
| Total Fat | 0.0 g |
| Saturated Fat | 0.0 g |
| Trans Fat | 0.0 |
| Cholesterol | 0.0 mg |
| | |
| --- | --- |
| Total Carbohydrates | 33.3 g |
| Dietary Fiber | 0.0 g |
| Total Sugars | 33.3 g |
| Sodium | 16.2 mg |
| Protein | 0.0 g |