The Ridiculous Amount Of Cheese Pizza Hut Uses Every Year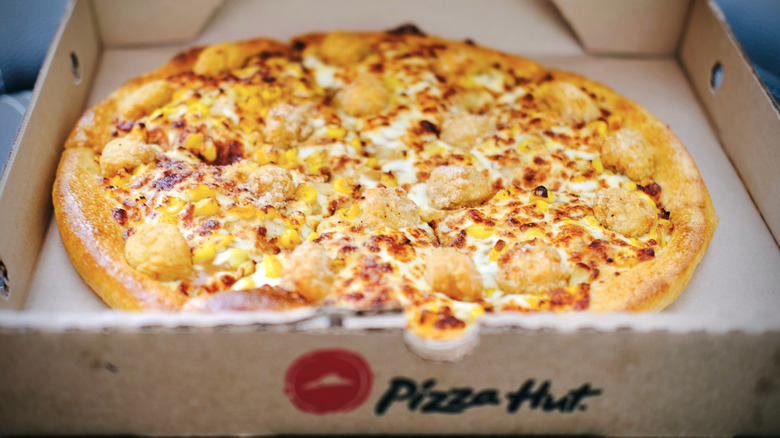 Shutterstock
You can't out pizza the hut. Or, in this case, you can't out-cheese the hut. Pizza Hut has been around for more than 60 years, and continues to be a fan favorite. It is not only known for its cheesy goodness, but is also available in more than 16,000 locations around the world.
Pizza Hut's versatile menu has gained popularity, fighting the competition of Domino's and Papa John's. According to Business Insider, the brand was in the No. 1 spot as the largest pizza chain in the world until it was overthrown by Domino's global retail sales in 2017. Still, Pizza Hut is thriving with a total revenue of $5.56 billion in 2019 (via Statista).
Whether it is meat lovers or vegetarian pizza, the company continues to grow. The brand now offers wings, pasta, dessert, and sides. Those cheese sticks are not the only item we are eyeing, however, because our cheese addiction is thinking about that pizza for dinner tonight. With that in mind, how much cheese does Pizza Hut use to meet consumer demand each year?
Here's how much cheese Pizza Hut actually uses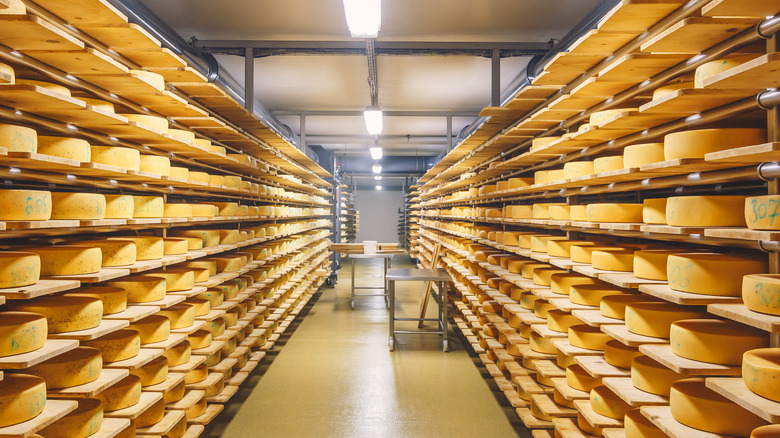 Shutterstock
With all of that money earned in 2019, we are left wondering: How much cheese does Pizza Hut actually use? Okay, take a guess before we give you the answer, because we guarantee that it is a lot more than you think. Ready? Pizza Hut uses 300 million lbs. of cheese annually.
Yes, that is completely true, as Pizza Hut is one of the largest cheese buyers in the world. Mental Floss explains that the company accounts for 3% of the total cheese production in the United States. In order to produce cheese of that quantity, 170,000 cows are needed, which results in about 300 billion gallons of milk. Mind. Blown. 
Now that you know the truth about Pizza Hut, think about your order next time you ask for extra cheese. It is hard to fathom the immense production that goes into your food as you walk into a simple pizza chain. Now you know that those cheese-stuffed crusts add up!