Easy 3-Ingredient Cookie Cake Recipe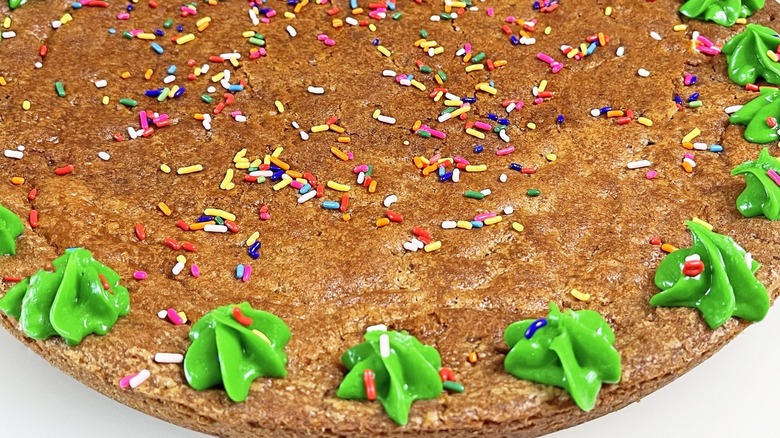 Jason Goldstein/Mashed
It's a cookie, and it's a cake. It's also a genius idea, but just whose idea was it? According to Franchising.com, the cookie cake was invented by Great American Cookies in 1977. That may be so, but ESPN has another story to tell. They note that cookie cakes are given to just about every college football recruit, a practice that got its start in the early '90s at West Point. It seems that all the West Point cadets were given goodie bags (or "boodle boxes," as they called them) containing cookies baked by a woman who worked in the West Point kitchens. When Army's coach started bringing recruits for on-campus visits, the baker made extra-large cookies so those always-hungry football players could bring the treats back to their hotel rooms and nibble on them all weekend. Other teams soon picked up on this practice, and now, cookie cakes are pretty much essential for any top prospect's college visit.
Jason Goldstein of Chop Happy may not have been a gridiron star (his website bio says his childhood heroes were celeb chefs rather than sports stars), but he still enjoyed plenty of cookie cakes when growing up. "For the holidays and if we had a big achievement," he tells us "Mama Goldstein would give us a cookie cake!" The recipe he's shared with us is festive enough for any celebration, but with just three ingredients, it couldn't be much easier to bake.
Get the ingredients together to make your cookie cake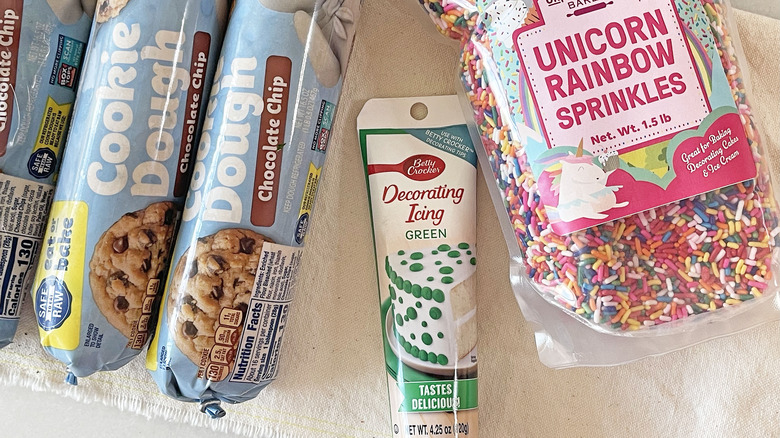 Jason Goldstein/Mashed
As the name of the recipe implies, you won't need too many ingredients to make this cake. All it takes is three tubes of ready-to-bake refrigerated cookie dough as well as the stuff to decorate it with. Goldstein chose to use chocolate chip dough for his cookie cake, but he says, "This will totally work with your favorite cookie mix," so sugar cookie or peanut butter are also on the table.
If you're more of an everything-from-scratch kind of baker, you could also use homemade cookie dough. If you have a kitchen scale, you could always weigh out three pounds of dough, or else you can just make a triple batch of cookie dough. As for any other ingredients, all you'll need is stuff to decorate the cake with. Goldstein went with the classic decorating icing/sprinkle combo, but you can decorate yours any way you like.
Prepare the pan to bake the cookie cake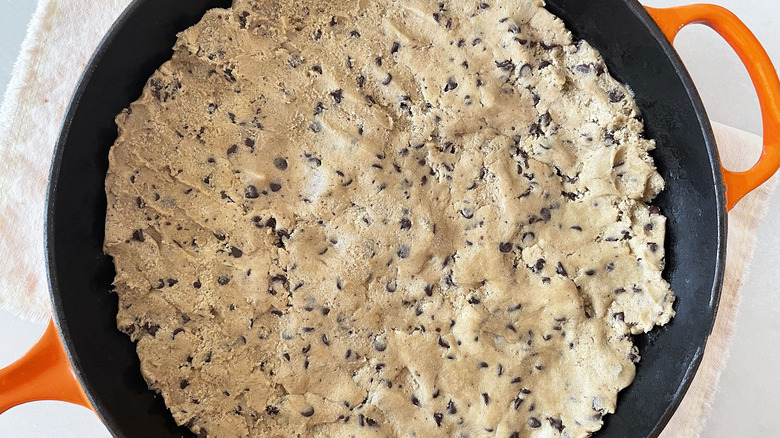 Jason Goldstein/Mashed
While Goldstein baked his cookie cake in a cast-iron skillet, he says you can also use a cookie sheet if you have no skillet sufficiently large to fit all the dough. He used a 14-inch skillet, so you can just pat out a dough circle 14 inches in diameter. Before you add the dough, though, prepare the skillet or baking sheet by lining it with parchment paper, then spritzing it with cooking spray. Use your hands to spread the dough into a circle that covers the bottom of the skillet if you're using one.
Bake the cookie cake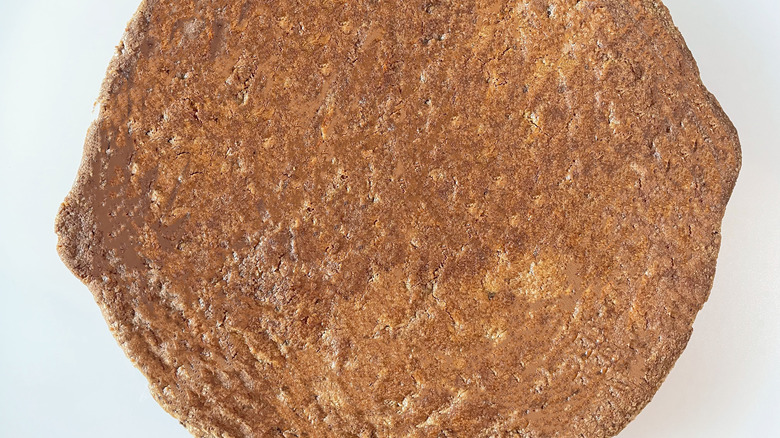 Jason Goldstein/Mashed
Preheat the oven to 350 degrees Fahrenheit. Once it's heated, slide the skillet or cookie sheet onto the middle rack and bake it for 25 minutes. Check the cookie halfway through the baking time. If it's starting to get too brown, cover it with aluminum foil for the rest of the time it takes to bake. Once the 25 minutes is up, let the cookie cake sit in its pan for a few hours, or put it in the fridge overnight before you decorate it. This will allow it to set up a bit, since such a thick, chewy cookie may still be a bit mushy while warm.
Decorate the cookie cake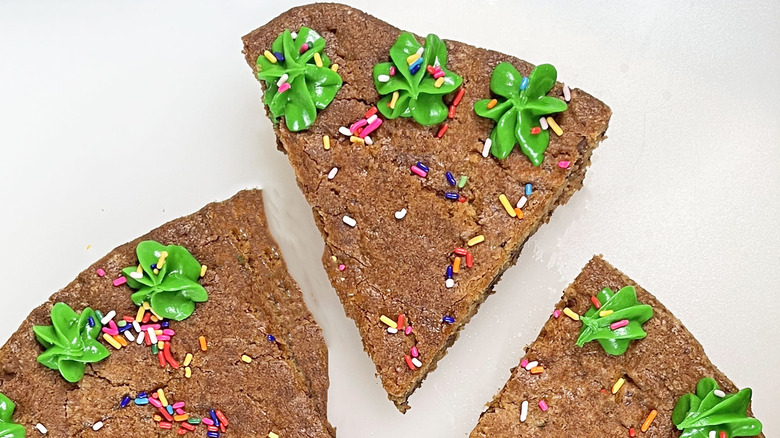 Jason Goldstein/Mashed
Before you decorate the cake, you'll first need to get it out of the pan — unless, of course, you baked it on a cookie sheet, in which case, the hard part is already done. If you baked your cake in a skillet, however, Goldstein advises placing a cutting board on top of the pan and carefully flipping the pan so the cookie is upside-down on the cutting board. You'll then need to take another cutting board and place it on top of the cookie, flipping once more so the cookie cake is right-side up.
Once you've gotten your cookie de-panned, you may now go to town with icing, sprinkles, dragees, sanding sugar, nonpareils, or whatever else you'd like to use to decorate the cake. Goldstein describes this cookie cake as having a "chewy cookie consistency" rather than a cake-like texture, so it should be sturdy enough to stand up to whatever decorations you choose. Still, don't use so many of them that you can't taste the delicious cookie! Goldstein advises that the cookie cake should keep up to a week in the fridge, though he doubts it will last that long.
Easy 3-Ingredient Cookie Cake Recipe
It's a cookie, and it's a cake. Jason Goldstein enjoyed plenty of cookie cakes when growing up, and now, he's come up with a recipe of his own.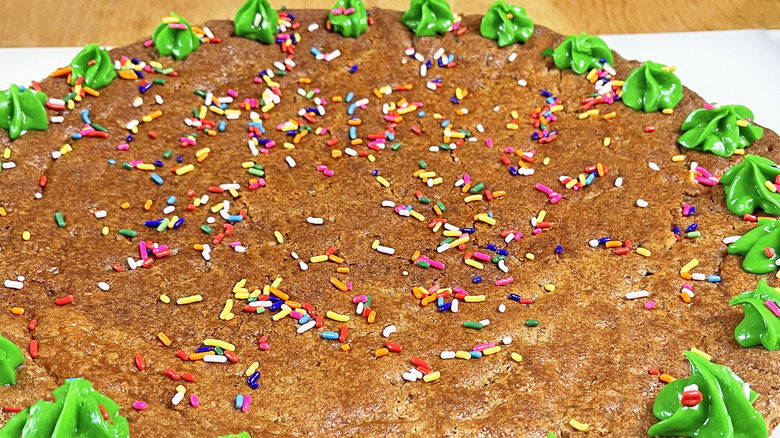 Ingredients
3 (16-ounce) tubes of refrigerated cookie dough
1 (4.25-ounce) tube of decorating icing
¼ cup sprinkles
Directions
Place parchment paper inside a 14-inch cast-iron skillet or on a large sheet pan.
Spray the parchment paper with cooking spray.
Place the cookie dough in the skillet or on the sheet and pat out to form a circle 14 inches in diameter.
Bake the cookie dough on the middle rack at 350 degrees for 25 minutes. If the cookie gets too brown, cover it with aluminum foil.
Once the cookie is done baking, let it sit out for a couple of hours or refrigerate it overnight so it can set.
Remove the cookie cake from the pan by placing a cutting board onto the pan and carefully flipping the cookie so it's upside down on the cutting board. Place another cutting board on top of the cookie, and flip it so the cookie is right-side up.
Decorate the cookie with icing and sprinkles.
Serve and enjoy.
Nutrition
| | |
| --- | --- |
| Calories per Serving | 854 |
| Total Fat | 38.7 g |
| Saturated Fat | 14.7 g |
| Trans Fat | 4.2 g |
| Cholesterol | 11.9 mg |
| | |
| --- | --- |
| Total Carbohydrates | 120.3 g |
| Dietary Fiber | 2.6 g |
| Total Sugars | 80.4 g |
| Sodium | 573.8 mg |
| Protein | 6.8 g |