This Ingredient Takes Cheese Spreads To The Next Level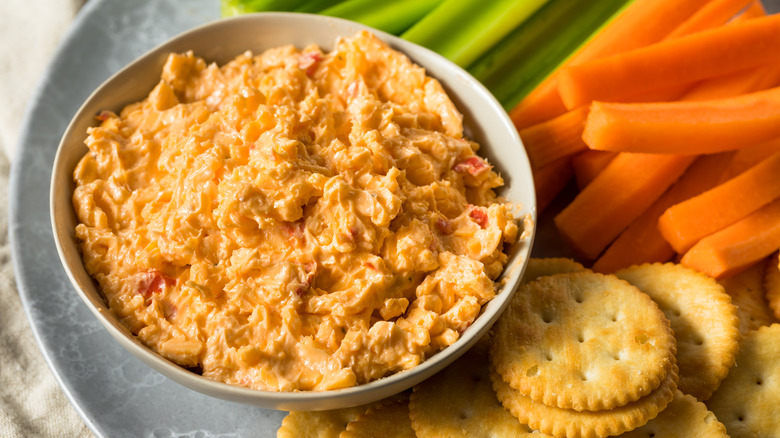 Shutterstock
Is there anything not to love about cheese? Rich and creamy, soft and spreadable, gooey and melty, sharp and crumbly in all its various forms, cheese brings so much love to our culinary lives. It's hard to even name all the dishes that feature one of our favorite foods of all time — from a simple ham and cheese sandwich to gooey fondue to creamy feta pasta, our personal recipe arsenal is one that's loaded with cheese. 
Another cheesy dish that we love? Cheese spreads. While not an everyday item, cheese spreads are a great option for a potluck, a BBQ, or game night. From cheddar-y, garlicky pub cheese to tangy ranch cheese spread, these bowls of dairy goodness are the perfect partner for sliced raw veggies, crackers, and baguettes. Sometimes, though, cheese spreads can be overwhelmingly rich, loaded, as they tend to be, with ingredients such as sour cream and mayo. That's why time and again, we reach for one spicy ingredient to stir into our cheese spreads, one whose fire cuts through any excess richness. 
Harissa is the secret sauce that adds a kick of flavor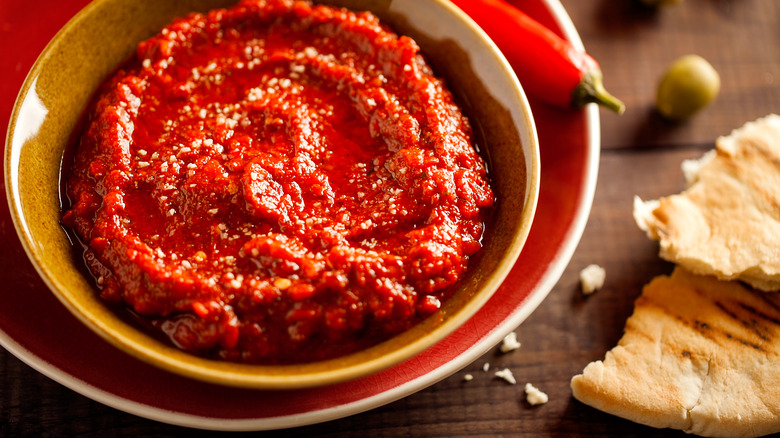 Shutterstock
Have you ever tried harissa? If you haven't, you'll want to buy a jar the next time you stir together a cheese dip. According to The Spruce Eats, harissa is a hot chili paste hailing from North Africa, commonly making cameos in Moroccan, Algerian, and Tunisian dishes such as couscous and soups. In addition to chilis, brick-red harissa paste typically includes plenty of garlic and makes an earthy, spicy addition to any meal.
As mentioned, we love to stir harissa into our cheese dips, where the spiciness of the chilis helps balance out the rich fattiness of the dairy. You can't get much more classic than pimento cheese, a southern American classic that typically includes cream cheese, cheddar cheese, roasted red peppers, and plenty of mayonnaise. While harissa isn't a traditional ingredient, we love to add some to bring balance and smokiness to the spread. Another fan of harissa-laced pimento cheese is food blogger Molly Yeh, who reaches for harissa powder instead, and who serves the dish as an appetizer along festive Aperol spritzes. Now that's a combination we can get behind.