The Bizarre Chex Flavor You Never Knew Existed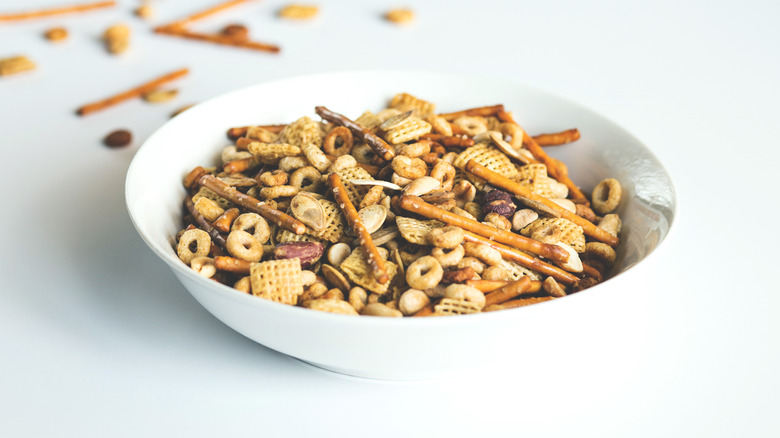 Shutterstock
Chex is a popular cereal that has become much more than a breakfast treat. In fact, the cereal has a long history. Introduced in 1937 by Ralston Purina, the cereal (now made by General Mills since 1996) has become a staple in most households for its crunch factor and signature square waffle shape. The cereal, according to chex.com, is free from artificial flavors and colors and has no high-fructose corn syrup. In addition, there are eight gluten-free varieties of Chex, making it a cereal that many people can enjoy.
Yet, while most cereals are relegated to the breakfast table, Chex has become a popular snack. According to producer General Mills, in 1952, a recipe for "Chex Party Mix" appeared on Chex cereal boxes. The recipe languished for a few years until the wife of a Ralston Purina executive (Chex's previous owner) served it at a holiday party. The sweet, savory snack was a hit. In 1987, the first-ever pre-packaged Chex Mix hit grocery stores. Since then, there are now more than a dozen different flavors of Chex Mix — but you probably never knew this particular flavor existed.
Reviewers declared this flavor 'actively bad'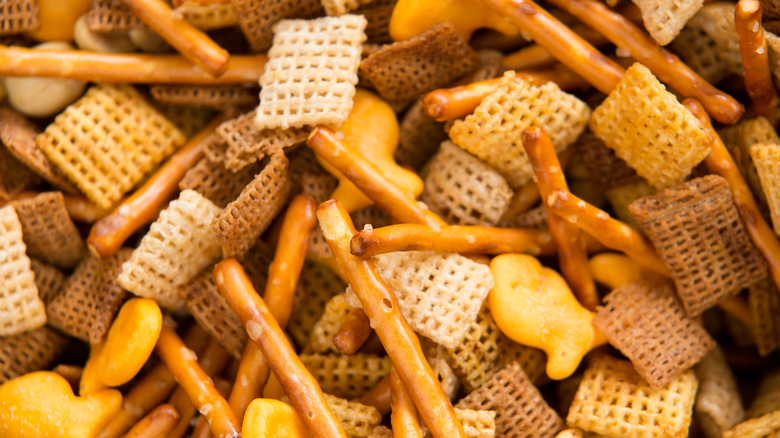 Shutterstock
Chex Mix flavors are so popular that they are even ranked by popularity and taste. (Interestingly, the most traditional flavors are still considered the best.) Chex cereal, after all, has a range of interesting flavors. Ranker has a list of varieties, from vanilla to strawberry. 
The most bizarre Chex flavor, however, might be Kellogg's Green Onion Chex. The unique flavor is available in South Korea, according to Reuters. According to the story, the Green Onion Chex had a 16-year road to being released. In 2004, a marketing campaign had consumers in South Korea voting for their favorite potential new flavor — green onion or a chocolate version. Though the green onion won by a landslide, the chocolate version was released until 2020. 
The company claims it worked on a green onion flavor for 15 years before it was finally released as a limited edition variety in 2020. Serious Eats reviewed the Green Onion Chex and found the onion taste to be almost overpowering. The Green Onion Chex are also coated with sugar, making the taste, "actively bad," according to the review.