Aldi's Dr. Pepper Baked Beans Are Turning Heads
Most people probably don't think of a side of baked beans as anything to get excited about, but now Aldi is changing that with their cans of Serious Bean Company's Dr. Pepper Baked Beans. While most baked bean recipes call for a little sweetener, like brown sugar or molasses, these beans get their touch of sweetness from Dr. Pepper. Although to some it may sound odd at first to add soda to their side dishes, many Aldi shoppers swear that these baked beans have the perfect flavor. 
Aldi shopper u/waxmuseums alerted other fans of the store to the new find, making a post featuring the Dr. Pepper flavored baked beans on Reddit. Some social media users seemed confused by the flavor pairing, but others were quick to assure them that the tastes were more complementary than they might realize. "They are like the baked beans at a barbecue joint or the heinz beans you would eat with a full english breakfast but sweetened with Dr. Pepper in addition to brown sugar or molasses or whatever," u/mmblrd explained, while another satisfied Aldi shopper simply raved: "These beans are the truth!"
Aldi shoppers posed rave reviews of these Dr. Pepper baked beans online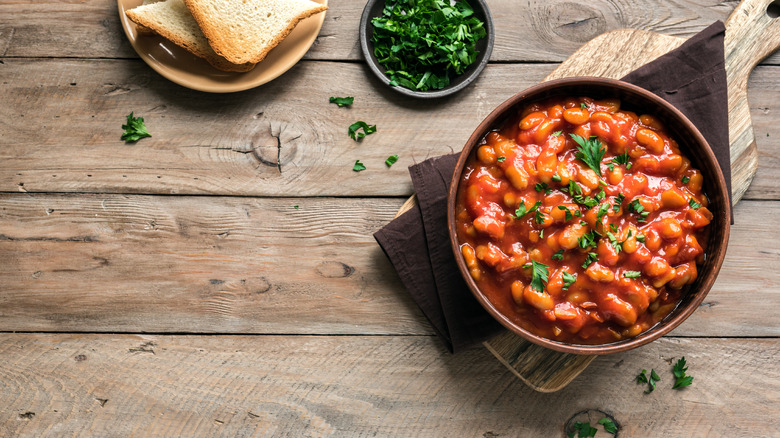 Shutterstock
Reddit user u/MaleficentMaelstrom posted: "I love these beans. They are vegan and go so well in soups and stews in the pressure cooker." "I am definitely going to pick some of these up! My husband is a Dr. Pepper freak, and I basically love any kind of baked beans," replied u/vegasandponies.
These baked beans are also available in a Buffalo flavor, which many shoppers reviewed positively as well. "Got those and the buffalo ones. Buffalo beans are pretty good, haven't yet tried the DP," u/skygz remarked. It seems that Aldi's Serious Bean Company products are seriously good, no matter which variety you prefer.
And the best part is, these cans of baked beans are selling at Aldi locations for just $1.45 for a 16-ounce can, according to the Aldi Reviewer. So if you like interesting flavors, are a fan of sweet dishes with a hint of chile heat, or just simply love baked beans, you won't want to miss your chance to give these Serious Bean Company's Dr. Pepper Baked Beans a try for yourself.