This Napoleon Bonaparte Wine Is Surprisingly Still Safe To Drink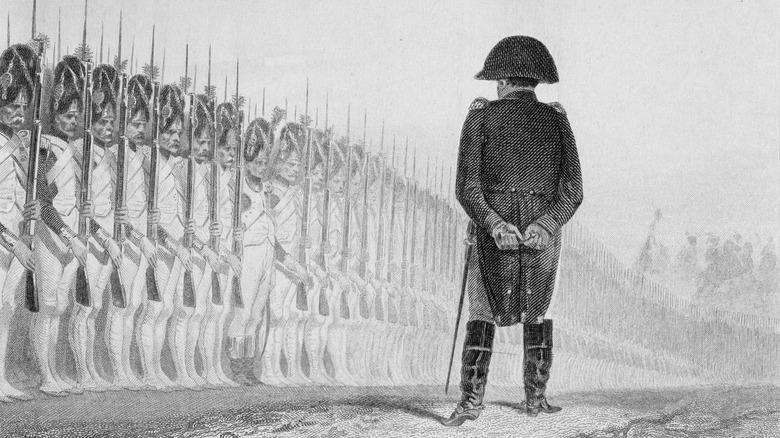 Hulton Archive/Getty Images
A bottle of Grand Constance from the reign of Napoleon Bonaparte recently went up for auction at the Cape Fine & Rare Wine Auction, and sold for a staggering $30,000. According to Decanter, it belonged to a crate of dessert wines that were supposed to be sent to Napoleon during his exile on the remote island of St. Helena, but he died during the ripening of the vines in 1821. The bottles were re-corked in 2019, thus ensuring that the wine within would last longer. "A treasure of this calibre presents itself perhaps once in a lifetime, and anyone lucky enough to secure this wine at auction will be rewarded with an unbelievable valuable piece of wine history," Niel Groenewald, the managing director of Nederburg, told the outlet.
Whether or not the wine would be drunk for such a price remains an open question. In the wake of the $1 million whiskey sale in 2018, Food & Wine spoke with Jamie Ritchie, the worldwide head of Sotheby's Wine, about whether he would feel comfortable drinking such an expensive bottle. While Ritchie did suggest the question depended on what people felt comfortable paying, his professional opinion was that the whiskey was "more likely to be kept as an investment that should appreciate over time." Similarly, a wine meant for the lips of Napoleon could easily go undrunk, but remain in the bottle appreciating in value as the distance between us and the Napoleonic wars widens.
You can enjoy the brand today
Shutterstock
While few of us have the income to spend thousands of dollars on a bottle of wine we may never open, more of us can enjoy the dessert wine offerings Groot Constantia has today. That is, if we are fine with spending a bit more than we may normally. On Cape Ardor, you can buy bottles with prices ranging from $21 to $53. However, the Grand Constance itself is harder to find and more expensive to buy. As of writing, Wines Available has two bottles from 2010 for $112 and Wine Searcher shares two leads, one asking for $56 for a half bottle and another charging $180 for a box of three half bottles. 
According to the Cape Fine & Rare Wine Auction House, the relative expense that these wines command is commensurate for the historical figures that loved it. Apart from being a favorite of Napoleon Bonaparte's, the wines of Groot Constantia found favor with George Washington, Jane Austen, and Maire Antoinette. The BBC describes Grand Constance as "a sweet wine that is intensely amber-coloured and has notes of apricot, raisins, pineapple, honey and rose." Perhaps it is not worth $30,000 to those uninterested in spending the better part of the average American's yearly salary, but, then again, unless we are interested in the history of the bottle itself, no one is asking us to cough up such sums.