This Shower Accessory Makes Organizing Your Fridge Easier Than Ever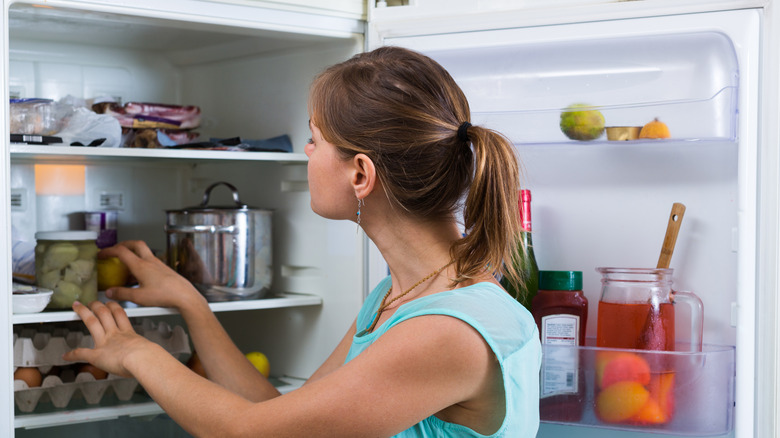 Shutterstock
We may receive a commission on purchases made from links.
Have you ever been hunting in the fridge for something you are sure you bought at the store, but you can't find it amidst all the other condiments, leftovers, and other odds and ends that are taking up all the fridge space? Or perhaps, while digging for something inside the fridge, you stumble across a food item that's gone moldy or rank before you got the chance to eat it. If you've ever dealt with this, you're not alone. 
Refrigerators, despite being one of the main appliances in our kitchens, are notoriously difficult to keep organized. Although they come equipped with shelves and drawers, many items often do not fit in the allotted space, which can sometimes make the clutter worse instead of better. But luckily, there are ways to tame the disorganized mess that lives inside the fridge, like using a shower wall caddy. While these caddies were originally designed to stick to shower walls to hold shampoos, conditioners, and other assorted bathing products, they also make ideal organizers for inside the refrigerator.
Shower caddies can help keep your refrigerator organized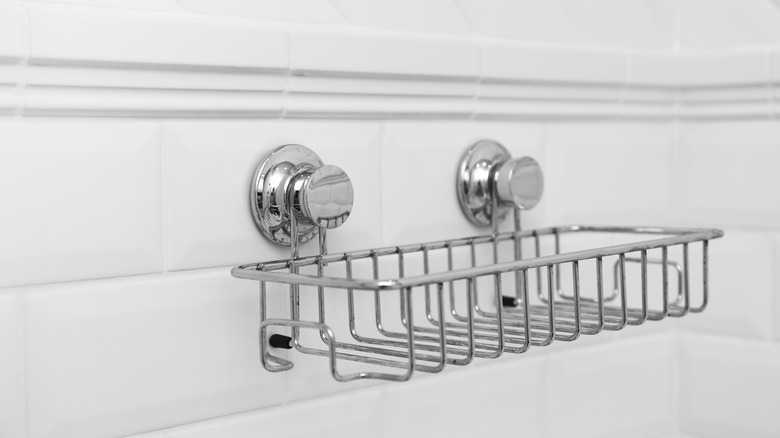 Shutterstock
These useful caddies are available at a variety of stores where home goods are sold for around just $4 (via Bed Bath and Beyond). Many kitchen organizers will run upwards of $30 or even $50, so they are a thrifty and practical purchase. They are even sold in sets of three, so you can buy a pack and spread them out throughout the fridge for optimal storage (via Amazon). Not only does sticking a shower caddy to the inside of your fridge add a whole pocket of extra storage to space that was previously unused, it also helps keep items neat and organized, so you can easily identify and find what you need. 
It definitely beats throwing food in a drawer or having it get shoved so far back on the shelf that you forget it's there until it goes moldy. You can use it to store everything from condiments and sauce packets to yogurt, cheeses, and other small snacks, so they don't get lost in the disarray and are easy to grab whenever you need them. So, if you find yourself struggling to find space for everything in your fridge, or are just struggling to find things in there at all, then you might want to think about snagging a shower caddy on your next Walmart run. These useful, inexpensive tools could help you finally achieve the organized kitchen of your dreams.