This Religious Ritual Is Performed Before Each Buca Di Beppo Location Opening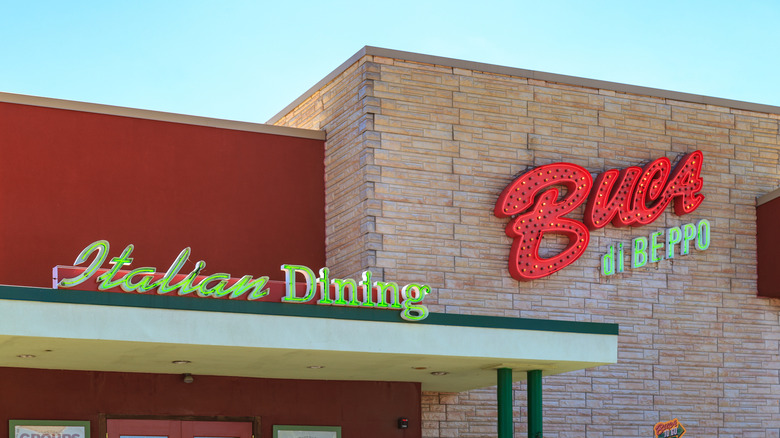 Shutterstock
For almost 20 years, Buca di Beppo has been offering its customers large family-style servings of Italian food inspired by the cuisine found in the northern and southern regions of the beloved European country (via the official website). The very first Buca di Beppo location was established in 1993 in a Minneapolis apartment basement (the name of the restaurant in fact translates to "Joe's Basement"), and it has since become one of the most successful and well-known family-style eateries in the country with more than 100 dining locations. From their signature spaghetti and meatballs to prosciutto-stuffed chicken and Margherita pizza to fresh bruschetta, Buca di Beppo is an Italian lover's paradise.
If you've ever dined in a Buca di Beppo restaurant, you may have spent more time than usual staring at the varied and sometimes odd décor that's meant to make guests feel relaxed and comfortable ... and a bit curious. Founder Phil Roberts wanted a "sleeves-up restaurant where the guest feels superior" (via Twin Cities Business) and not worried about coming to a place where you'd fret about mispronouncing the name of a dish. Additionally, what sets Buca di Beppo apart from so many other restaurants is that they employ a particular religious ritual before every grand opening.
Buca di Beppo wants customers to feel truly blessed at its restaurants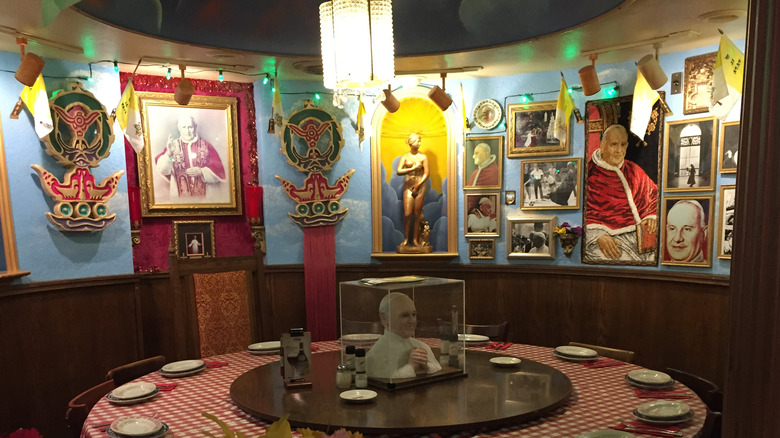 Shutterstock
Buca di Beppo embraces the Italian religion of Catholicism on a whole other level. For example, parties larger than 11 can dine in the "Pope Room," which houses all types of religious décor, per Mental Floss. In this special room at each location, the walls are lined with photographs and life-like statues of past Papal figures and the main table even has a Lazy Susan with a bust of Pope Benedict XVI in the center. You don't see that everywhere! But that's not all. In addition to the elaborate decorations, Buca di Beppo also always has a religious figure (typically a priest, though in years past a rabbi has been invited) bless the location before every grand opening.
The Italian restaurant has received backlash over the years, particularly from Catholic priests, due to the art on the walls, which they say pokes fun at the religion. A bishop in Miami called the company's taste in artwork and design an "anti-Catholic depiction" and "close to blasphemous" in the Orlando Business Journal. The same outlet reported that Buca di Beppo has clearly stated that this décor is all in good fun and not posed as a joke, but rather is meant to honor the Italian immigrant experience. With going to the great lengths of blessing each restaurant too, we'd say they genuinely genuflect.