Costco's Frozen Orange Chicken Is Turning Heads
When you go to Costco, it's never just a quick grocery trip, it's a whole event. From in-store samples to buying in bulk, the store has everything you didn't even realize you needed — and the brand is always introducing new products that leave fans coming back for more.
This time, it's a delicious Asian specialty dish that the 'net is raving over. Thanks to the Instagram account @costcobuys, showcasing the best Costco finds and breaking news on brand-new items, we know that the latest offering is Mandarin Orange Chicken — and we can already see what all of the hype is about. The "restaurant quality" dinner, from manufacturer Crazy Cuizine, consists of battered chicken breast with rib meat and mandarin orange sauce, as described on the packaging. Even more convenient, it's a frozen meal that can be fully cooked in just 20 minutes when taken out of the freezer.
With such a perfect combination of attributes, it makes sense that the Instagrammer had to post a picture of this major find, alongside the caption "Orange chicken from Costco is a really good quick, tasty meal! It's ready in 20 minutes and comes with 4.1lbs for $13.99!" Their followers concurred, flooding the post with over 1,000 likes and a ton of overwhelmingly positive replies. 
This Costco score has shoppers talking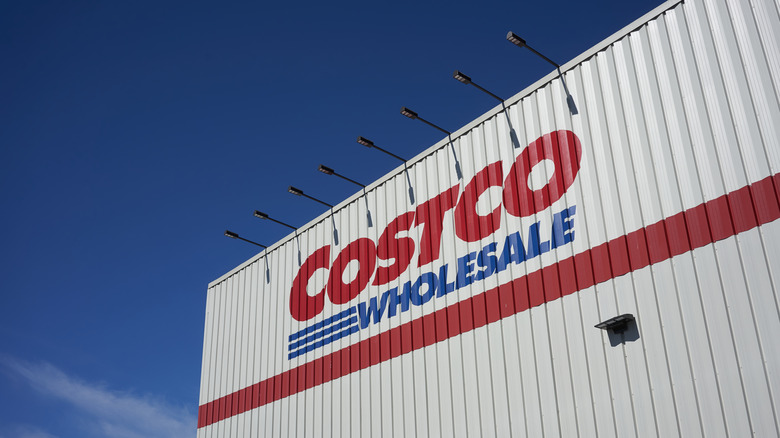 Shutterstock
If you glimpsed this find on one of your latest grocery runs and couldn't decide if you should buy it or not, the fine followers of @costcobuys had some positive feedback regarding the product that they say could easily win over anyone. One follower replied with, "It's good, I cooked the tempura shrimp with this, really good." Another follower chimed in, comparing the meal to the quality of their favorite restaurant, noting, "My husband's favorite except [for] our local Chinese restaurant The Frontier Wok, Too."
Another added to the restaurant-level quality, saying, "I've seen a Crazy Cuizine orange chicken truck parked behind my local Panda Express many times, so I'm pretty sure it's the same stuff they use!"
Some others noted that the brand of this frozen chicken meal might take on different names depending on where the Costco store is located. One follower mentioned, "The Costcos in Florida have this under the brand name bibigo and they are on sale right now for 10 dollars." Regardless, this sounds like a real treasure of a meal, best summed up with the ultimate reply — "YUMMMMMMMMM Enough for a couple dinners, 4 pounds worth!"
This Mandarin Orange Chicken dinner is a game changer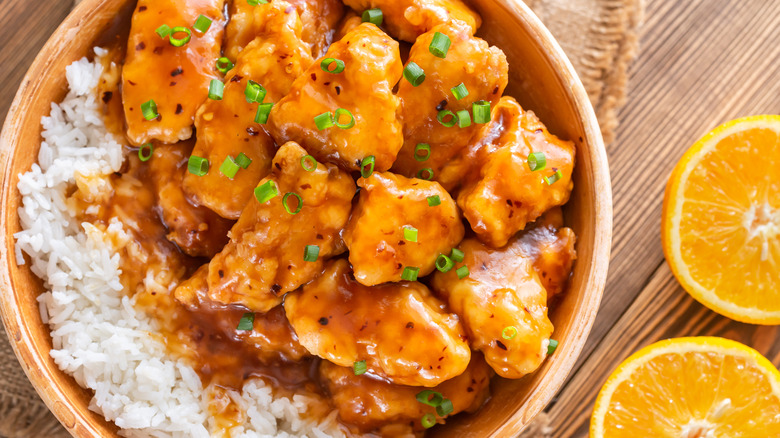 Shutterstock
Fans are not just reeling about the fact that this 4-pound, already cooked package is a quality meal that heats up in no time, but it's also air fry ready. Air fryers have been all the rage lately, and this chicken dinner adheres to that trend perfectly with a quick and easy way to make a delicious dinner. At only $13.99, it's filling enough for the whole family to enjoy and offers 13 grams of protein per serving. The meat used also does not contain any antibiotics, steroids, or added hormones. 
Fans of the meal really love the quick cooking feature. As one user said, making the chicken in the air fryer is a "game changer." Another user advised to "put this on top of some Jasmine rice. The 30lb bag one from Costco. Yum."
Sounds like this is a quick and easy solution to your weekday meals that tastes good, too — and it's just one more reason to love Costco.