Great British Baking Show's Manon Lagrève Shared A Beautiful Photo Of Her New Baby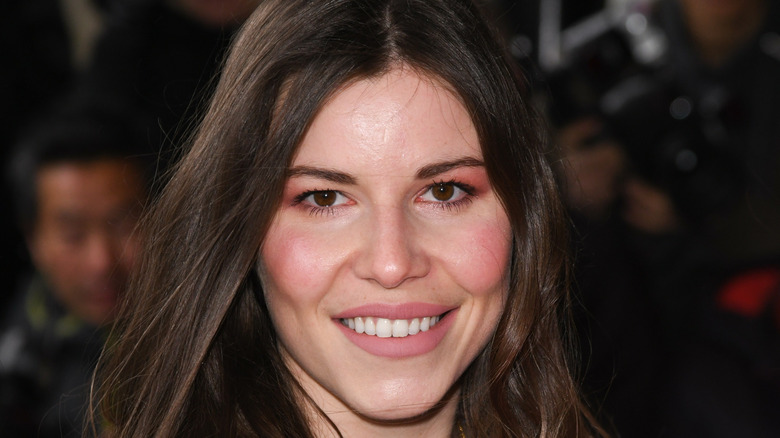 Shutterstock
Manon Lagrève won over audiences everywhere when she wowed the judges on Season 9 of "The Great British Baking Show" (via Manon Lagrève). After going head-to-head against some seriously stiff competition in the baking tent, Lagrève made it to the quarter-finals thanks to her keen sense when it came to all things baked. The former contestant went on to enjoy the prestige that came with making it so far into the competition and has since founded a fashion line specializing in women's clothes with a touch of French flair (via Manon and Rose). 
Back in March, Lagrève made the major announcement that she would soon have a child with her fiancé, Luke Bennett, as Hello! Magazine reported. Months after the announcement, the former "Baking Show" star has proudly announced the birth of her first child. Lagrève made the announcement on Instagram and posted a picture of her newborn daughter alongside the caption "Fleur Camille Bennett Born on Father's Day 20th June 2021, all happy and healthy. A little lady who took us by surprise when she decided to come! We love her very much already."
The perfect Father's Day gift
After posting the announcement to Instagram, fans and loved ones flocked to the post, congratulating Manon Lagrève on the successful delivery. Comments like, "Huge congratulations Manon, she's absolutely beautiful," and "Awww congratulations she is so adorable. Take good care of yourself," perfectly capture the joy and warmth that Lagrève wrapped up in the announcement.
If you love following the exploits and lives of everyone who helped make "The Great British Baking Show" so memorable, you don't want to miss more news about the latest addition to Lagrève's family. The former baking tent contestant and her fiancé plan to raise their daughter in a bilingual household, and Bennett currently takes French lessons in order to properly engage with his newborn daughter (via Hello! Magazine). Lagrève couldn't feel happier and she looks forward to including her daughter at her 2022 wedding in Brittany, France. You couldn't ask for a happier ending for Lagrève and you can guarantee that her new daughter can plan to have some of the best baked goods around, courtesy of her extremely talented mother.