Fresh Nopalitos Recipe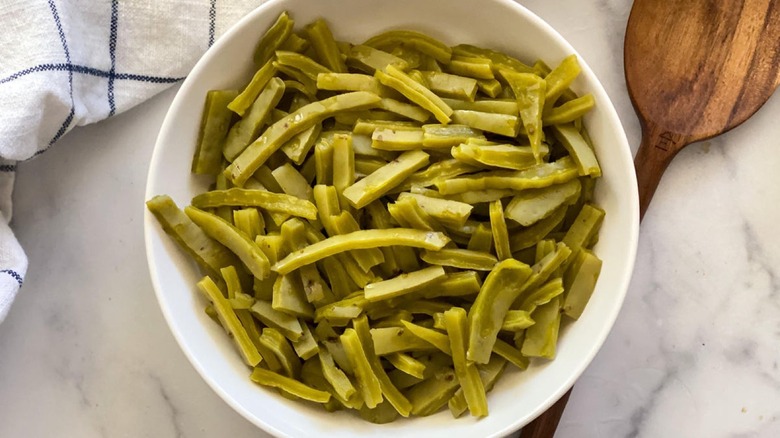 Miriam Hahn/Mashed
These fresh nopalitos are a recipe that you never knew you needed. According to Gourmet Sleuth, nopales are a traditional Mexican dish made from a cactus grown mainly in Mexico and a few spots in the United States, as well as some parts of the Mediterranean. Another name for nopal is prickly pear, which is more commonly known in the United States. Miriam Hahn of YouCare-Selfcare is the brains behind this recipe, which is filled with flavor. "I have a good friend who is from Mexico, and whenever we go to her house, she always has a beautiful cactus salad," she raves. "I love using all sorts of plants in my cooking, so decided to make it myself. It is actually easier than you think!"
Another bonus of this recipe is that it's filled with goodness. "Additionally, it is loaded with vitamins A, C, E, as well as calcium and iron," Hahn shares. "It is helpful in reducing inflammation in the body as well." As for the taste, she compares it to green beans or asparagus.
A tasty dish with lots of health benefits sounds pretty good to us. If you haven't tried nopalitos yet, here's your chance to make what's sure to be a hit. 
Gather the ingredients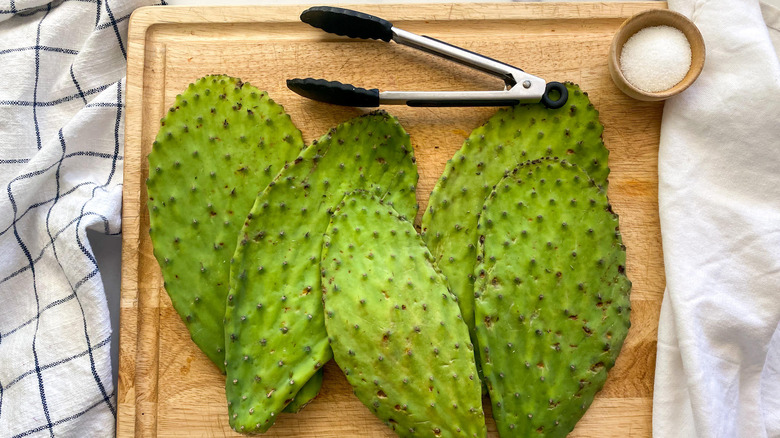 Miriam Hahn/Mashed
The first step in any process is to gather the ingredients. Luckily, you only need two things for this recipe, and one of them you likely already have at home. The first thing you need is the star ingredient, which is fresh prickly pear cactus paddles. You can find these at your local Mexican grocery store. In addition, you will need a teaspoon of salt, which you probably already have at home.
That's right, just two items to make this flavorful recipe. Once you have your ingredients in front of you, it's time to get down to business.
Scrape the thorns from the prickly pear stems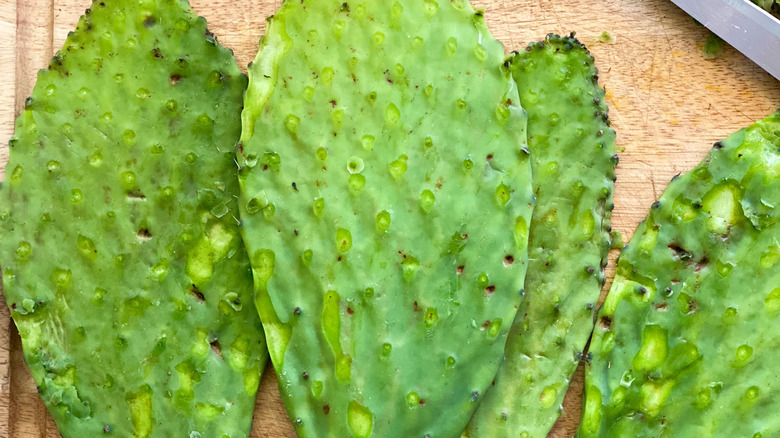 Miriam Hahn/Mashed
Take out a cutting board and a sharp knife to get ready to cut the cactus. Lay the nopal leaves on the board and begin scraping off the thorns. The easiest way to do this is to cut against the thorn. You also want to be sure to have a paper towel handy to wipe the knife down, since the paddles will make it slimy and you don't want the knife to slip. You want to keep your hands safe from the sharp pieces. 
Repeat this process with the remaining cactus pieces, and then it's time to move on to the next step.
Chop and rinse the stems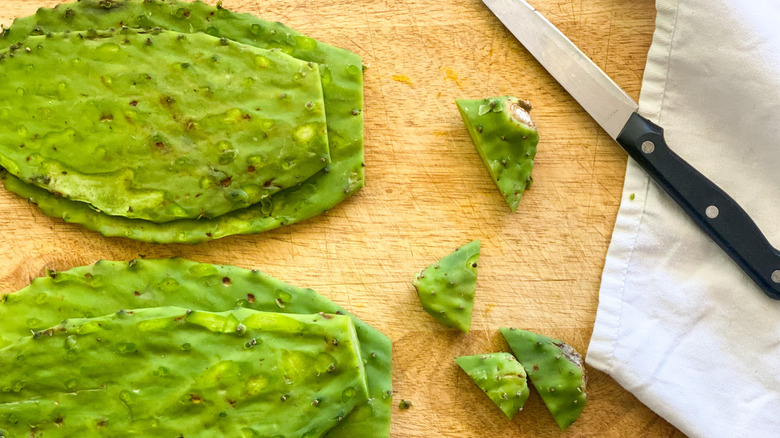 Miriam Hahn/Mashed
Once all of the thorns are off, simply cut the tip off of each cactus. It's as easy as that! Once you chop the tip off, trim the edges of the paddles. Don't worry, it's really easy to do. Just cut off about ⅛ inch around the perimeter. Once you trim them all, you can place them in the sink to wash them. Be sure to rinse them well so they're thoroughly clean.
Dry and cut the nopalitos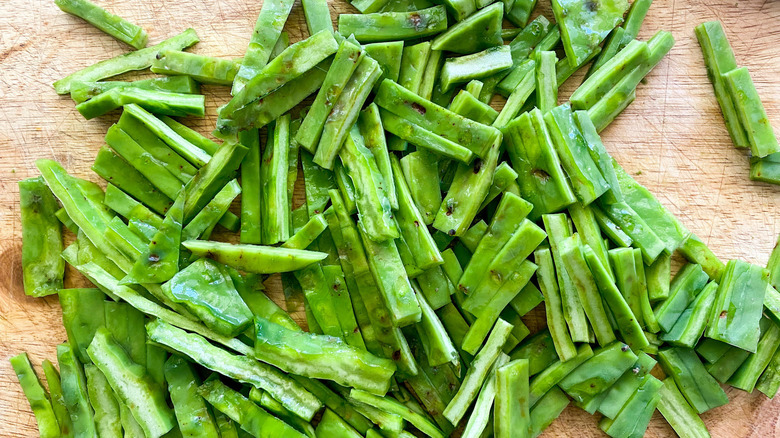 Miriam Hahn/Mashed
Don't put your cutting board away just yet because you will need it in a second. Once you rinse the cactus paddles, lay them back on the cutting board. Chop each one into thin slices and repeat with all of the remaining cactus until they're all chopped up. They should look similar to the photo. 
When you've cut all of the pieces, get out a medium saucepan and toss everything in. Next, add some water and salt and turn up the heat. Set your timer for 15 minutes and let the nopalitos boil. After 15 or 20 minutes, they should be soft and tender. 
Drain, rinse, and serve the nopalitos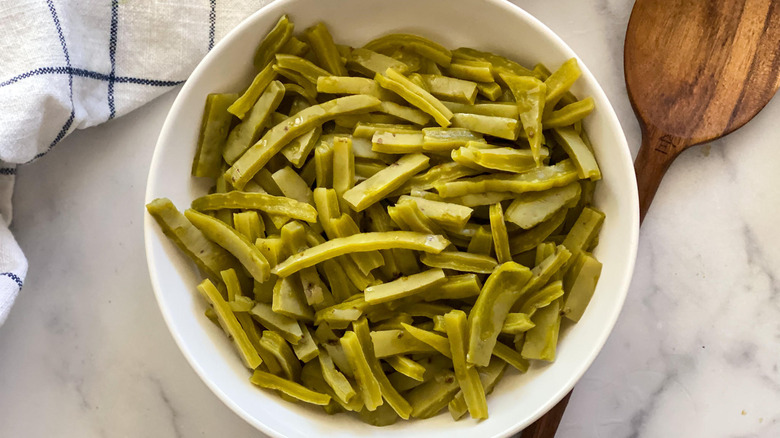 Miriam Hahn/Mashed
When your timer goes off, test the nopalitos to make sure they're done. If they are, put the cactus in a colander and rinse with cold water. After they're all rinsed, you can finally enjoy them. 
There are a few ways to serve these yummy nopalitos. One way is to sauté them with onion and garlic. You can also serve them cold in a salad. Or just add a little vinegar, olive oil, salt, and pepper. They also make a great side or ingredient in burritos, tacos, enchiladas, or quesadillas.
Hahn also says it's "common to add tomatoes, red onion, radishes, with lime juice and olive oil." If you have any leftovers, make sure to store them in an airtight container. They will last for five days in the fridge.
Fresh Nopalitos Recipe
This traditional Mexican dish made from prickly pear cactus has plenty of health benefits and is easier than you think. Try this fresh nopalitos recipe today.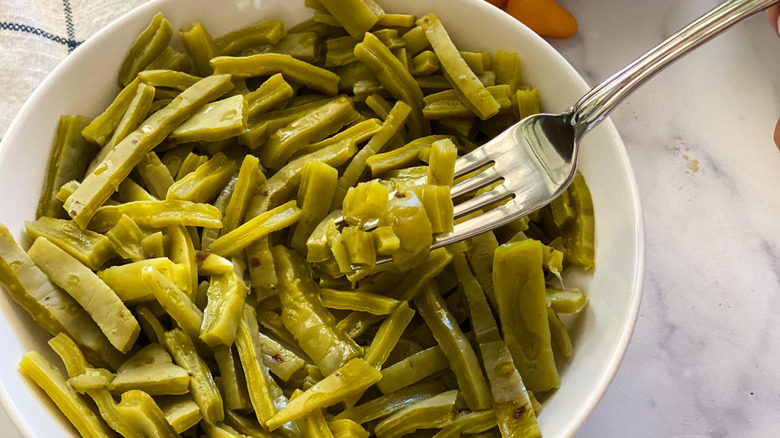 Ingredients
5 prickly pear cactus paddles
1 teaspoon salt
Directions
Lay the cactus pieces on a cutting board and, using a sharp knife, begin scraping off the thorns. Have paper towel handy to wipe off the knife.
Cut off the tip of each cactus. Trim the edges of each paddle, cutting about ⅛ inch around the perimeter.
Rinse the cactus paddles well in the sink.
Cut the paddles into thin slices.
Put the pieces in a medium saucepan, cover with water, and add the salt. Boil for 15 to 20 minutes.
Drain the cooked nopalitos in a colander and rinse with cold water.
Nutrition
| | |
| --- | --- |
| Calories per Serving | 70 |
| Total Fat | 0.9 g |
| Saturated Fat | 0.1 g |
| Trans Fat | 0.0 |
| Cholesterol | 0.0 mg |
| | |
| --- | --- |
| Total Carbohydrates | 16.4 g |
| Dietary Fiber | 6.2 g |
| Total Sugars | 0.0 g |
| Sodium | 399.2 mg |
| Protein | 1.3 g |