Creamy Cauliflower Potato Soup Recipe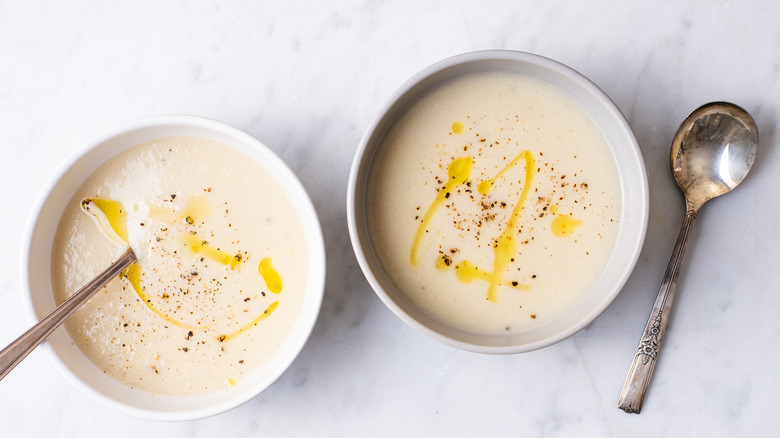 Alexandra Shytsman/Mashed
It seems that nearly every day, the humble cauliflower finds itself in new predicaments. It all started innocently enough with cauliflower "rice" and mashed "potatoes," and eventually became quite elaborate, with the vegetable finding itself starring as pizza crust and buffalo cauliflower "chicken wings." But with all these fancy transformations, let's not forget to appreciate cauliflower in its original state.
This pureed soup from recipe developer Alexandra Shytsman of plant-based blog The New Baguette is the creamiest, silkiest, lightest dish and celebrates cauliflower's mild flavor and delicate texture. It's great for those nights when you're craving something warm and cozy, but don't want to feel weighed down by something heavy. Made with easy-to-find ingredients and zero complicated techniques, this vegan recipe is sure to become a weeknight favorite. Plus, it's ready in less than an hour!
Gather the ingredients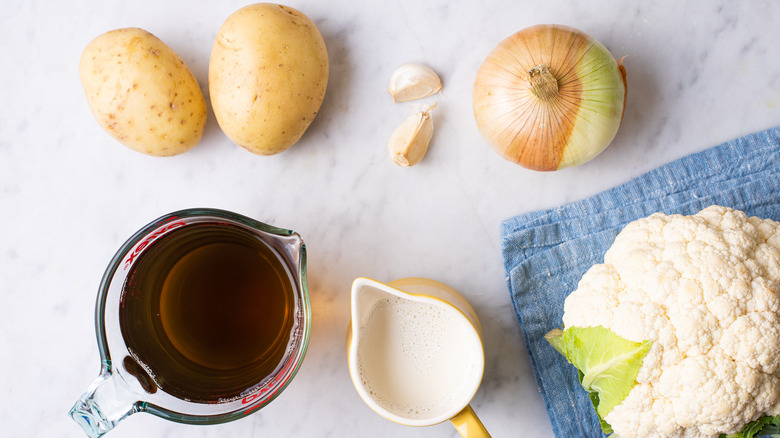 Alexandra Shytsman/Mashed
To make this creamy cauliflower potato soup, you'll need cauliflower, extra-virgin olive oil, white or Yukon Gold potatoes, an onion, a few garlic cloves, vegetable broth, and non-dairy milk.
The soup calls for 4 cups of cauliflower florets, which is about half a typical head of cauliflower. For a broccoli version of this soup, swap out the cauli for the same amount of broccoli and follow the same instructions. 
For the milk, we recommend using cashew or oat milk, both of which tend to have a rich mouthfeel and mostly neutral flavor. Avoid almond milk, whose nutty flavor can be overpowering. Whichever milk you choose, make sure it's unflavored and unsweetened.
Sauté the aromatics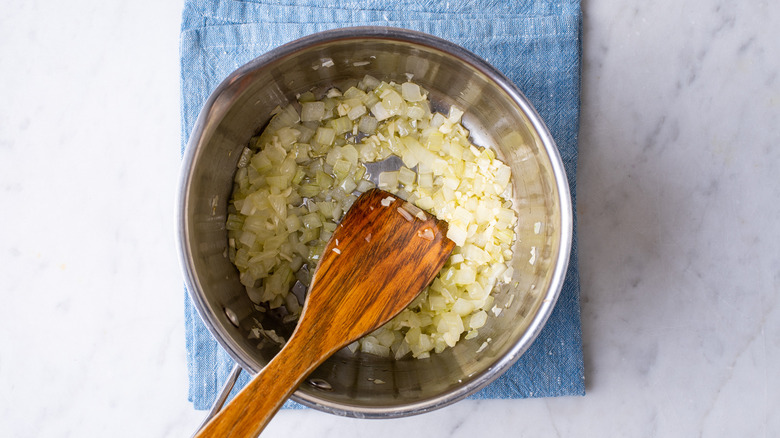 Alexandra Shytsman/Mashed
Start by heating up some extra-virgin olive oil in a medium pot over medium-low heat. Add a small diced onion with a pinch of salt and sauté until the onions are soft and translucent, about 5 minutes. You're not trying to brown the onions here — just sweat them out, which will provide a mild and sweet base flavor for the soup.
Then add two minced garlic cloves and cook for about another 30 seconds. We like to add the garlic at the very end and cook it briefly to lock in its flavor.
Add all the remaining ingredients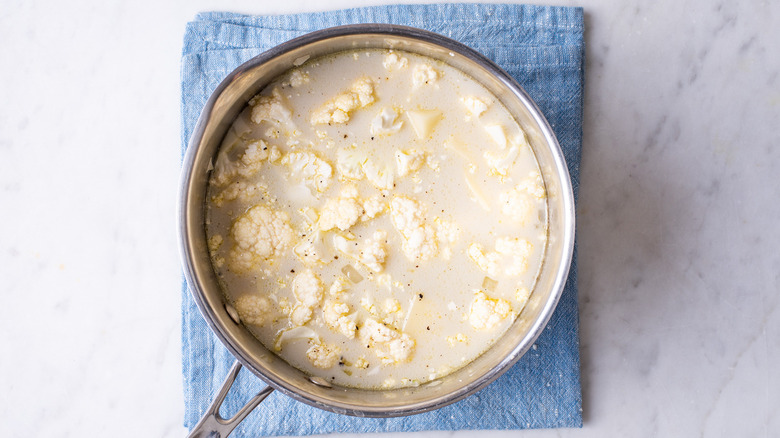 Alexandra Shytsman/Mashed
When the aromatics are done, toss everything else into the pot: the vegetable broth, milk, diced potatoes, chopped cauliflower, and some black pepper. Cover the pot with a lid, raise the heat, and bring it to a boil. Once it's boiling, reduce the heat to low and gently simmer the soup until all the vegetables are tender (i.e. can be pierced easily with a knife). This takes about 20 minutes.
Hold off on salting the soup until the very end. Since most store-bought vegetable broths are quite salty, you might not need any additional salt at all.
Puree the soup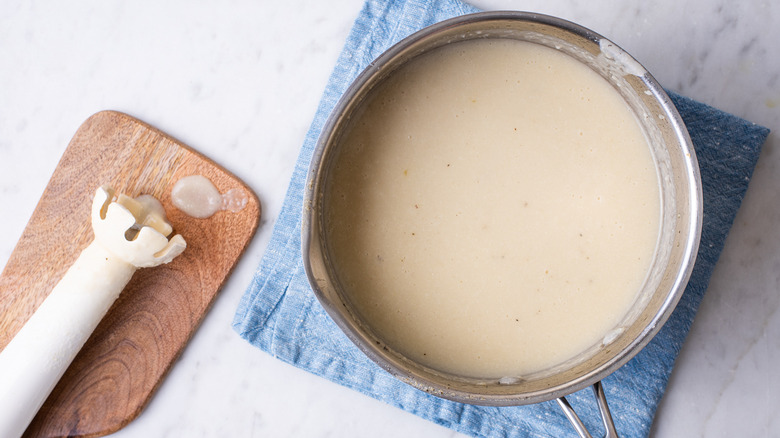 Alexandra Shytsman/Mashed
Lastly, puree the soup until it's silky smooth. Taste it and season with salt and pepper, if needed.
We love the ease and convenience of an immersion blender (i.e. stick blender) for making soup, which you can immerse directly into the pot. An immersion blender eliminates the mess and splatters that can result from transferring hot soup to a standard upright blender. Stick blenders are usually inexpensive and take up almost zero storage space, so we highly recommend getting one.
But, you can definitely puree the soup with an upright blender, too — as long as you do it safely. When using an upright blender to puree soup (or anything else that's hot), it's super important that steam has a way to escape. Remember to take out the removable center of the blender lid before blending. If the steam is trapped inside, the top will blow off and you'll have soup all over your kitchen!
Creamy Cauliflower Potato Soup Recipe
This creamy cauliflower potato soup recipe is a silky, light dish for when you're craving something warm and cozy. Plus, it's vegan, easy, and quick to make.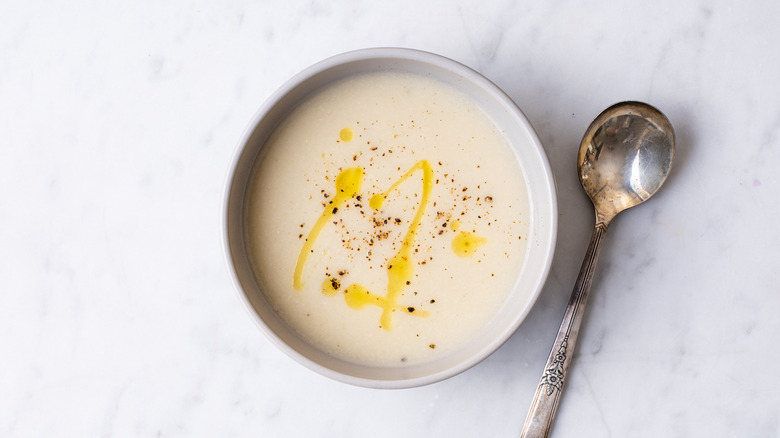 Ingredients
2 tablespoons extra-virgin olive oil, plus more to garnish
1 small yellow onion, diced
¼ teaspoon salt
2 medium garlic cloves, minced
3 ½ cups vegetable broth
1 cup unsweetened, unflavored non-dairy milk
2 medium white potatoes, peeled and cut into 1-inch chunks
½ crown of cauliflower, cut into bite-size pieces (about 4 cups)
Freshly ground black pepper, to taste
Directions
Heat the oil in a medium pot over medium-low heat. Add the onion and salt, and cook until the onion is translucent, about 5 minutes.
Add the garlic and cook for 30 seconds more.
Add the broth, milk, potatoes, cauliflower, and pepper. Cover the pot tightly with a lid and bring it to a boil.
Reduce the heat to low and simmer the soup, covered, until all the vegetables are tender, about 20 minutes.
Using an immersion or upright blender, puree the soup until creamy. Taste and adjust the seasonings, if needed.
Drizzle with olive oil and black pepper to garnish.
Nutrition
| | |
| --- | --- |
| Calories per Serving | 128 |
| Total Fat | 5.5 g |
| Saturated Fat | 0.8 g |
| Trans Fat | 0.0 g |
| Cholesterol | 0.0 mg |
| | |
| --- | --- |
| Total Carbohydrates | 17.3 g |
| Dietary Fiber | 3.0 g |
| Total Sugars | 3.5 g |
| Sodium | 159.1 mg |
| Protein | 3.4 g |