How Anthony Bourdain Really Felt About The Food Network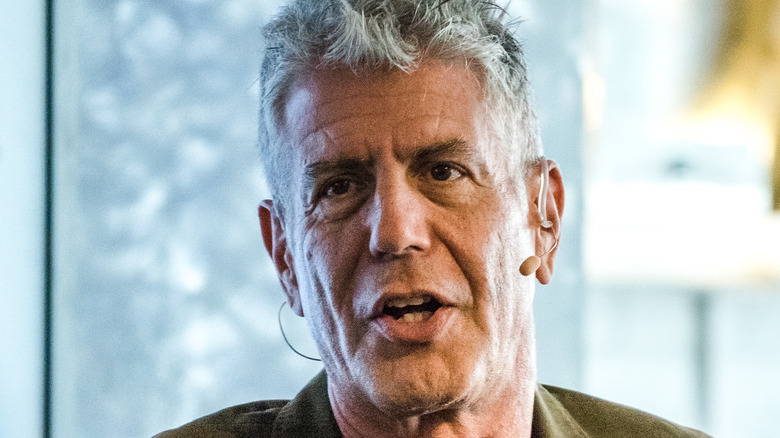 Shutterstock
Anyone with even a passing familiarity with Anthony Bourdain knows he had a rather disdainful view of the Food Network and those who appeared on it. In a now-legendary guest post he wrote for Michael Ruhlman, which you can still read thanks to the Wayback Machine, he either disparages the chefs directly, like Paula Dean, or he gives a compliment to the chef by insulting the Food Network. "How did Alton slip inside the wire — and stay there all these years?" Bourdain wondered about Alton Brown. "He must have something on them. He's smart. You actually learn something from his commentary."
That was in 2007. In 2015, however, his feelings towards the main source of televised food depictions hadn't changed much, at least according to a review of his Close to the Bone Tour in Atlanta Magazine. When touching on Ina Garten, he delivers praise similar to what he gave Alton Brown: "She's one of the few people on Food Network who can actually cook." Really, you do not need to delve deeply at all to learn how Bourdain felt about the Food Network. He never passed up a chance to disdain it, even to the point where his opinions on the subject may have begun to grow somewhat old.
Bourdain probably said exactly what he felt. But why did he feel that way about the Food Network?
The whole thing was probably due to contesting visions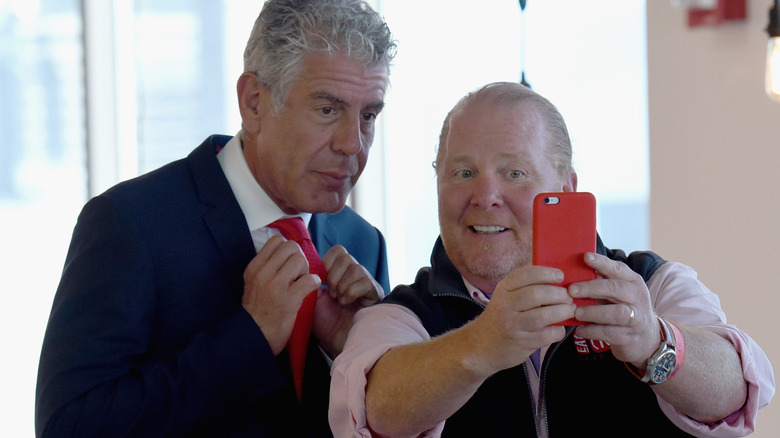 Noam Galai/Getty Images
The whole one-sided feud probably goes back to the fact that the Food Network pivoted away from "A Cook's Tour," the show Bourdain hosted for them, in favor of filling the airwaves with "Chopped," "Beat Bobby Flay," and numerous other cooking competitions.
Bon Appétit writes that while the Food Network initially was happy to fund Bourdain's travels, they wanted him to only visit domestic food establishments, refusing to fund his trip to Catalonia to visit the legendary Spanish chef Ferran Adria. Bourdain left and proceeded to prove the network wrong with his vast successes. It's a shame, though, because, as a Variety review noted in 2002, "A Cook's Tour" was rather good: "'A Cook's Tour' fits in well with the cabler's current fare, which gets further and further away from the two-camera-in-the-kitchen studio set and takes its shows into more visually interesting venues."
That background gives a better sense of what Bourdain was talking about when he commented in a 2014 interview with Smithsonian Magazine that while once people may have turned to the Food Network to evoke that sense of being at a kitchen table, "Now it's doing stuff like having contests and ... even the ones where they're actually cooking, it's more about interpersonal drama, like a reality show." As his later shows exhibited, Bourdain didn't mind focusing not only on the food, but the culture that informs it as well.