Dunkin' Korea's Among Us Donuts Are Turning Heads
The video game "Among Us" has been blowing up as a cultural phenomenon over the past few weeks. A chicken nugget in the shape of one of the avatars just sold on eBay for almost $100,000 (per ABC) and now Dunkin' plans to ride the wave of popularity behind the game. Customers have spotted "Among Us"-themed donuts popping up at Korean Dunkin' locations, causing shoppers to take notice (via PopSugar). The baked goods look like stretched-out versions of the characters and come filled with strawberry, blueberry, or Bavarian crème, making for a delicious ode to the multiplayer game.
Unfortunately, the donuts have only made appearances across Korean locations, making this special item a tough one to find. While we have to keep crossing our fingers that they will make their way to Dunkin' shops in America, that hasn't stopped "Among Us" fans from going wild over the new product.
A pop culture collaboration worth celebrating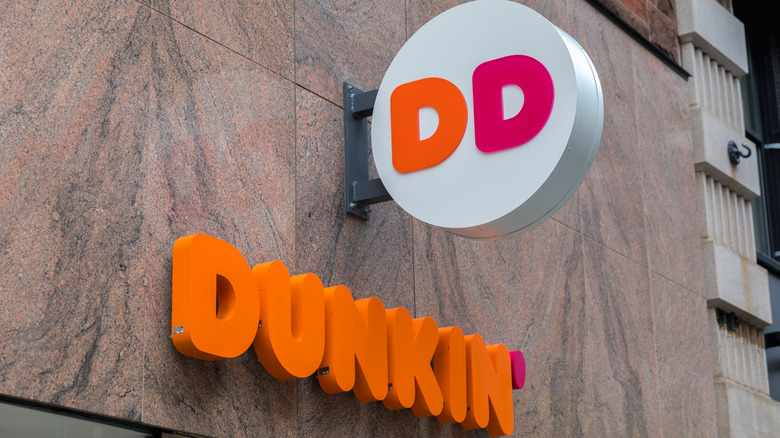 Shutterstock
"Among Us" fans and donut aficionados have a lot to celebrate about these new baked goods. A user over on the r/AmongUs Reddit thread spotted the special treats and posted a picture, and fans couldn't get enough, chiming in with their thoughts. One said, "I was thinking, all but one of them could have a cream filling in the shape of a bone. The 'impostor' would [have] chocolate 'teeth' instead." Another said, "That's pretty cute, glad the [developers] could do something cool like this. Brings a little bit more attention to the game and bit more money in their pocket." 
With a donut design this enticing, it's hard not to imagine chowing down on one of these avatars — as one person suggested, making it part of the game, "When the impostor looses [sic], you eat him!"
With a collaboration this hot, we can only hope it makes its way Stateside in the near future. Until then, we'll have to keep playing the game and daydreaming about how great an impostor-filled Bavarian cream donut could make the day that much better.