How McDonald's Dipping Sauce Led To A Bomb Threat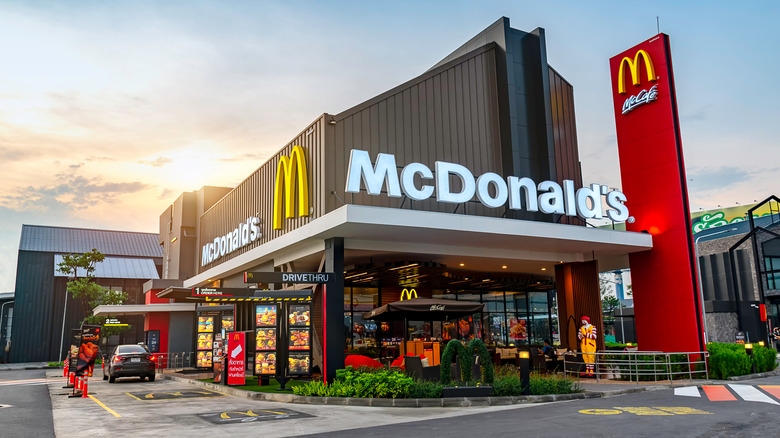 Shutterstock
It's no secret that one of the reasons McDonald's chicken nuggets are so good is the dipping sauce that goes with them. Customers have tons of options, including tangy barbecue, spicy buffalo, creamy ranch, honey mustard, honey, and even sweet 'n sour sauces (via McDonald's). Of course, there's always mustard and ketchup too. But people tend to have their favorite flavor, and a meal just isn't complete without their beloved choice of dipping sauce.
Though it's disheartening to receive an order that's incorrect, one man really lost it when his favorite dipping sauce was missing from his chicken nuggets order over the last weekend of June. According to KCCI, Robert Golwitzer Jr. threatened to blow up his local McDonald's after the Ankeny, Iowa, location forgot to toss his dipping sauce in the back with his nuggets. Obviously, the outrageous outburst did not end well for Golwitzer, and he likely won't be complaining about McDonald's sauces again anytime soon.
He was charged with a felony
Shutterstock
Apparently, Golwitzer called the store around 5:20 p.m. on Saturday, June 26th, and threatened to blow up the 2526 South West State St. McDonald's location and punch an employee after he found the dipping sauce was missing (via KWWL). The police quickly responded to the threat by calling Golwitzer back on the number he used to make the threat. That's when he admitted his crime to the police. Naturally, Golwitzer was picked up and sent to jail where he again confessed.
Golwitzer was charged with making a "false report of explosive or incendiary device," which is a Class D felony, according to KWWL. He spent a night in jail, and bond was posted on Sunday, securing his release. Even though the order was botched and that is frustrating, this might be one of the worst cases of fast food rage on the books. It's a mistake (we hope) he likely won't make twice.