Mixed Greens Recipe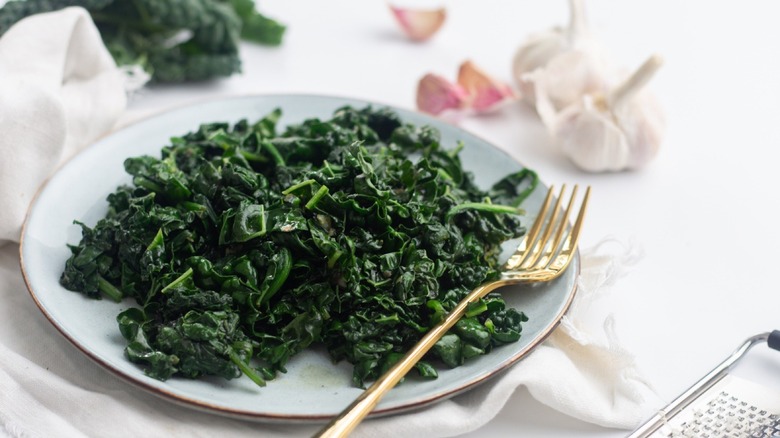 Susan Olayinka/Mashed
Mixed greens cooked in a little oil with garlic and salt is an incredibly simple recipe that you can whip up in no time. This dish has a little bit of kale and a little bit of spinach, which both have many health benefits that can make you feel good about what you're putting into your body, and you don't even need to blanch them before cooking them. According to Healthline, spinach is high in fiber and vitamins as well as iron and folic acid. As for kale, it's another top vegetable in terms of health and nutrition. Now that we know just how good this salad is for us, it's pretty much a no-brainer to eat it.
Healthy living advisor Susan Olayinka of The Flexible Fridge is the mastermind behind this salad, which is sure to become a new favorite. "It's really delicious! And so healthy. I actually had the whole thing myself for lunch with sweet potato," she shares. "What I love most about this recipe the fact that I can get two of my five-a-day in a delicious recipe. I love spinach and I love kale, and pairing them together is such a good match." We've gotta love those daily servings of veggies. It's also great recipe when you don't feel like a cold salad, she adds. And there are lots of reasons to eat more garlic. 
Keep reading to find out how to prepare the best mixed greens recipe you'll ever make.
Gather the ingredients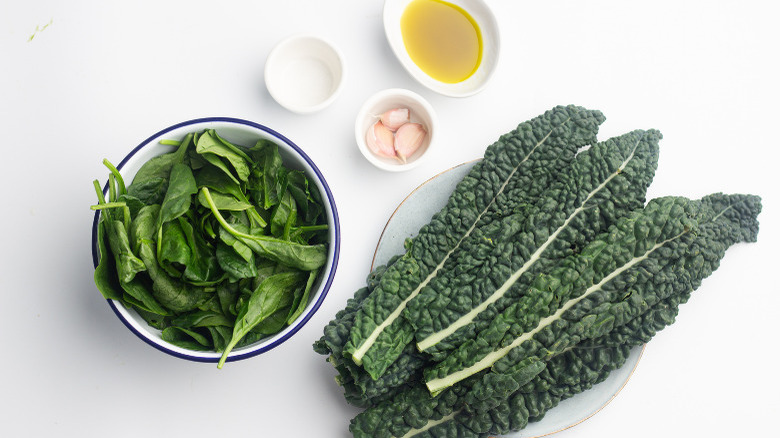 Susan Olayinka/Mashed
For starters, you'll want to take inventory of what you have at home versus what you'll need to get at the store. The two main ingredients for the recipe are spinach and kale. You'll need about five leaves of kale and 2 cups of spinach. As far as subs go, "Spinach and kale do work best for this recipe, but you can use any type of cooking greens that do well in heat," says Olayinka. "For example, another green would be collard greens."
The rest of the ingredients are pretty basic, and if you're lucky, you'll already have them at home. These are garlic cloves and salt. That's right; you only need five items to make this tasty recipe, which is pretty amazing if you ask us!
Prepare the kale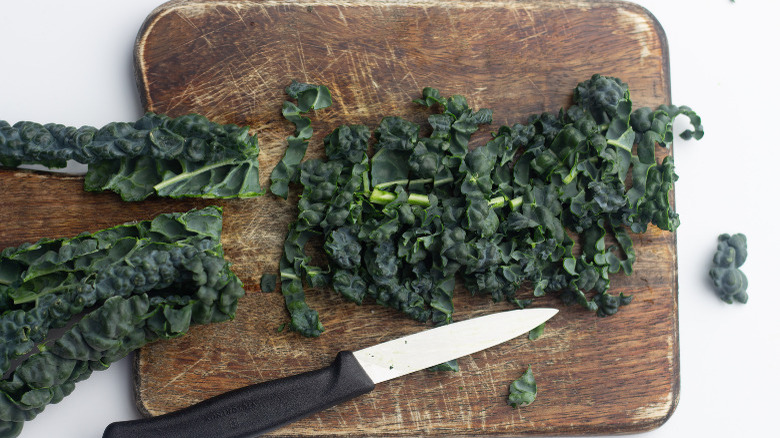 Susan Olayinka/Mashed
To begin the prep work, remove the stems from the kale and then slice it into ½-inch pieces. Once you've finished cutting, transfer the chopped kale into a salad spinner basket. Wash the kale and then spin it to dry. If you don't have a salad spinner, you can wash the kale and then set it on paper towel or a clean kitchen towel. Use a few additional towels to pat it dry. 
After you've finished, set the kale to the side. You'll need it again shortly.
Clean your spinach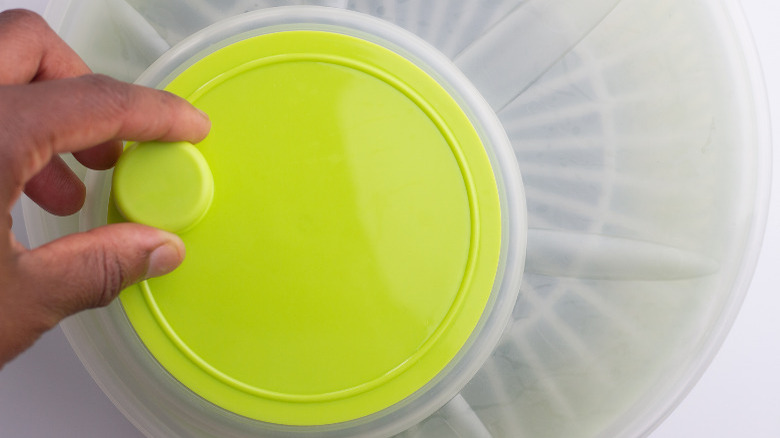 Susan Olayinka/Mashed
Now, it's time to get your spinach ready to cook. Luckily, there's no chopping involved in this part. Simply place the spinach into the salad spinner basket. Go ahead and give it a good wash and then spin it to dry. Again, if you do not own a salad spinner, you can do it the old-fashioned way by washing the spinach, placing it on top of paper towel or a clean kitchen towel, and then patting it dry. Now it's all clean and ready to cook. 
Set the spinach aside because you'll need it in a few moments, too.
Peel the garlic and heat the pan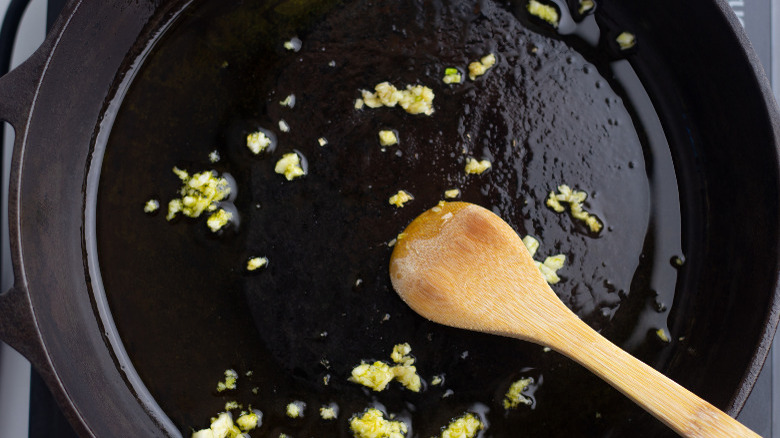 Susan Olayinka/Mashed
Now that you've washed and dried the stars of your dish, it's time to prep everything else. Get out the garlic clove and peel the first layer. If you have a garlic press, use it to chop the garlic in no time. If you don't own a garlic press, it's no problem at all — you can simply chop it up with a knife.
Next, take out a medium-sized pan and pour in the oil. Set the heat to medium-high and add in the chopped garlic. Fry the garlic for about one minute while constantly stirring it so that it won't burn.
Add the greens to the pan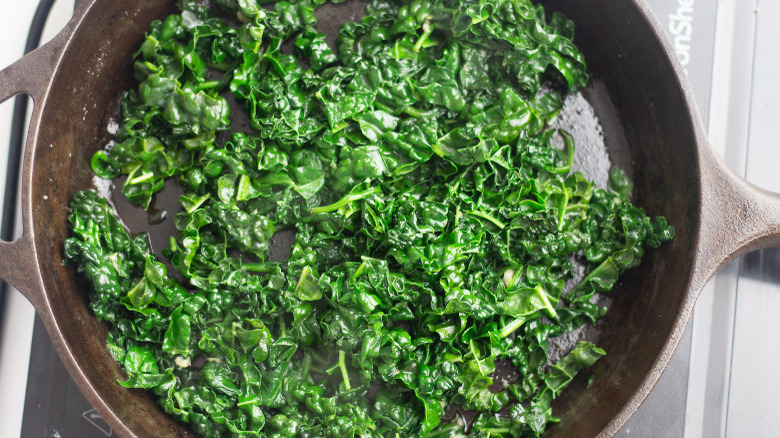 Susan Olayinka/Mashed
Once your garlic is ready, you can add the spinach to the pan. Continue to sauté it for about three minutes with only the garlic. Once the spinach has been cooking for a few minutes, it's time to add the kale. Place the chopped greens in the pan with the spinach and sauté for another three minutes. Remember to constantly stir as you go, to ensure that your kale and spinach don't stick to the bottom and burn. After the three minutes are up, sprinkle salt over the pan and stir for another minute. 
Take the pan off the heat and enjoy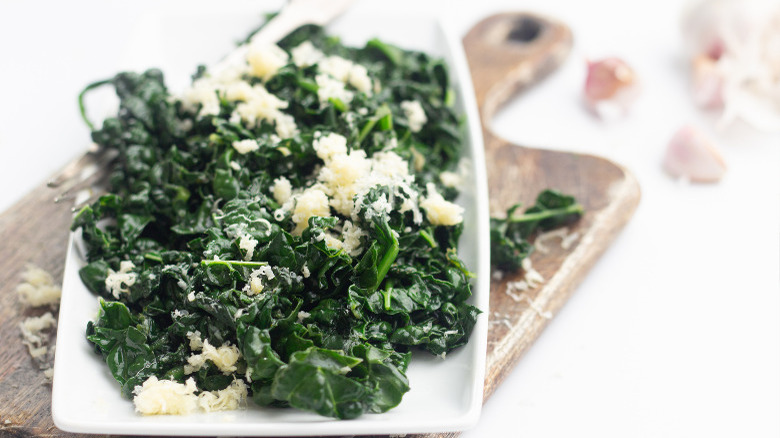 Susan Olayinka/Mashed
After you're done sautéing your greens, you can take them off heat. The good news is that now they're ready to be served. Go ahead and transfer them to any dish that you would like. "A protein would be good on the salad," says Olayinka. Or you can sprinkle on some cheese, "which can act as a protein, or some grilled chicken or grilled steak would work lovely as well, or maybe some grilled pork chops," she adds.
As for leftovers, Olayinka says it's better to just prep the ingredients in advance and make the dish fresh every time. "They could chop up the spinach, chop up the kale, and then when they're ready to cook it, they can do so," she says. But leftovers will keep in the fridge for four or five days, though they won't be as fresh. 
Mixed Greens Recipe
High in fiber, vitamins, iron, and folic acid from kale and spinach, this healthy dish cooked in oil with garlic and salt is the best mixed greens recipe ever.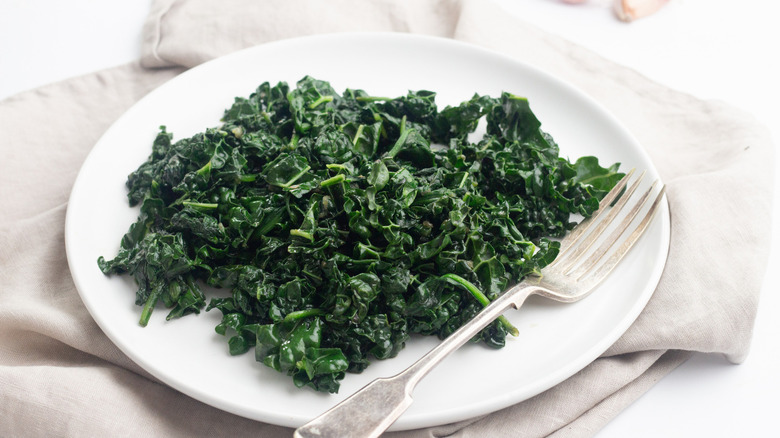 Ingredients
5 leaves kale
2 cups packed spinach
1 tablespoon vegetable oil
2 garlic cloves
¼ teaspoon salt
Directions
Remove the kale stems and slice the leaves into ½-inch pieces.
Transfer the chopped kale to a salad spinner basket. Wash the kale, spin it, and set it aside.
Transfer the spinach to the salad spinner basket. Wash the spinach, spin it, and set it aside.
Peel and chop the garlic with a garlic press or knife.
Pour the oil into a medium pan and set it to medium-high heat.
When the oil is hot, add the garlic and fry for 1 minute, stirring constantly.
Add the spinach and sauté for 3 minutes.
Add the kale and sauté for 3 minutes, continuing to stir constantly.
Sprinkle in the salt and stir for 1 minute.
Transfer to a serving dish.
Nutrition
| | |
| --- | --- |
| Calories per Serving | 98 |
| Total Fat | 7.6 g |
| Saturated Fat | 0.5 g |
| Trans Fat | 0.1 g |
| Cholesterol | 0.0 mg |
| | |
| --- | --- |
| Total Carbohydrates | 6.5 g |
| Dietary Fiber | 2.5 g |
| Total Sugars | 1.3 g |
| Sodium | 209.3 mg |
| Protein | 3.2 g |