Truly Hard Seltzer Fans Need To Know About This New Sugarfina Collab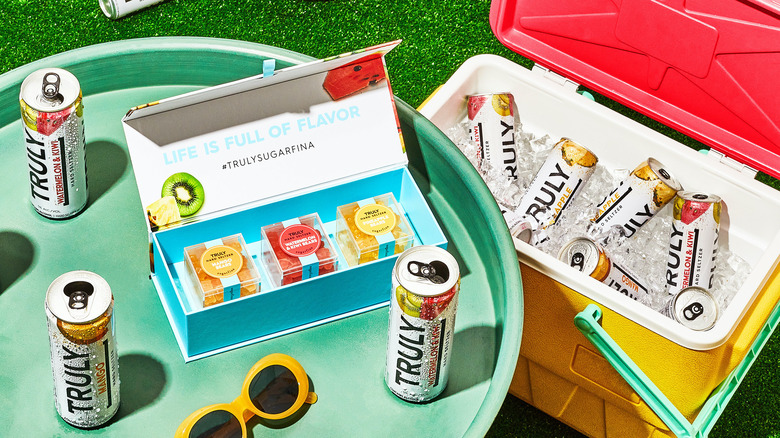 Truly x Sugarfina
It's no secret that hard seltzers have become the go-to drink of summer, and anyone who wants an adult-themed box of candy knows the trendy brand Sugarfina. But this summer is bringing the best of both worlds with a collaboration between the two. According to a press release received by Mashed, the new Truly Hard Seltzer Sugarfina gummies just hit shelves on June 28, so you can still be among the first to try them.
The all-new nonalcoholic gummy bears are infused with Truly Hard Seltzer and come in four of the beverage's signature flavors. The Sugarfina gummy bears flavors include watermelon kiwi, passion fruit, pineapple, and mango. The fruity flavors are surely enough to entice you, but just in case, Sugarfina is offering this collaboration in a number of size options so you can get exactly the flavors you know and love from Truly. That way, if there's a flavor you know you don't love, you can work around it in your purchase.
You can pick your favorite Truly Tropical flavors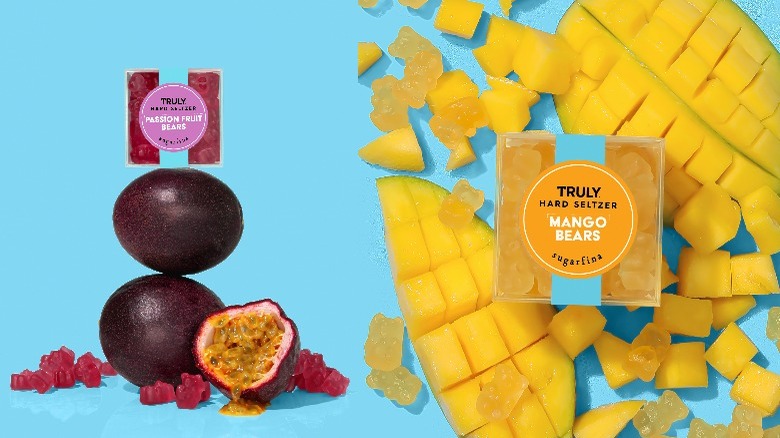 Truly x Sugarfina
All four Truly Tropical flavors are available in individual Sugarfina candy cubes for $8.95, but there are also several combinations you can choose from (via Sugarfina). If you want to try more than one flavor, the candy bento box costs $30 and includes three of the four flavors: watermelon kiwi, pineapple, and mango. To try all four flavors, choose the Truly collection bundle for just $8 more than the bento box. If you forego the special packaging and opt for the Truly candy cube bundle, you can also get all four flavors for just $35. Finally, if there's a single flavor you know you'll love, you can get a candy cube set of three for $26, making it a great deal.
So pick these up for a refreshing poolside snack or to give as a gift. Anyone who is already obsessed with Sugarfina's beautiful hues of gummies will undoubtedly love the new Truly additions. It's even suggested that you try using them as a garnish for cocktails. Get creative and explore the new flavors because you just might find you have a new favorite Sugarfina flavor this summer.