Easy Roasted Garlic Aioli Recipe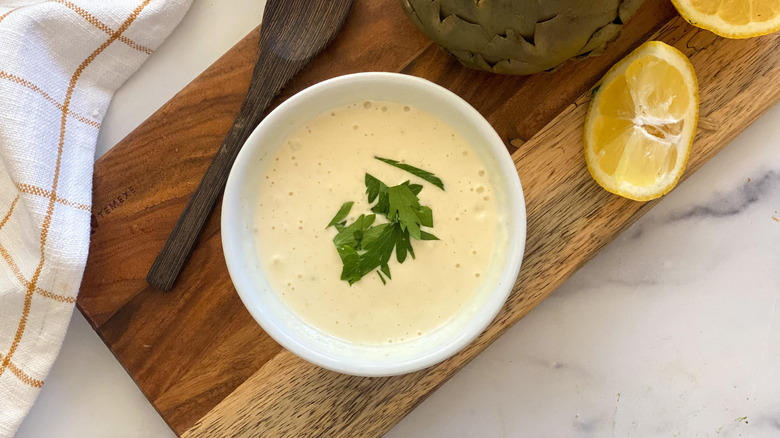 Miriam Hahn/Mashed
One thing that many of us may be wondering, whenever we see aioli on a restaurant menu or in a recipe is, well, what exactly is this stuff called aioli, anyway? Is it just a dressed-up mayonnaise? Kind of. If you're making aioli the original way, it's supposed to be an egg-free emulsion made from garlic paste and olive oil. Hardly anyone actually makes a true aioli anymore, however. It's really labor-intensive to get garlic and oil to turn into a delicious, creamy substance without some ovoid intervention — meaning, quite a few aiolis contain egg.
These days, most restaurant chefs, as well as home cooks, make what is technically a "cheater's aioli." That's an aioli that starts out with a base of mayonnaise. While you may, of course, feel free to use homemade mayo when making this roasted garlic aioli, it's also perfectly permissible to use the store-bought stuff. That's what recipe developer Miriam Hahn does in this simple recipe that just takes 10 minutes of prep work. As Hahn tells us, "I am a huge fan of lemon and garlic so I have made this recipe many times before." And chances are pretty good that, once you make this condiment for the first time, you'll be creating this garlic aioli again and again, too.
Gather the ingredients to make roasted garlic aioli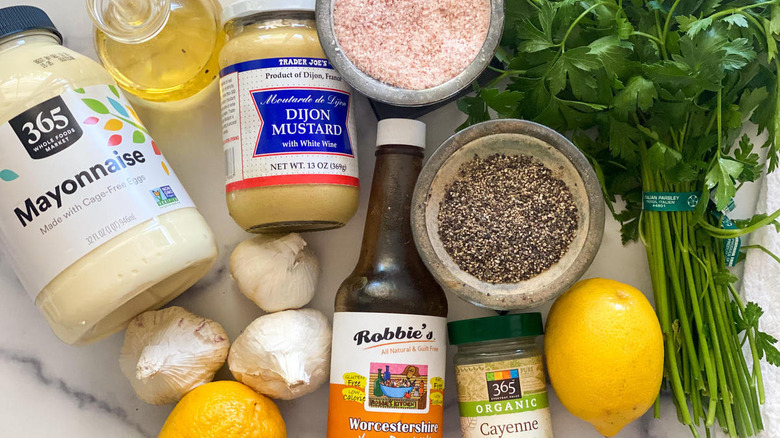 Miriam Hahn/Mashed
To make roast garlic, you will, of course, need fresh garlic, and quite a lot of it. In this case, you'll wnt 3 entire bulbs (also called heads) of garlic. You'll also need olive oil or, if you prefer, avocado oil, plus a little salt and pepper for seasoning. 
For the aioli itself, you'll be using your favorite mayonnaise. Hahn, who usually eats a plant-based diet, says "You can definitely use a plant-based mayo. I typically use Vegenaise and there is no taste difference. " That's likely because, in this recipe, you'll doctoring the mayonnaise with the same condiments typically used to flavor mayonnaise when it's been made from scratch: lemon juice, Dijon mustard, cayenne, and Worcestershire sauce. (If you want vegan aioli, though, you'll have to skip the Worcestershire since this condiment contains anchovies.) If you'll be using the aioli on an open-face sandwich, as a dip, or in another visible presentation, you can sprinkle it with a little chopped fresh parsley to pretty it up a bit and add bright color and herbal flavor.
Roasted garlic is very versatile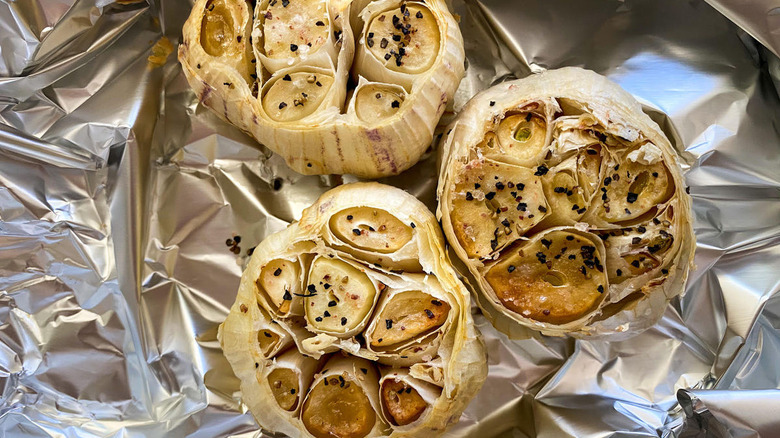 Miriam Hahn/Mashed
The most labor-intensive part of making this roast garlic aioli is roasting the garlic itself, and even this isn't too difficult, given that most of the roasting time is hands-off. What's more, once you've added garlic-roasting to your repertoire, you may find yourself returning again and again to this ingredient. 
Hahn says she uses roasted garlic in a number of different recipes, saying that "my favorite is a sun-dried tomato, roasted garlic spaghetti squash." She also likes pairing roast garlic with potatoes, especially mashed potatoes, for maximum flavor and impact. "Roasting the garlic," says Harn, "makes it caramelize and get almost buttery in flavor. It is delicious."
Roasting the garlic isn't difficult at all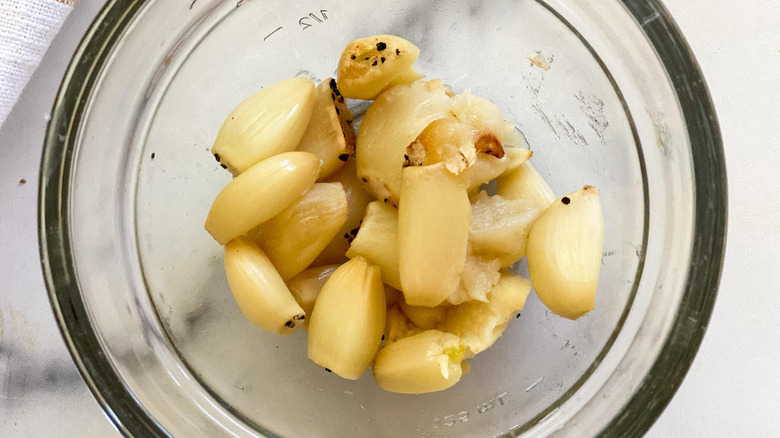 Miriam Hahn/Mashed
The first step in making this roasted garlic aioli is to roast the garlic, and this, as with all things oven, begins with preheating this appliance –- in this instance, to 400 degrees Fahrenheit. Make sure that you give the oven enough time to get up to and sustain the temperature needed for roasting.
While the oven is heating up, slice the tops off the garlic bulbs. No need to peel the garlic here, though you may want to remove the loosest layers just to keep papery garlic bits from getting everywhere. Lay the garlic bulbs on a piece of foil with the cut parts facing up, then drizzle them with the olive oil and sprinkle them with salt and pepper. 
Wrap the foil loosely around the garlic, place it on a baking sheet, and bake it for 40 minutes. Once the timer goes off, take the garlic out of the oven and let it cool for at least 15 minutes. Once the garlic has cooled down enough to make the bulbs easy to handle, separate the cloves. Squeeze each clove to remove the fragrant roasted garlic inside.
Mix the roasted garlic with the other ingredients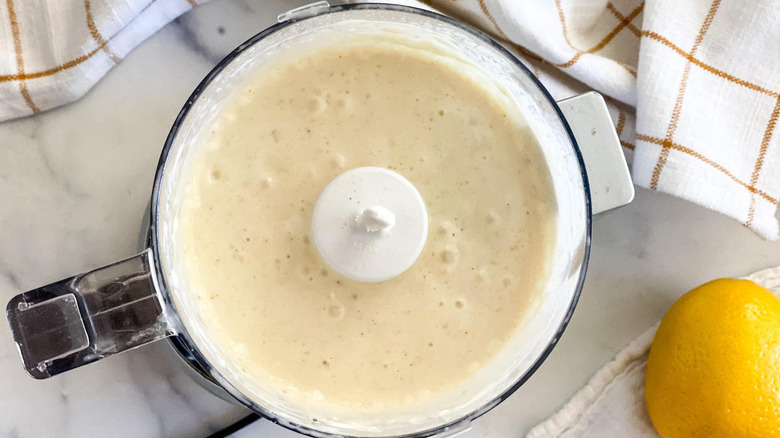 Miriam Hahn/Mashed
The final step in making this aioli could not be any easier. Just scoop the garlic pulp into a food processor or blender, then add the mayo, lemon juice, Dijon mustard, cayenne, and Worcestershire sauce. Press the start button and whir until you have a smooth, creamy blend.
There you go, your aioli is ready! If you want to garnish this condiment, Hanh says you should hold off until it's time to chow down. "The parsley is best if you add before serving, but if you have added it and have leftovers that is fine too." She also tells us that this condiment should be stored in an airtight container in the fridge, where it should keep for about 4 days.
How to serve roasted garlic aioli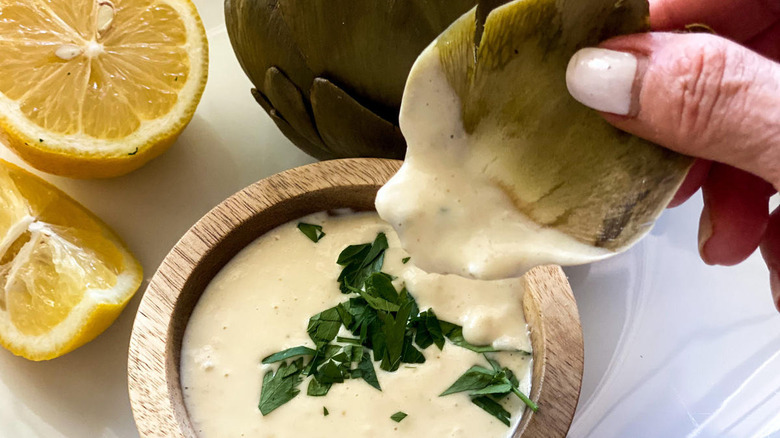 Miriam Hahn/Mashed
Wondering what to do with your roasted garlic aioli? Hahn says she often uses it with vegetables. It works great as a dip for steamed artichokes or can be used to top roasted vegetables to complement those sweet caramelized notes in the veggies. 
You could use it to dip your French fries (très continental!), and its lemony tang also works well with fish and crab cakes. Aioli is, of course, a perfect sandwich spread, and could be used to make a high-end version of chicken or egg salad. Try this aioli on a burger in place of your usual ketchup, or use it with roast beef or roast chicken or ... well, just about anything savory, really. As Hahn explains, this aioli "can be used for anything that you would put mayo on."
Easy Roasted Garlic Aioli Recipe
This simple, delicious roasted garlic aioli recipe takes just 10 minutes of prep work for some seriously good flavor that you can add to just about everything.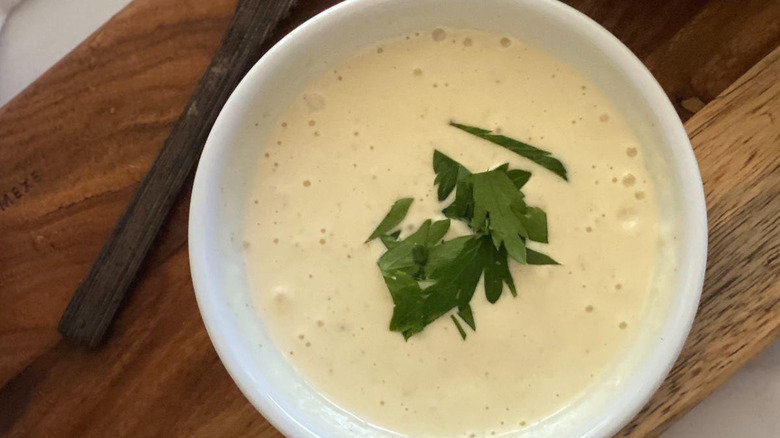 Ingredients
3 heads of garlic
1 to 2 teaspoons of avocado or olive oil
¼ teaspoon salt
¼ teaspoon pepper
1 cup mayonnaise
⅓ cup fresh lemon juice
½ tablespoon dijon mustard
⅛ teaspoon cayenne pepper
⅛ teaspoon Worcestershire sauce
Optional Ingredients
Italian parsley, chopped for garnish
Directions
Preheat oven to 400 F.
Cut the tops off of the garlic bulbs.
Lay the garlic bulbs face up on a piece of foil, drizzle with oil and sprinkle with salt and pepper, then wrap loosely in the foil.
Place foil-wrapped garlic on a baking tray and bake in preheated oven for 40 minutes.
Take the garlic out of the oven and let it cool for at least 15 minutes before squeezing each clove to get the pulp out.
Add the roasted garlic pulp to a food processor or blender along with the mayonnaise, lemon juice, mustard, cayenne pepper, and Worcestershire. Blend until smooth.
Garnish aioli with chopped parsley, if desired.
Store aioli in the refrigerator for up to 4 days.
Nutrition
| | |
| --- | --- |
| Calories per Serving | 238 |
| Total Fat | 23.2 g |
| Saturated Fat | 3.5 g |
| Trans Fat | 0.0 g |
| Cholesterol | 11.3 mg |
| | |
| --- | --- |
| Total Carbohydrates | 7.0 g |
| Dietary Fiber | 0.5 g |
| Total Sugars | 0.5 g |
| Sodium | 181.6 mg |
| Protein | 1.3 g |