The Cookies Meghan Markle Served At Her First Baby Shower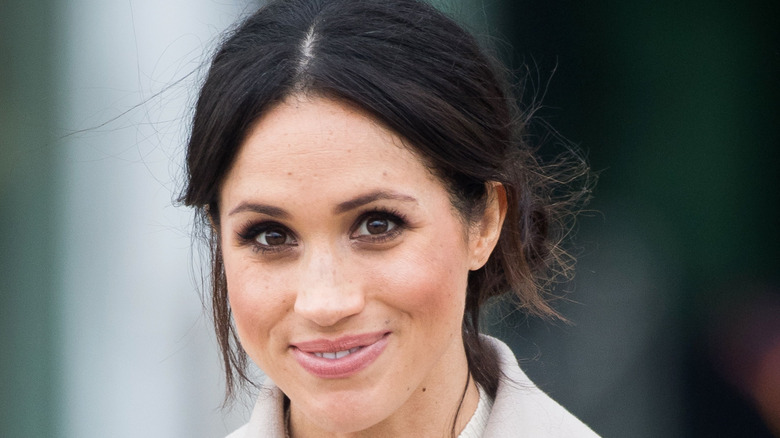 Shutterstock
For the birth of their second child, daughter Lilibet, Meghan Markle and Prince Harry kept their baby shower low-key, encouraging friends and family to donate to the charities they support in lieu of splurging on lavish gifts (via Vanity Fair). Considering the couple had stepped down as working royals a year prior, it comes as no surprise that they would take on such a minimalist approach. But it's certainly a stark contrast from the couple's first baby shower in 2019, which according to Cosmopolitan, cost a whopping $200,000.
Much to the relief of British citizens, however, the Duke and Duchess' first baby shower to fete the arrival of son Archie wasn't funded by their tax dollars, but rather by Markle's close friends, who had no problem going all out for the momentous occasion.
Although most of the details remained under wraps, Cosmopolitan reported that one of Markle's best friends, tennis legend Serena Williams, chipped in $75,000 for the penthouse suite at The Mark Hotel in New York City where it was held. As for the other $125,000, assumedly it went towards gifts for the first-time mother and her royal baby, as well as the actual food served at the shower.
The desserts were simple and gender neutral
Not only is she a duchess, Meghan Markle is also a foodie, and even ran a lifestyle and cooking blog called The Tig before marrying Prince Harry. It makes sense therefore that her friends didn't skimp on the food served at her first baby shower. People shared that the event was catered by executive chef Jean-Georges Vongerichten, a world-renowned culinary expert that heads the five-star kitchen at The Mark Hotel.
Clearly Markle has a sweet tooth, because in addition to the meal Chef Vongerichten served up, there was also an entire cotton candy machine, and an assortment of sugar cookies (via So Yummy). Markle's makeup artist Daniel Martin couldn't help but give his Instagram followers a sneak peak of the cookies, which were created by bakeries Tiny Kitchen Treats and Baked Ideas, and artist Darcy Miller, reports People.
Instead of blue or pink food coloring, the cookies featured plain black and white icing with elegant gold embellishments and were shaped like a stork, a bib, and a rattle. We can only imagine what the rest of the desserts at this private event looked like, but considering how much Markle's friends invested, it's safe to say the cookies tasted just as good as they looked.