Incredible Indonesian Dishes You Need To Try Immediately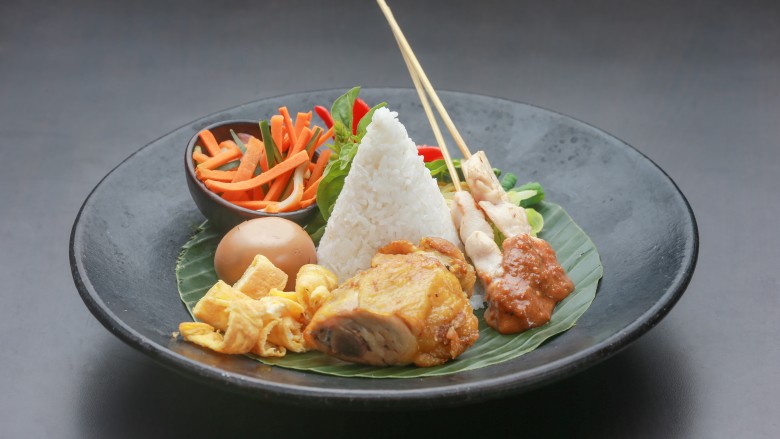 Shutterstock
We may receive a commission on purchases made from links.
Indonesia is a beautiful Southeast Asian archipelago made up of thousands of volcanic islands. It is the land of the Komodo dragon, Krakatoa, and the spice islands, as well as the birthplace of orangutans and the bajaj (a bright orange, three-wheeled death mobile). Its varied landscape boasts beaches with aquamarine waters, misty mountains, and emerald green jungles. I grew up in Indonesia's buzzy and boisterous capital, Jakarta. There is so much I miss about it, from its convivial inhabitants to its tropical climate, and the smell of its signature rich, red soil after a mellifluous monsoon rainstorm. Perhaps most of all, I miss the food. Indonesia's food is eclectic because of the ethnic diversity its islands provide — mixing Javanese, Batak, Sasak, and Balinese influences with hundreds of years' worth of Indian traders, Chinese migrants, and Dutch colonial sway.
Here's a shortlist of some dishes that you've been desperately missing without realizing it — until now.
Rendang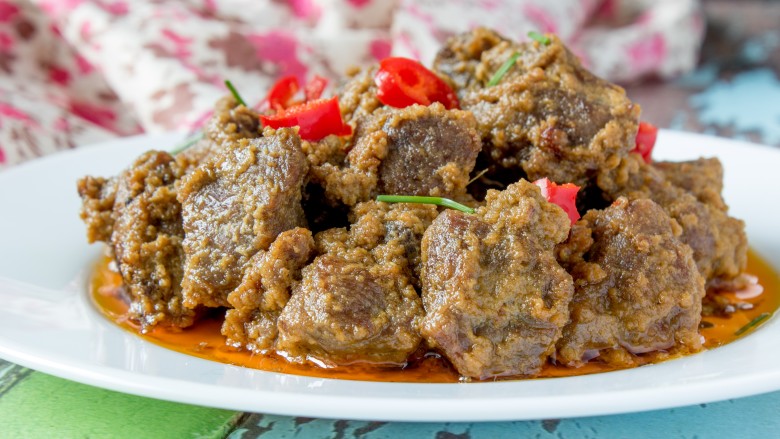 Shutterstock
This is the dish that you should start with if you've never tried Indonesian food, though I'm afraid I cannot guarantee that you'll be the same person once you've had this transformative meal. As soon as you've had your first legitimate rendang, you may spend your days salivating at the mere thought of the tender meat in its dry and spicy slow-cooked coconut milk curry. In 2011, an (unscientific) online poll of 35,000 people by CNN International chose rendang as the top dish of its World's 50 Most Delicious Foods list. It is usually served with rice and can be made with beef, chicken, duck, mutton, vegetables, or even water buffalo if you have one hanging around.
It originally hails from the Minangkabau region of Sumatra where it is served during traditional Minang ceremonies including births, Quran recitals, and religious ceremonies such as Eid al-Fitr, making it a dish as rich in culture as it is in flavor.
Here is a recipe for beef rendang to make at home. The benefit of making it in the privacy of your own residence is that no one has to see you snarfing down the entire pot and licking your kitchen table clean. For those who prefer speedier meal preparation, a commercial rendang paste is available for your culinary convenience.
Sop buntut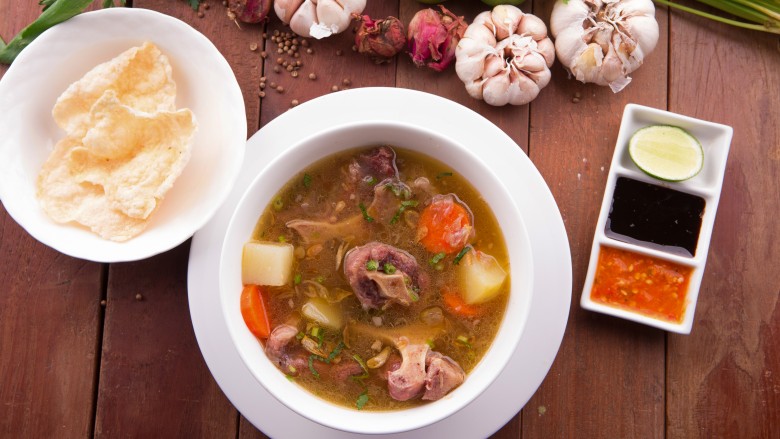 Shutterstock
There's a delicious complexity to Indonesian staple dishes. They are at once rich, comforting, and nuanced with a medley of complementary spices. Sop buntut is no exception. Sop buntut is oxtail soup, referring to the gelatin-rich oxtail that provides the protein to the dish. The broth pulls the meal together with its aromatic clove and nutmeg base — salty, satisfying, and rich. The oxtail (the culinary name given to the tail of cattle; no real oxen were harmed) is fatty and flavorful as some falls off the bone into its beefy, mouth-watering broth. Crispy shallots freckle the soup's surface, calling to you like a siren to a bewildered ship.
This is a perfect dish to warm the cockles on a wintry day. Try this one at home. Do it. Send me pictures.
Ikan bilis
Ikan bilis were a mainstay in our house when I was growing up. There was always a little jar of them parked next to an ingeniously self-referential egg-shaped egg timer and our kitchen stove. The ikan (fish) in question is the anchovy, in this case dried and fried to create a delightfully salty and crunchy snack, warmed with a fragrant chili paste, and accented by peanuts still in their tawny-brown skins. The ikan bilis in my house were a happy substitute for potato chips. They aren't substantial enough to be a full meal but are eaten as snacks or sprinkled over the top of opor ayam (a curry), nasi goreng (fried rice), mi goreng (fried noodles), or after-school bowls of Indomie (Indonesia's own ramen brand that comes in flavors like "curry chicken," "chicken stock," and "special chicken").
Gado gado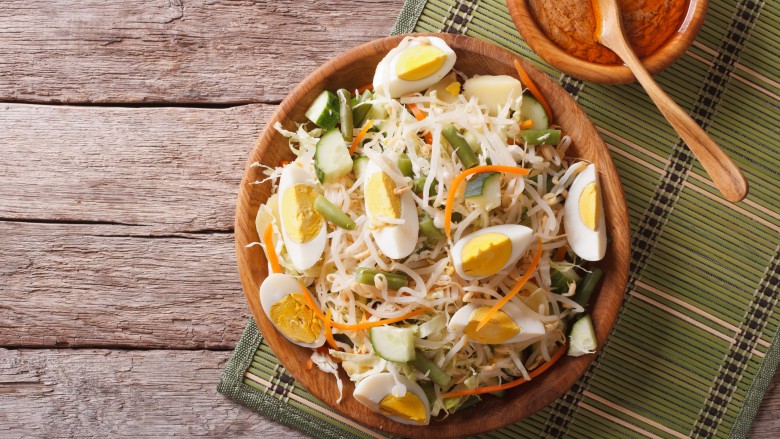 Shutterstock
Ah, gado gado. This colorful vegetable salad that hails from Sundanese cooking may not sound enticing, but once you've tried it for yourself, you'll be an instant convert, singing its praises to anyone who will listen as well as those who won't. The vegetables it's made of depend upon availability and what's in season, lending a versatility to this dish whether it's served from the restaurants of the finest Indonesian hotels to the traditional gerobak food carts lining Jakarta's frenetic streets. Gado gado is a melange of crunchy vegetables and might include chopped Chinese cabbage, carrots, bean sprouts, potatoes, kangkung (water spinach), cucumber, and whatever else your heart fancies. The vegetables are often lightly boiled or blanched. Add to this a little fried tofu, fried tempeh, and some perfectly boiled eggs.
The kicker is smothering everything generously in a peanut sauce so delectable you may have to punch something. The peanut sauce is a traditional and heavenly blend of ground peanuts, coconut/palm sugar, bird's eye chilies, terasi (dried shrimp paste), salt, tamarind juice, kaffir lime zest, and a little water to dilute. The dry ingredients are first pummeled in a pestle and then whipped together with the tamarind juice.
This salad has everything — crunch, spice, creaminess, flavor, and a zesty squeeze of citrus. Did I mention it's smothered in peanut sauce? In case you're in immediate need of gado gado, here is Saveur's take on an authentic gado gado recipe.
Nasi goreng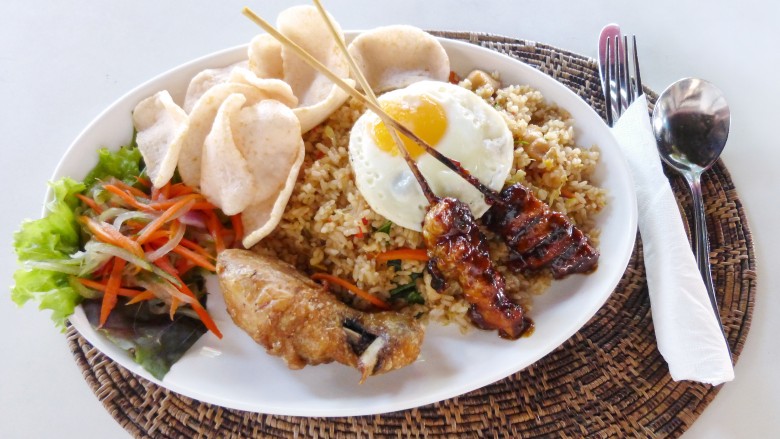 Shutterstock
Nasi goreng is fried rice. How could this possibly have made the list? Don't be fooled! Not all fried rice is made equal, and I'm not convinced that anywhere in the world makes fried rice as perfectly as it's made in Indonesia. In part, this is due to the addition of a magical little paste conjured with palm sugar, chilies, and sambal oelek (raw chili paste). Leftover rice is fried with the aromatic paste, livened up with green onions (and often chicken and peanuts), and served with lime wedges as well as slices of cucumbers and tomatoes. A fried egg, sunny side up, is balanced on top of this mountain of bronze comestibles, ready to add its warm and silky yolk to the medley of flavors. Nasi goreng is served as breakfast, and I can happily divulge that it is a tried and tested hangover cure.
Opor ayam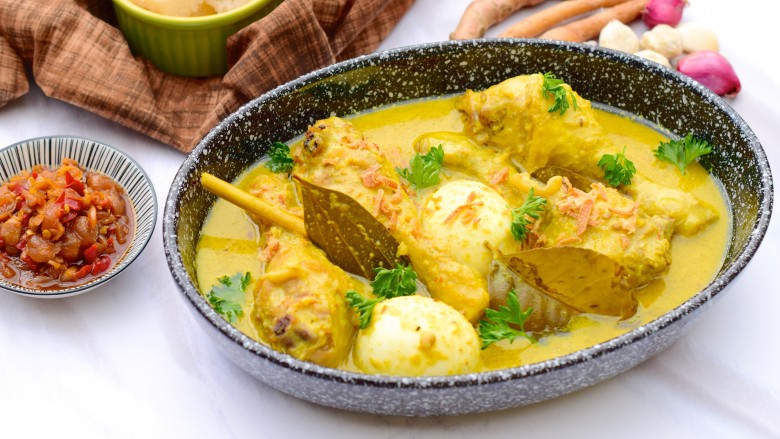 Shutterstock
The chicken in this chicken curry dish is incredibly tender, having soaked up a succulent coconut milk concoction. Coconut milk is a well-established curry and soup base, but it can be bland without a spice elevation. The carefully balanced spices and additions that enrich the curry sauce for opor ayam include galangal (a relative of ginger), a lick of lemongrass, cinnamon, tamarind juice, palm sugar, coriander, cumin, candlenut, garlic, shallots, and pepper. (There may also be a magical ritual I'm not privy to, but I think it's just those ingredients.)
Opor ayam, as well as several of the dishes I've mentioned, exemplifies the Indonesian art of perfectly balancing a meal with representations from all the taste profiles — bitter, sweet, salty, and sour. The New York Times has an opor ayam recipe that is sure to satisfy. A quick tip: if the candlenuts are hard to come by, you can substitute macadamia nuts or even ground almonds.
Krupuk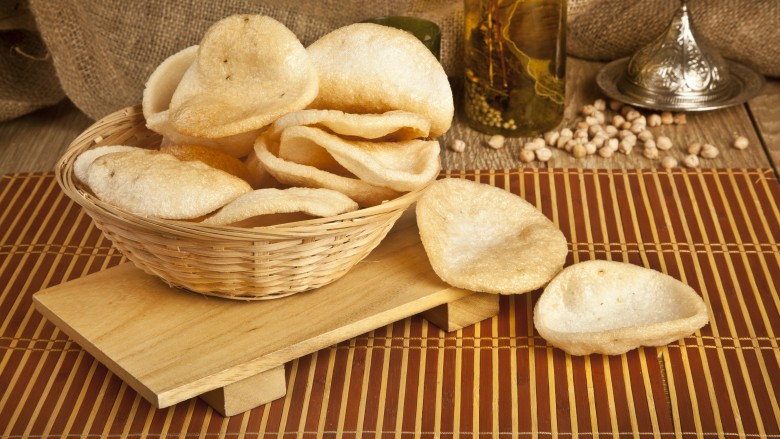 Shutterstock
Krupuk are a type of heavenly prawn cracker. They aren't necessarily a meal by themselves, unless — like me — you become so addicted to these crispy, airy, otherworldly crunches that you eat your weight's worth of them and have to lie down to digest over a seven-day period like a Komodo dragon. Krupuk's prawn flavor is mild, salty, and utterly addictive. They're generally used for dipping into various sauces and as a savory side to a spicy dish. Adding to their delight, they stick to your tongue and sizzle when dipped in sauce. I dare you to just have one.
Krupuk can also be used to sop up the juices of curry or your egg's runny yolk, or they can be traded with your friends for valuable items such as diamonds and luxury vehicles. Ready to cheat and buy krupuk to accompany your meal? You're welcome.
Sate ayam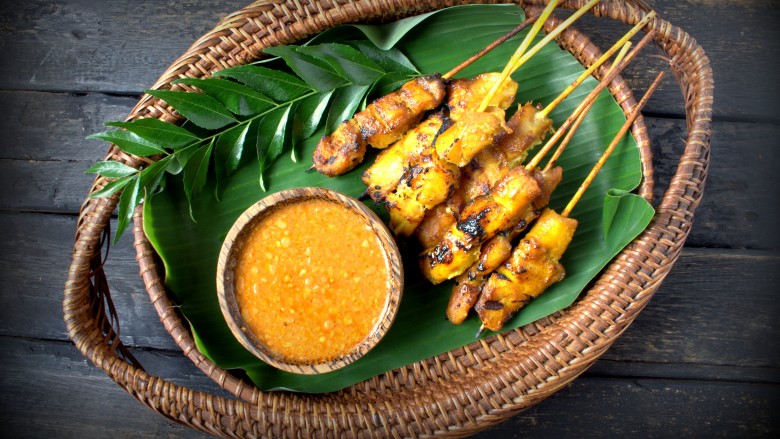 Shutterstock
Sate ayam, commonly known as chicken satay, is arguably one of the most famous Indonesian dishes — and with good reason! There's something uniquely interactive and satisfying about using one's teeth to pluck a perfectly grilled bite of chicken from a skewer and then dunking it in gooey peanut sauce. Sate is often made with beef (sate daging sapi), shrimp (sate udang), or pork (sate babi). For sate ayam, bite-size pieces of chicken are marinated overnight in a generous smothering of kecap manis sauce, indispensable in Indonesian cooking. Kecap manis is a dark, sweet soy sauce that is viscous because of its palm sugar content. The bites are then positioned kebab style on soaked bamboo skewers and seared to perfection on a charcoal grill, though they can be easily done in an oven if you're afraid of losing your eyebrows.
Sweet, savory, and with a little kick of spice, this is a fabulous meal to serve as an appetizer or as a finger food at your fancy cocktail party. (Please invite me.)
Martabak manis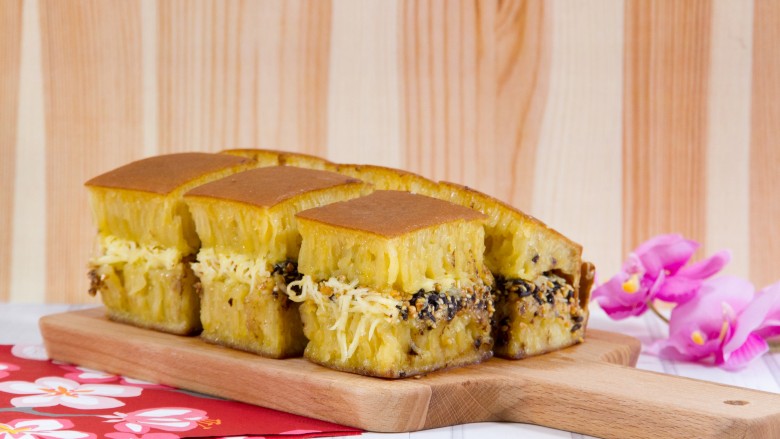 Shutterstock
Imagine a pillowy pancake. Imagine that pancake being whisked from a hot cast-iron griddle to be smeared with a dollop of butter. Now imagine that buttery pancake being showered with chocolate sprinkles and a liberal layering of grated cheese. Imagine that this cheesy, chocolatey, buttery pancake then gets a loving drizzle of condensed milk all over the top of it. The magical pancake is then folded in half to make a sandwich, where the heat from the pancake melts the cheese, chocolate, and butter together to create a gooey center that perfectly offsets its eggy, crispy top and bottom. Imagine a panini if it were made by a unicorn. This is martabak manis coklat keju. This is street food for winners.
Martabak manis (also sometimes called terang bulan) is perfectly safe for you to try at home.
A super green cake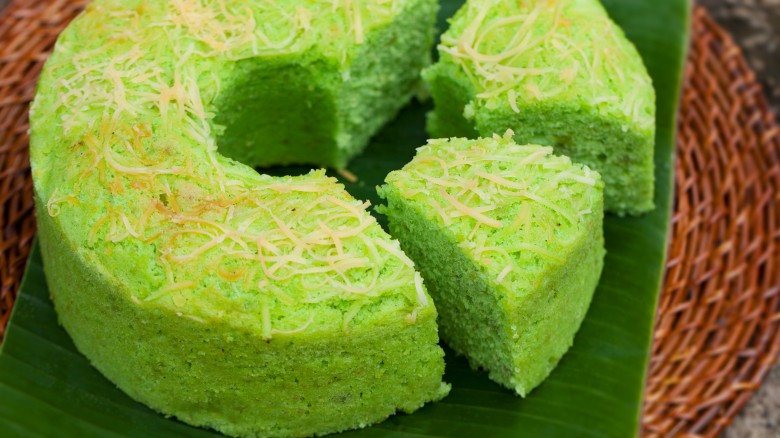 Shutterstock
I was around 10 years old the first time I saw emerald green bread behind the glistening glass display of a roadside gerobak cart. "I must have that green bread!" I screeched at my mother, who rolled her eyes in a way that probably happens often when you're raising a miniature Scarlett O'Hara. The green bread turned out to be bolu pandan, a fluffy sponge cake that is light, airy, and flavored with pandan leaves. The cake can take on a light greenish hue from the chlorophyll in the pandan leaf juice, but I suspect a hefty slosh of green food coloring also gets added to the batter ... you know, for panache, darling.
In case you have a hankering for a kermit-colored cake, here is a bolu pandan recipe from Saveur.