People Can't Stop Talking About TikTok's Boozy 'Adult Pineapple'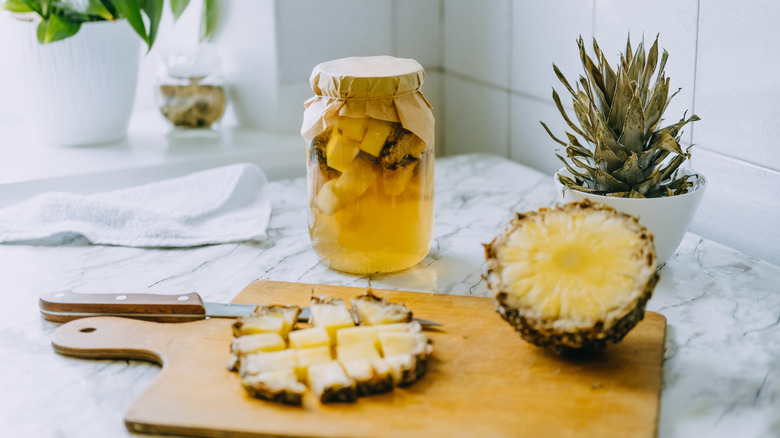 Shutterstock
Summertime is that time where beach visits and gatherings are frequent — even if packing/prepping for them can be super stressful. Well, never fear, TikTok is here to show us how to get a bit boozy on our beach days (or picnic days!) with this sweet trick. Get ready for the adult fruit snack of your dreams with this fun recipe for "adult pineapple" from user Bee Tinoco (via TikTok). 
Making this delight is super easy, as PopSugar explains, and starts with a pineapple and some Malibu rum. Malibu is a Caribbean-style rum with coconut flavor, which blends perfectly with the flavor of the pineapple, per the brand. From there, grab your pineapple spears (or chunks, if you prefer). You can also take a fresh pineapple and cut it the way you want to. After that, place the pineapple in a jar and add as much or as little Malibu as you wish. Obviously, for a stronger batch, you'll want to add more Malibu. Let it sit for a few hours — definitely at least overnight — and you have yourself an outstanding summer treat. 
This boozy hack works for other fruit too
As PopSugar explained, the result of the "adult pineapple" is a boozy snack that tastes a lot like a piña colada without all of the work. If you love this booze-infused fruit recipe, there is good news for you: It doesn't have to stop at pineapple. TikToker Bee Tinoco also tried the Malibu trick on mango slices before moving on to experimenting with adding vodka (via TikTok).
When it comes to fruit and booze, there are several other great recipes to try. One of these is the classic vodka-infused watermelon. Making this summertime staple is super easy, as it just calls for pouring an entire bottle of vodka inside a watermelon and letting it seep in. All you have to do is cut a circle that is slightly larger than the vodka bottle's neck, scoop out some of the watermelon flesh (to make some room for the bottle), and then place the bottle in the hole. Leave it be for 12 to 24 hours, even if you're tempted to take a bite! 
Feeling more like tequila? You're in luck. Martha Stewart notes that you can infuse mango, watermelon, and oranges with tequila. The best part? You only have to wait an hour for them to be ready.