Everything You Should Know About Starbucks' New Sparkling Spritzes
When you think of Starbucks' seasonal drinks, images of peppermint mochas, crème brûlée lattes, and even eggnog might come to mind. While the holiday months get a ton of love, the café chain always has something special to help cool you down in the summer, too, and their latest offering raises the bar to new heights. According to Elite Daily, Starbucks has launched a new line of Sparkling Spritzes that are as delicious as they are refreshing.
Starbucks first unveiled the new menu items on June 30 — described as light, effervescent bubbly drinks that take inspiration from Italian sodas with lots of fruity flavor. There are five options to choose from, with each combining carbonated water, simple syrup, crushed fruit, and ice. There's the Cucumber Mint Spritz inspired by the flavors in a mojito, as well as a Strawberry Spritz packed full of fresh berries. You also have the option of grabbing a Watermelon Spritz, a Strawberry Balsamic Spritz, or a Blood Orange Tea Spritz that features Zen Clouds Oolong tea concentrate alongside the citrus. While these items serve up delicious flavors, getting your hands on them is a bit trickier.
Where can you get the new Starbucks Sparkling Spritzes?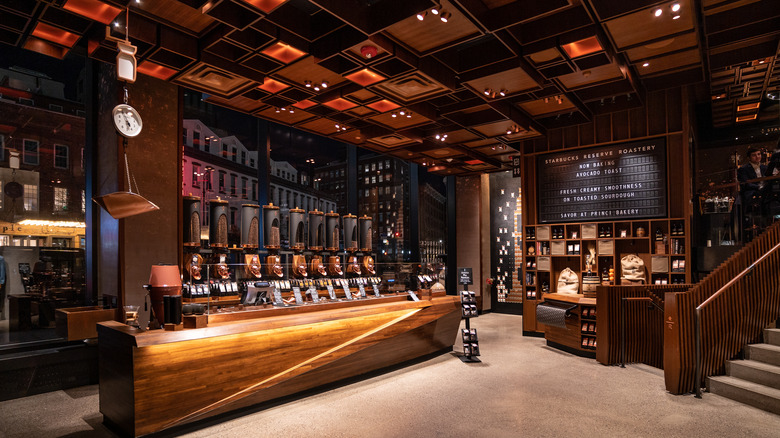 Shutterstock
If you can't wait to pick up one of these new beverages, make sure they have officially hit your area. According to Elite Daily, not just any old Starbucks café will carry them — in fact, these new drinks are specific to select Starbucks Reserve locations as well as official Starbucks Reserve Roasteries in Chicago, New York, and Seattle. If you live near one of these locations, you can also order a new Sparkling Spritz through Uber Eats. If you don't live near one of these select locations, hopefully with time and popularity, Starbucks will expand the new drinks to other cafés.
It's also important to note that the Strawberry Spritz and Cucumber Mint Spritz will be the most available at locations, per Elite Daily, while the other three flavors are only at select Starbucks Reserve spots for now. The hunt for these drinks at least seems to be worth it — if not just for the taste, the beauty of them makes for a great social media post too.