One-Pot Arroz Con Pollo Recipe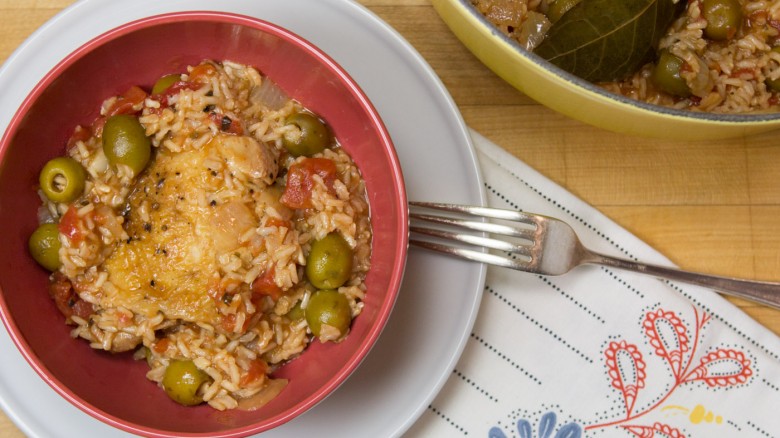 Prep time: 15 minutes. Cook time: 40 to 45 minutes. Servings: 2.
Arroz con pollo — aka rice with chicken — is ridiculously fragrant, unbelievably cozy, and always satisfying. Consider this classic dish the culinary equivalent of a comforting hug when you need it most. (Aren't all large pots of warm rice, though?) A popular Latin meal, arroz con pollo recipes vary greatly from country to country and from cook to cook. One you might get in Puerto Rico will differ greatly from the dish you're served in Cuba, Spain, or Mexico. I love the nuances found in each region's and each chef's interpretation of this humble dish. Consider that a part of the dish's humble charm. That said, most takes on arroz con pollo begin with a flavorful sofrito — a seasoning base made by sauteing aromatics, herbs, and spices.
This one-pot dish is all about balancing of flavors, colors, and textures, while playing up the varied elements and letting them shine. Tender chicken thighs are seared to lock in flavor. Don't be afraid to give the skin plenty of time to brown and caramelize. Gently simmered with hearty brown rice in a flavorful mixture of onion, garlic, tomatoes, white wine, and chicken broth, the chicken pieces are melt-in-your-mouth moist by the end. Moreover, a handful of briny olives lends delightful salty notes you won't be able to resist.
Ingredients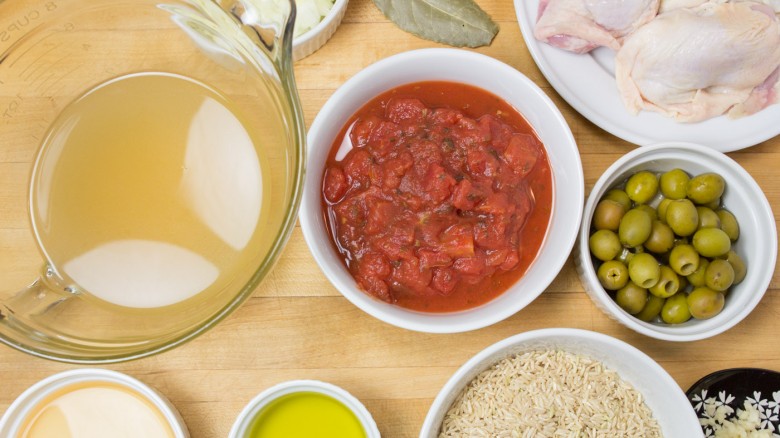 Shopping list


4 skin-on chicken thighs


kosher salt


freshly ground black pepper


3 tablespoons olive oil


1 small onion, diced


2 garlic cloves, minced


1 14.5-ounce can diced tomatoes


¾ cup white cooking wine


1 bay leaf


2 ¼ cups chicken broth plus more as needed


1 ½ cups brown rice


1 cup pitted green olives


Equipment
Sear chicken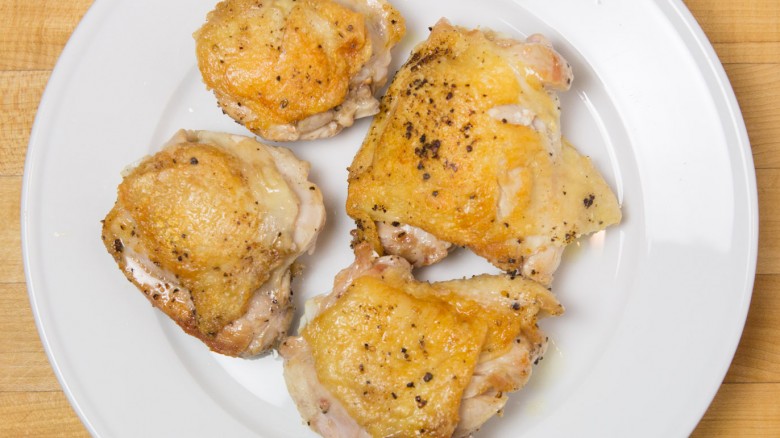 Season the chicken all over with salt and black pepper. Heat the olive oil in a large pot over medium-high heat. When the oil is shimmering, add the chicken skin-side down and sear until the skin is browned and beginning to crisp, 7-9 minutes. Flip the chicken pieces and continue cooking until the meat is just opaque, 2-3 minutes more. Transfer the chicken to a plate and set aside.
Saute onion and garlic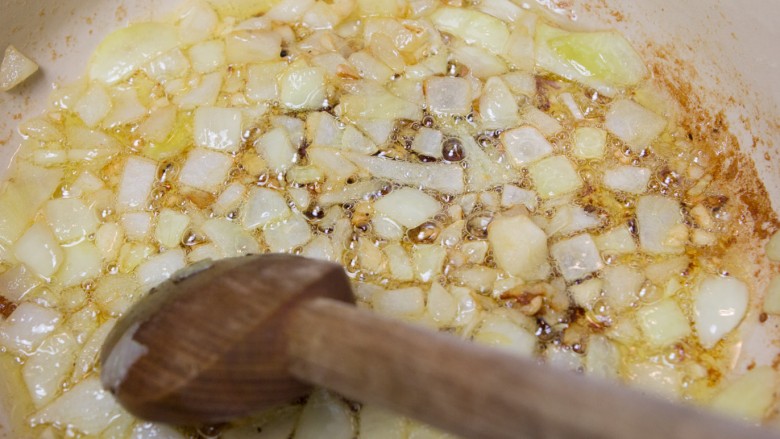 Add the onion and garlic to the grease left over from the chicken over medium-high heat and cook, scraping the bottom and stirring, until tender, 4-5 minutes.
Simmer tomatoes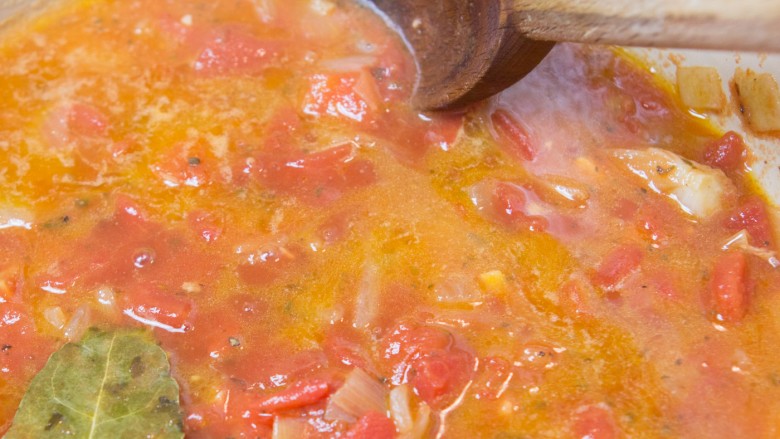 Add the tomatoes, wine, and bay leaf to the pot with the onion and garlic and stir to combine. Reduce the heat to medium. Season with salt and pepper as needed and cook, stirring, until the liquid has reduced by half, 7-8 minutes.
Cook rice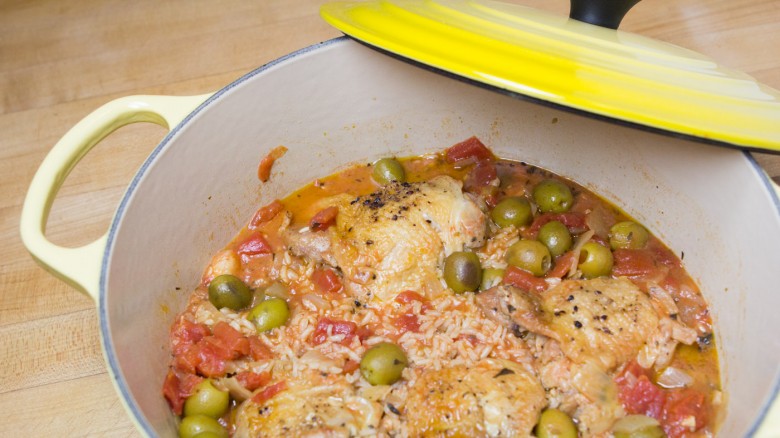 Add the rice and chicken broth to the pot with the tomatoes and stir to combine. Top with the chicken pieces and olives and reduce the heat to low. Cover the pot and cook until the rice is tender and the liquid is absorbed, 40-45 minutes. After 40-45 minutes, check to see if the rice is fully cooked. If it's not, add more broth and continue to cook as needed.
Serve arroz con pollo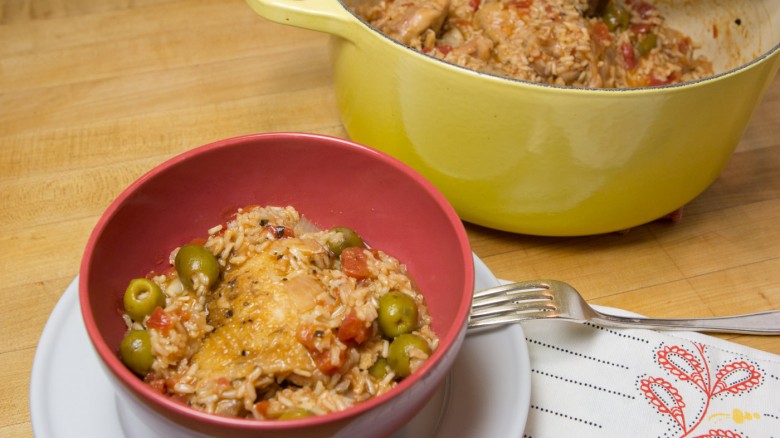 Set the rice with chicken aside to rest for about 5 minutes, leaving the pot covered, then serve in pretty bowls and enjoy your meal while it's warm.