3-Layer Magic Cake Recipe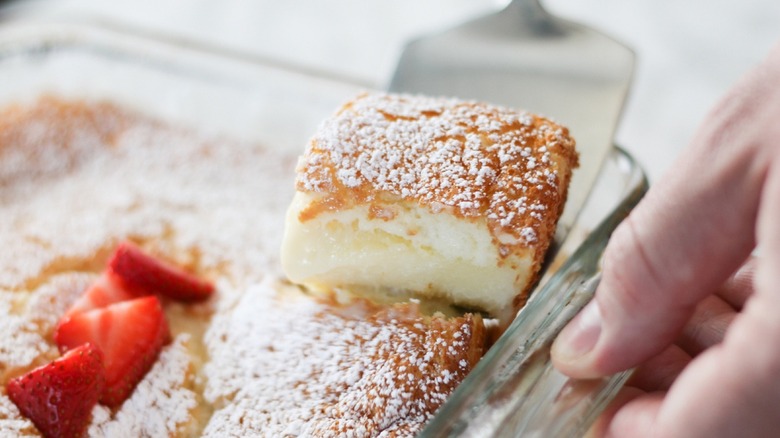 Melissa Olivieri/Mashed
Magic cakes are unique desserts that are perfect for anyone who likes to satisfy their sweet tooth with a wide range of textures. The "magic" in this recipe isn't just from its delicious taste; the batter, which is mixed together as a single combination, separates over the course of baking into three layers that create a journey through crispy, creamy, and dense textures.
While the origins of this recipe might never be known — some say France, others say Romania — there is no denying the popularity of the dessert, and its short list of ingredients make it perfect for even the novice baker. With a preparation time of just 15 minutes, recipe creator Melissa Olivieri of The Olive Blogger perfectly showcases the simplicity of this unique recipe, which requires just under two hours to bake and cool. If you're ready to get your cake on, let's take a look at what you need to get started.
Gather your magic cake ingredients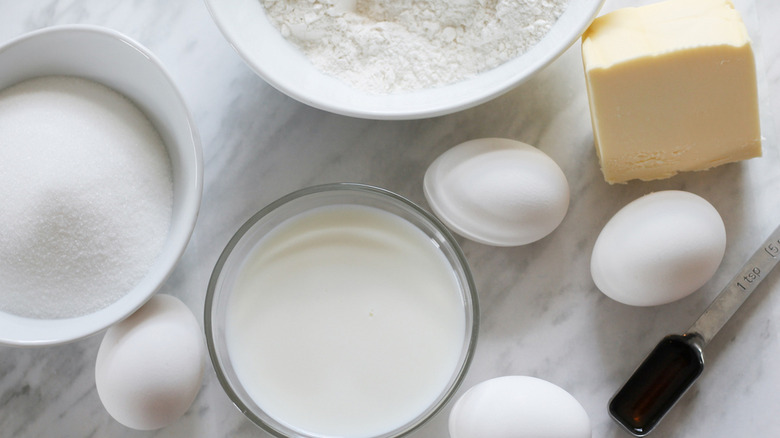 Melissa Olivieri/Mashed
Given the simplicity of this recipe, the shopping list is pretty short, and you might even have everything in your cupboard already! If not, no matter — you'll be in and out of the grocery store in no time. For this recipe, you'll need two large eggs (room temperature), granulated sugar, melted butter (cooled), vanilla, and all-purpose flour milk (warmed).
Olivieri used 2% milk in this recipe and cautioned against using alternatives. "They don't have the same fat content and will likely not cook and set the same — but if the home chef is adventurous, they can certainly give it a try!" she said.
As for flour, Olivieri recommends sticking with all-purpose. "Although it is a 'cake, I don't think a cake flour would work well in this recipe," she said.
Beat your eggs and sugar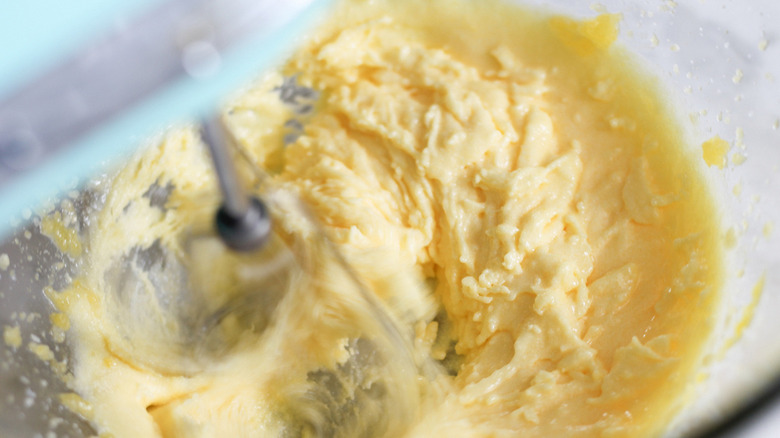 Melissa Olivieri/Mashed
Start by preheating your oven to 325 F and greasing an 8x8-inch baking dish. Now, start separating your eggs. The best way to do this is by using three bowls: a large one for the egg whites, a large one for the yolks, and a small one for the egg whites that you've accidentally broken some of the yolk into.
Once you've separated your eggs, add your granulated sugar to the large bowl with the yolks. Beat the combination on medium speed until it's light and fluffy. The entire process should take about five minutes.
Make your batter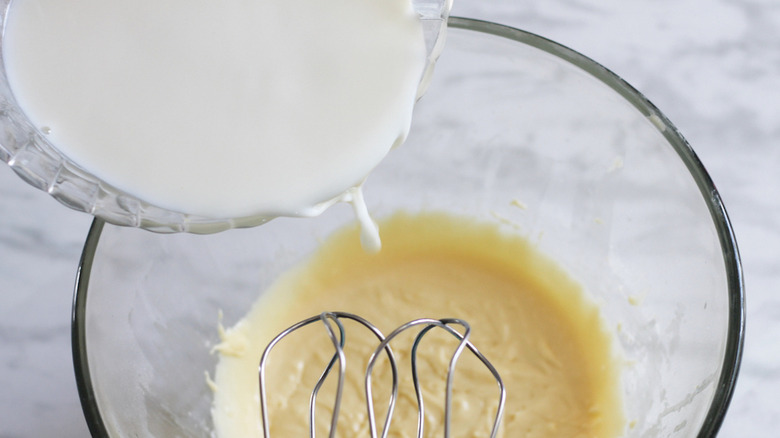 Melissa Olivieri/Mashed
Making the batter for your magic cake involves the gradual addition of ingredients to the egg and sugar mixture while continuously beating at a low speed. Start off by adding the melted and cooled butter and the vanilla to the sugar-egg combination and beating the ingredients for one minute until the new additions are fully incorporated. 
If you're feeling experimental, now is the time to add some extra flavors. "As far as fun flavour combinations, I would love to try it with some cocoa powder for a chocolate twist! Cinnamon also sounds yummy," Olivieri said. "If you're wanting to add any kind of fruit or chocolate chips etc., those are things I would add once the cake has cooled and not into the batter itself."
Now, add in the flour and beat the mixture on low speed for another minute. Afterward, the flour should be fully mixed into the wet batter.
The final addition is the milk. Slowly add your two cups of warmed milk into the mixture. According to Olivieri, microwaving it in 30-second intervals is the best way to warm this liquid. "The temperature shouldn't be hot. For example, you should be able to dip your finger in it and just have it warm to the touch," she said. "Alternatively, you can heat the milk on the stove. Just keep a close eye that it doesn't boil."
After adding the first and second cup, beat the combination to ensure that the batter is an even consistency.
Beat and add the egg whites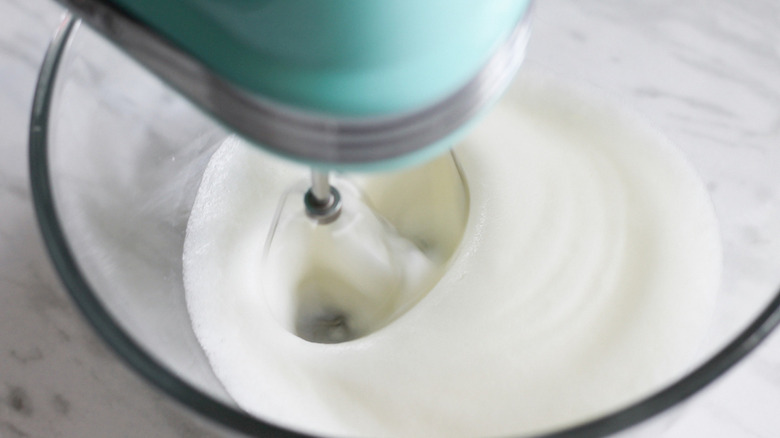 Melissa Olivieri/Mashed
If your egg whites aren't already in a separate bowl, put them in one. Now, beat them on medium speed (with clean, yolk-free beaters) until you see stiff peaks form — this is a sign that they are done. It usually take about three to five minutes. Take care not to over-mix the whites. If you see the peaks begin to fall, you've beat them too much. "If this happens, you will need to redo the egg whites," Olivieri said.
Once the eggs are beaten, gently whisk them into the batter. Never use a hand or stand mixer, as this will over-mix the batter and the cake will not rise properly, she noted.
Bake your magic cake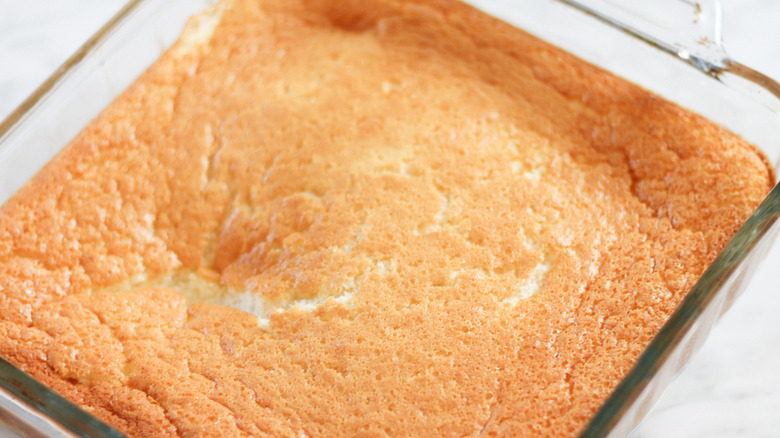 Melissa Olivieri/Mashed
Bake your cake at 325 F (your oven should already be preheated) for 45 minutes. You'll know it's done when the top is golden brown and the sides are pulling away. The cake should also have a slight jiggle in the center. Once the dessert is done baking, allow it to cool for an hour before cutting. Once it's properly cooled, you can move on to the final step you've been waiting for: serving!
Serve your magic cake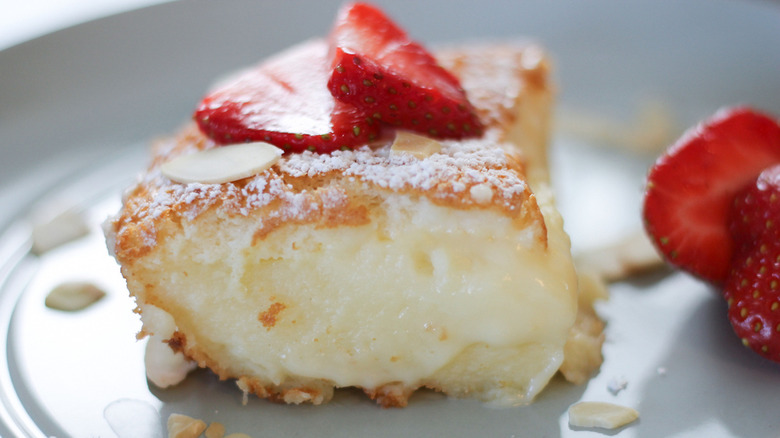 Melissa Olivieri/Mashed
Before you make your magic cake disappear, you'll want to add some toppings. Confectioners' sugar and strawberries are the most popular and obvious choices, but don't feel limited to these two additions. "Really any kind of berry or nut would be delicious — I would even guess that sprinkling chocolate chips on top would be yummy," Olivieri said.
Lucky for you, this dessert can be stored for later if you have leftovers. "Be sure the cake is covered and kept in the fridge if you're not eating it all at once," Olivieri said.
3-Layer Magic Cake Recipe
The magic of this simple, tasty, and quick 3-layer magic cake recipe is how the batter separates into three layers, creating crispy, creamy, and dense textures.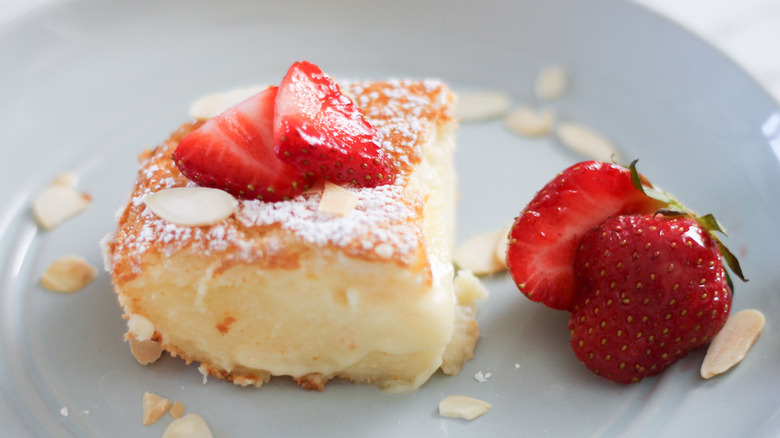 Ingredients
4 large eggs, at room temperature
¾ cup granulated sugar
½ cup melted butter, cooled
1 teaspoon vanilla
¾ cup all-purpose flour
2 cups milk, warmed
Optional Ingredients
Sliced strawberries
Powdered sugar
Directions
Preheat the oven to 325 F and grease an 8x8-inch baking dish.
Separate the eggs.
Beat the egg yolks in a large bowl with the sugar on medium speed until they're light and fluffy, about 5 minutes.
Add the butter and vanilla to the egg and sugar mixture and beat it on medium speed for an additional 1 minute until the combination is an even consistency.
Add the flour and beat the mixture on low speed for 1 minute to ensure that it's fully mixed into the wet batter.
Slowly add the warmed milk to the flour mixture, beating in between each addition to incorporate it.
Beat the egg whites in a separate bowl on medium speed until stiff peaks appear – this takes about 3 to 5 minutes.
Gently whisk the egg whites into the batter.
Bake your cake at 325 F for 45 minutes until the top is golden brown, the sides are pulling away, and the center jiggles slightly.
Cool the cake before cutting.
Serve your magic cake with whatever toppings you like.
Nutrition
| | |
| --- | --- |
| Calories per Serving | 194 |
| Total Fat | 10.7 g |
| Saturated Fat | 6.2 g |
| Trans Fat | 0.3 g |
| Cholesterol | 86.4 mg |
| | |
| --- | --- |
| Total Carbohydrates | 20.6 g |
| Dietary Fiber | 0.2 g |
| Total Sugars | 14.7 g |
| Sodium | 42.5 mg |
| Protein | 4.3 g |