Spicy Salsa Roja Recipe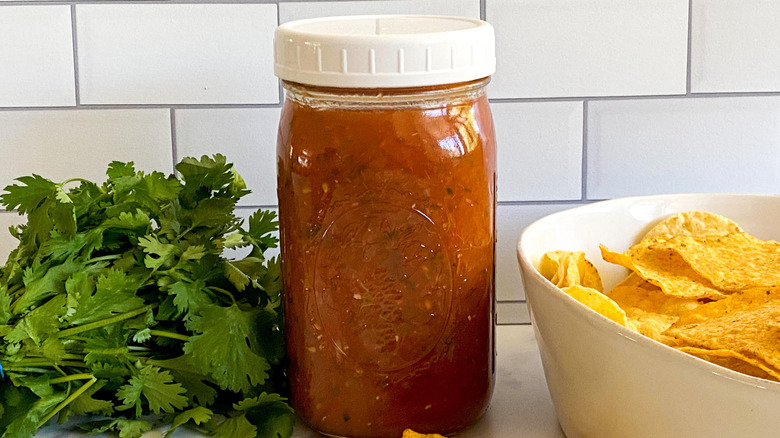 Miriam Hahn/Mashed
It's one thing to order salsa at a local restaurant, and it's another thing to make it on your own. While salsa-making might seem like a daunting task, we're here to tell you that it's super simple. All you need to achieve a salsa that is restaurant quality are a handful of ingredients and five minutes of prep time. This recipe will take about an hour to cook, but not to worry, little work is involved. 
Miriam Hahn of YouCare-Selfcare created this tasty salsa roja that is jam-packed with flavor. If you like a little bit of spice in your salsa, then this will be right up your alley. "What I like most about this salsa is how fresh it tastes because of the fresh tomatoes (versus canned), onions, and peppers," she shares. If you want to elevate the spice even further, Hahn has got you covered. "If you want more of a kick, you can keep the seeds in the serrano peppers or add another one. Or you can add a jalapeño in addition," she shares. "If you want it really hot, you can add a habañero pepper." Sounds great to us!
Keep scrolling to find out how to make this fantastic spicy salsa roja.
Gather the ingredients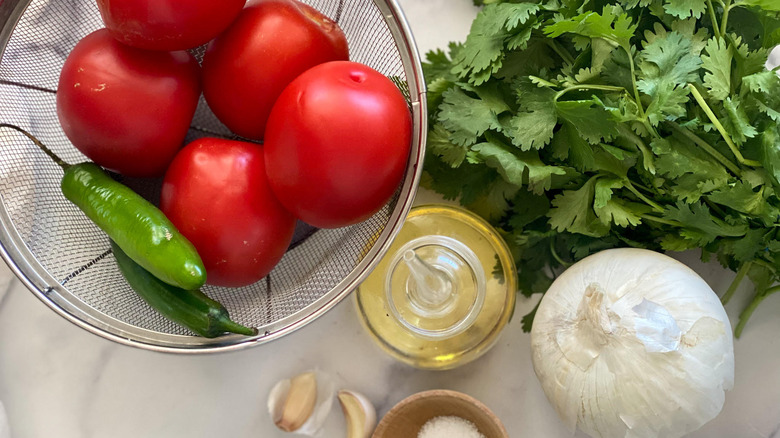 First thing's first. You will want to gather all of the ingredients necessary to make the salsa. Don't worry; your list shouldn't be too long. Start off by getting Roma tomatoes; you'll need five. In addition, you will also need white onion, cilantro, and serrano chilies. Serranos, FYI, are medium spicy chili peppers named after a mountainous area in Mexico. You could use others if you can't find serranos, but the flavor and heat level will be a little different.
Add garlic, salt, and water to complete your list (of course the water you'll have at home). Last but not least is oil. "This is a pretty traditional recipe for salsa roja, but sometimes I add cumin and Mexican oregano for extra flavor," Hahn notes. "Many times I add fresh lime also."
Now, we're ready to get cooking!
Chop the onion, tomato, and serrano peppers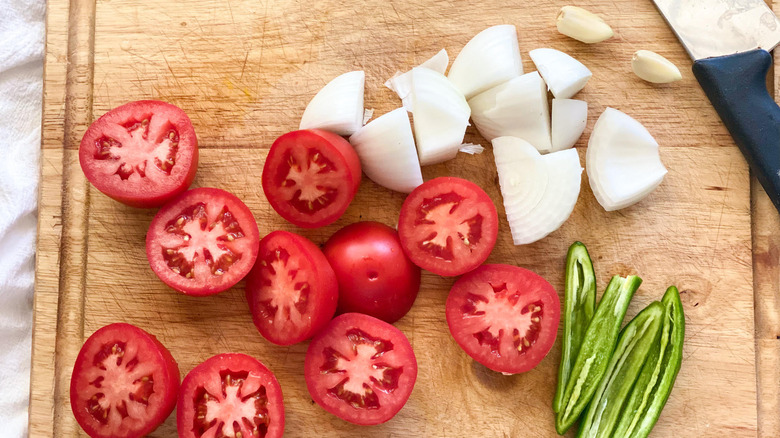 Miriam Hahn/Mashed
It's time to get your fresh ingredients salsa-ready, which means you need to chop. First, take out the onion and peel the first layer back. Then, chop it into quarters. Set it aside because you will need it again in just a second.
Then, take out the Roma tomatoes and cut them in half. Set them aside for a moment. Now, grab your serrano peppers and de-seed them and make sure to discard the stems. For the last task on your list, peel the garlic.
Add your chopped items to the saucepan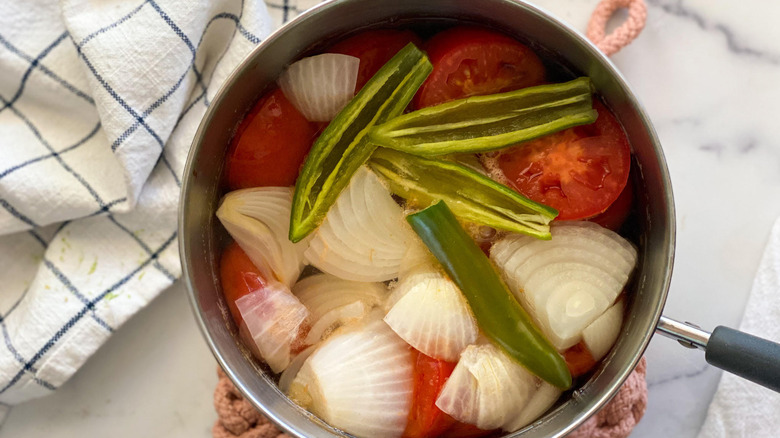 Miriam Hahn/Mashed
Now that you have finished all the prep work, take out a saucepan and put it on your stove. Add the onion, tomatoes, garlic, and peppers. At this point, you can also dump in the water. A liquid base is good because it help soften the onion and tomatoes when they cook and prevents burning.
Next, bring the mixture to a boil and wait for bubbles to appear on the surface. Then you can reduce the mixture to a simmer. Set your timer for 30 minutes, letting the ingredients simmer. By the end of the time, your kitchen should be smelling very fragrant.
Blend the mixture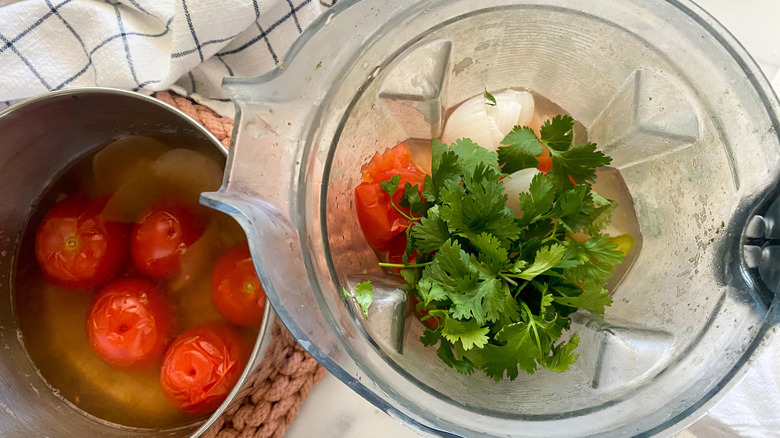 Miriam Hahn/Mashed
Once your timer goes off, you can take the saucepan off of the heat. Be sure to be careful as the pan will be hot. Now it's time to dump half of the mixture from the saucepan into a blender. At this point, you can also throw in the cilantro because what salsa is complete without cilantro? Turn on the blender and once the mix looks like salsa, turn it off and dump the first batch out into a bowl or heat-proof container. Then, put in the rest of the mixture from the saucepan and blend it like you did the first batch. 
Heat the oil and salsa and enjoy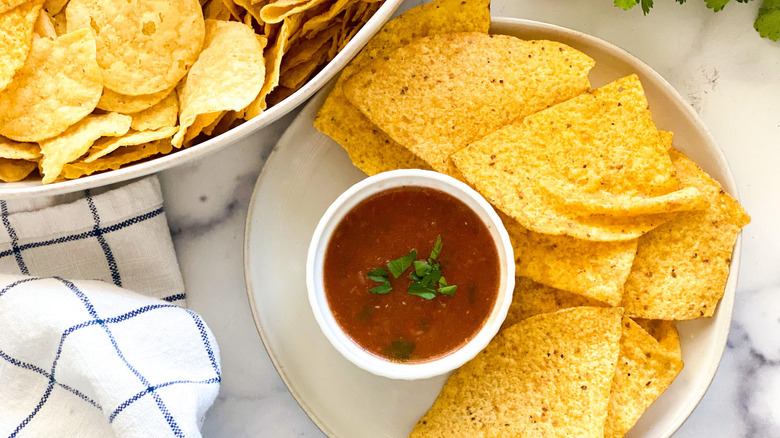 Miriam Hahn/Mashed
Don't put away the saucepan just yet. Once you blend the salsa, put the oil in the same pan. Turn the heat to medium and let it get hot. Now, pour in the blended salsa and reduce the heat. Let the salsa simmer for another 30 minutes. Now it's ready to be enjoyed.
Go ahead and put the salsa either in a mason jar or a serving dish — whichever you prefer. As for serving suggestions, "It is great to serve with tacos, burritos, taco salad, and fajitas!" Hahn says. "Leftovers are good for up to five days in an airtight container." Enjoy! 
Spicy Salsa Roja Recipe
While salsa-making might seem daunting, it's truly simple. All you need for this spicy salsa roja recipe is a handful of ingredients and five minutes of prep.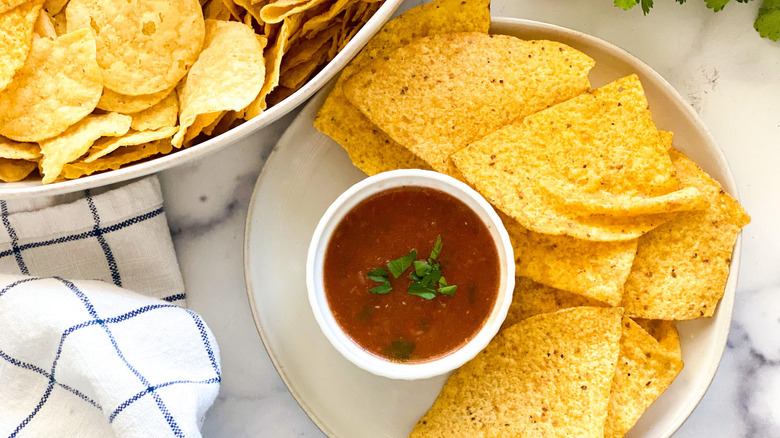 Ingredients
5 Roma tomatoes
1 white onion
¼ cup cilantro
2 serrano chilies
2 cloves garlic
1 ½ teaspoons salt
2 cups water
1 tablespoon oil
Directions
Chop the onion in quarters and the tomatoes in half. De-seed the serrano peppers and discard the stems.
Peel the garlic and add it along with the onion, tomatoes, and peppers to a saucepan with the water.
Bring the liquid to a boil and then reduce the heat to simmer for 30 minutes.
In batches, transfer the mixture to a blender with the cilantro and blend.
Add the oil to the same pan and over medium heat. Add the blended salsa, reduce the heat, and simmer the salsa for 30 minutes.
Enjoy!
Nutrition
| | |
| --- | --- |
| Calories per Serving | 24 |
| Total Fat | 1.5 g |
| Saturated Fat | 0.1 g |
| Trans Fat | 0.0 g |
| Cholesterol | 0.0 mg |
| | |
| --- | --- |
| Total Carbohydrates | 2.7 g |
| Dietary Fiber | 0.7 g |
| Total Sugars | 1.4 g |
| Sodium | 219.8 mg |
| Protein | 0.5 g |