Easy Ho Ho Cake Recipe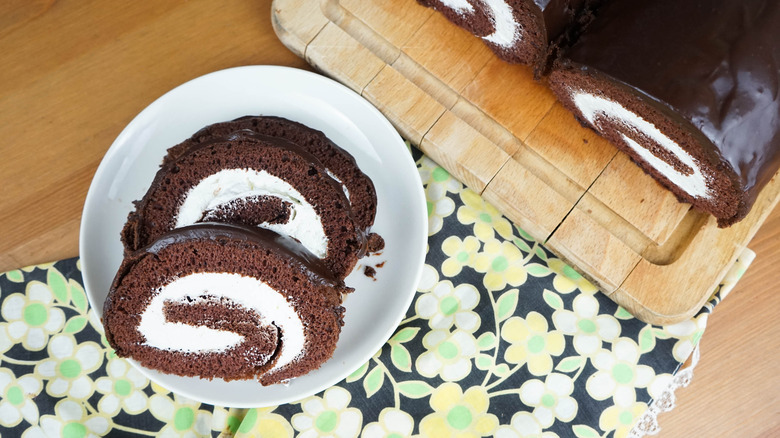 Sophie Putka/Mashed
If you've ever had a Ho Ho, or a Swiss Roll, or whatever you want to call a rolled up, chocolate-covered cake with cream in the middle, you may have found yourself wanting just a little bit ... more. They're nostalgic and cute but very small. The best way to max out that chocolatey goodness? Make a giant HoHo for yourself or a Hostess-loving friend.
That's right. We've engineered a Ho Ho cake that's not only delicious and elegant but also requires a few ingredients. It's made up of three breezy components: a thin sheet cake rolled into a spiral, light cream filling, and a rich chocolate glaze. This cake by recipe developer Sophie Putka will impress anyone who cuts into it with its gorgeous spiral and contrasting black and white look. What's more, this larger-than-life Ho Ho will also satisfy any chocolate-lover in your life with its rich chocolate ganache — even if that chocolate lover is you, indulging in a snack cake for grown-ups.
Gather your ingredients for the easiest Ho Ho cake ever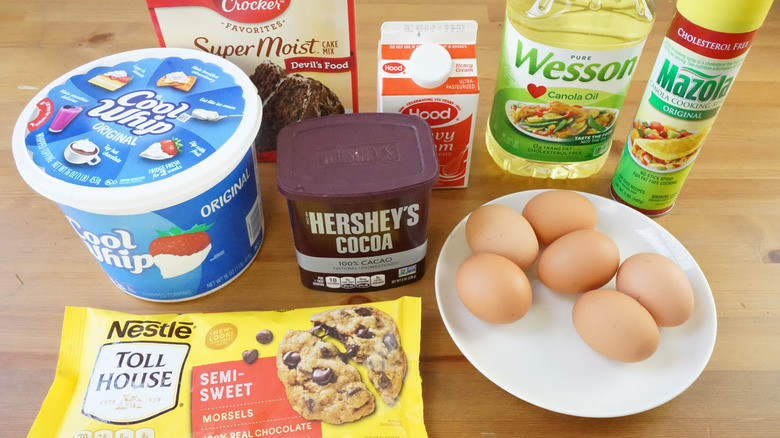 Sophie Putka/Mashed
To make this easy Ho Ho cake, you'll have to cheat a little. Well, maybe not cheat, but use a few shortcuts. We used devil's food cake mix because of how speedy it is to whip up and how fluffy and foolproof the final product is. Make sure you have enough eggs, too. For this recipe, you'll need six. For the easiest cream filling ever, we went for Cool Whip, which lightens up the cake and spreads like a fluffy cloud.
Finally, the ganache combines your favorite dark or semisweet chocolate chips plus some whipping cream. Cocoa powder helps keep the cake from sticking as you roll it into shape. Our recipe is enough for two Ho Ho cakes, just like they come in the package.
Whip the eggs first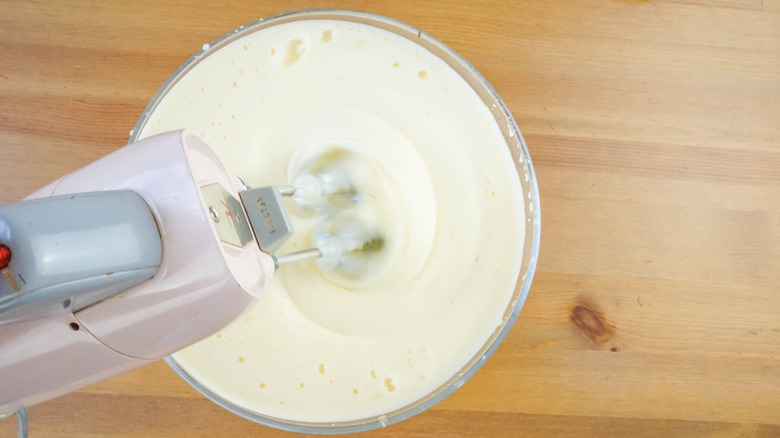 Sophie Putka/Mashed
Start off by getting the longest step in the recipe out of the way: whipping those eggs up into a light-yellow, foamy cloud. Use room-temperature eggs for the best results. A standing mixer is easiest here, but a handheld one will do just as well. Instead of separating the eggs, all you need to do here is whip the yolks and whites together until they've grown in volume and are full of air. This will help the thin cake layer to rise and hold its light and airy texture but resist breaking when it's rolled.
Finish the batter and spray down a pan for the Ho Ho cake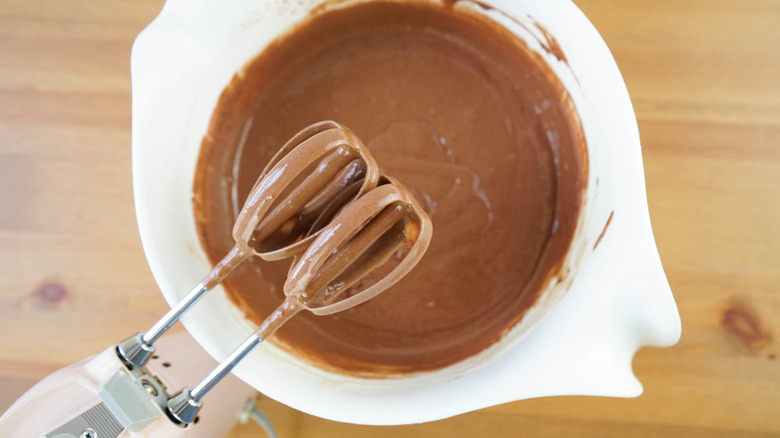 Sophie Putka/Mashed
From there, incorporating the cake mix, oil, and water is a breeze. Mixing in the other ingredients will give you a smooth, totally lump-free batter that's ready to be poured into the pan. You'll need to line a pan with a piece of parchment paper that's completely flat and smooth to ensure the cake comes out easily.
Use the pan as your guide to cut out a piece that sits just inside the pan on two sides, with the other edges hanging off. This way, you can hold an edge to ease the cake out. To make removal extra easy, you should also spray down the pan with cooking spray. Pour half of the batter into the pan, and save the rest for a second roll or another creative baked treat.
Spreading the Ho Ho cake batter out evenly is key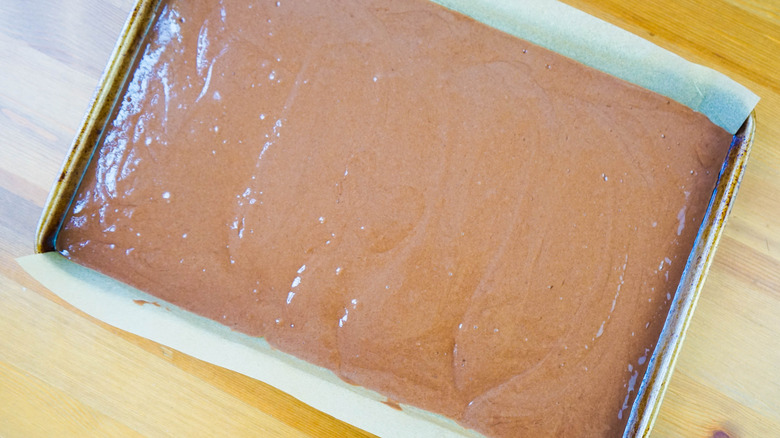 Sophie Putka/Mashed
After you pour the batter into your jelly-roll pan, spreading it out in an even layer is key to shaping this spiral-y cake. If it's wider on one side, you could end up with a lopsided cake. With a rubber spatula, you won't have a hard time creating an even layer — just try not to pull up the cake batter from the parchment paper as you do it.
Another trick, which doubles as a foolproof way to release any caught air bubbles, is to firmly knock the pan with the batter on the counter a few times. When you place the pan in the oven, try to ensure the parchment paper doesn't shift in the pan.
Preparing the towel you'll roll the Ho Ho cake on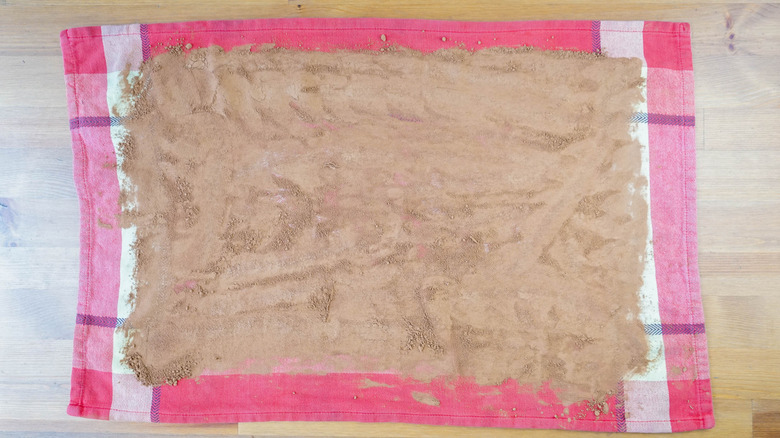 Sophie Putka/Mashed
Once the batter is safely in the oven for 12 minutes, you can get a clean dish towel ready for the most important step: pre-rolling that baby up. By rolling with a towel and some cacao powder, you'll be able to roll the cake evenly without burning yourself, and the cake won't stick. Sprinkle the cocoa powder as evenly as possible onto your towel in the shape of the pan. Then, to create an even more even layer, spread the cocoa clumps with a knife over the towel to make a rectangle that's larger than the pan.
Rolling the Ho Ho cake batter while it's hot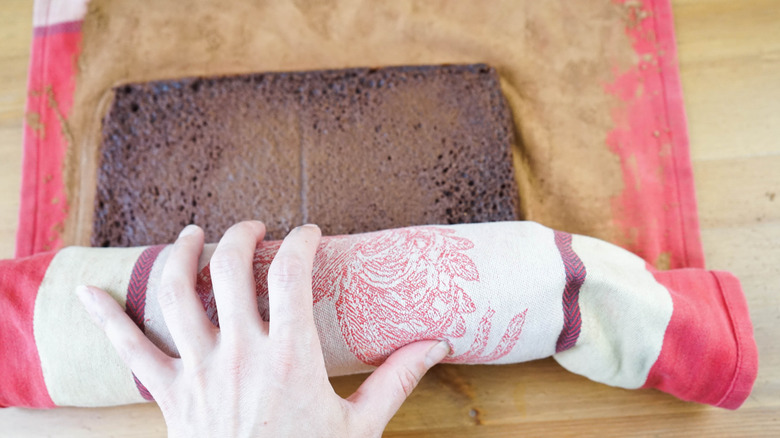 Sophie Putka/Mashed
For a rolled-up cake to get that fancy spiral shape, it has to hold its shape before the filling even touches it. Doing this while it's still hot from the oven allows it to cool down in a curved spiral, so when you spread out the filling, re-rolling it is a breeze. And we're not talking a cake that's cooled down a little bit here — we're talking as close to straight-out-of-the-oven as you can get while not burning yourself (the towel will help with that — or even better, use some rubber gloves).
Invert the cake layer onto the waiting cocoa-ed towel as gently as possible. Use two oven mitts on either side of the pan. Then gather your towel, fold it over the cake, and begin to make a gentle roll without breaking the cake and only touching the towel. The trickiest part is starting off, but the cake is easily rolled from there. With the towel securing the roll, place the cake into the refrigerator to cool off in spiral form, seam-side down.
Fill your Ho Ho cake with sweet, airy filling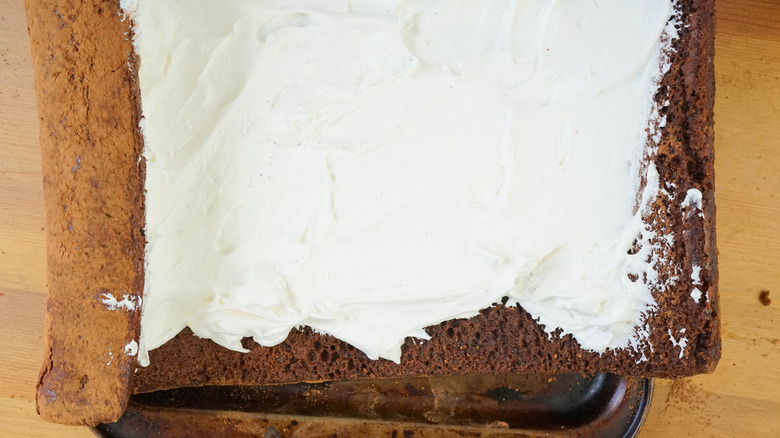 Sophie Putka/Mashed
Once the cake is fully cooled, it's time to fill it with as much Cool Whip as possible. Make sure the cake is not warm at all, even in the middle. Try to unroll the cake slightly without completely flattening it, and create an inch-thick layer of Cool Whip on the cake layer with a rubber spatula, leaving about an inch border around. Gently roll the cake back up. You can also slice the roll with a serrated bread knife on either end to create even edges. Then, put it back in the fridge.
The finishing touch for your Ho Ho cake: rich ganache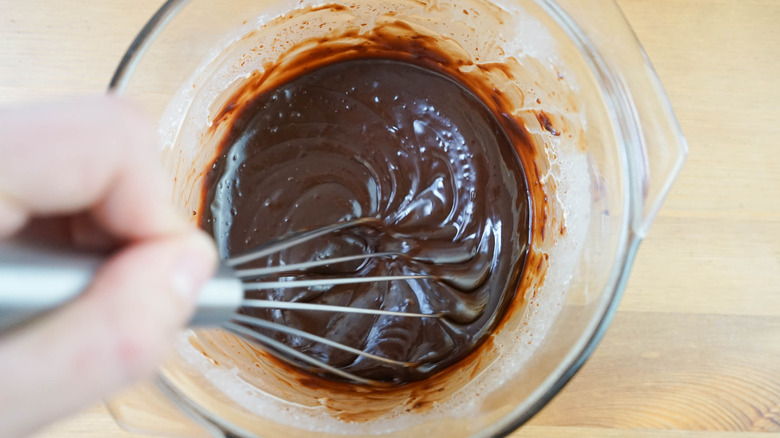 Sophie Putka/Mashed
After filling the roll, make your ganache, which truly sounds more complicated than it is. Ganache is like frosting, only better: It's chocolate slightly softened with some heavy cream and used here as a glaze or coat. All you have to do here is pop two parts chocolate chips into the microwave with one part cream for about a minute to a minute and a half. To coat two Ho Ho cakes, use two cups of chocolate chips and one cup of cream. For one, use one cup of chocolate chips and half a cup of cream. Whisk the chocolate chips and cream together until you get a glossy, smooth consistency.
Then, after removing the cake from the fridge on a pan, pour the ganache as evenly as possible over the roll or rolls. You'll want to use a rubber spatula to collect drips and distribute the ganache as evenly as possible, covering every corner. On the ends, collect the ganache and swipe upward. If the ganache is too hot and pooling, pop it in the fridge for a few minutes. Chill the cake or cakes before slicing with a serrated bread knife. This Ho Ho cake is the fluffy coated cake of your school-lunch dreams.
Easy Ho Ho Cake Recipe
The best way to max out chocolatey goodness? Make a giant HoHo for yourself or a Hostess-loving friend. This one is sure to be a hit.
Ingredients
6 eggs, room temperature
1 box chocolate cake mix/devil's food cake mix
½ cup water
¼ cup vegetable oil
16 ounces Cool Whip
2 cups semisweet or dark chocolate chips
1 cup whipping cream
Optional Ingredients
Directions
Preheat over to 375 degrees Fahrenheit.
In a large bowl, mix eggs with egg beater or mixer on high for six minutes until they become light-colored and reach a foamy consistency.
Add cake mix powder, oil, and water. Mix for 2 minutes on medium speed.
Cut parchment paper to line inside of a 10x15-inch baking sheet and spray with cooking oil.
Pour half of mixture onto baking sheet and bake for 12 minutes.
While cake bakes, sprinkle a clean dish towel with cocoa powder. Spread with a knife to form a powder surface for the cake to sit on.
With two oven mitts, invert cake gently onto powdered towel immediately.
Using the towel around the hot cake, gently roll the cake as tightly as possible in a spiral shape. Refrigerate with the seam end on the bottom for 30 minutes.
Place cake back on sheet pan and unroll gently part-way to remove towel — do not try to flatten.
Using a rubber spatula, spread Cool Whip inside cooled cake spiral, about 1 inch thick with a 1-inch perimeter on the border.
Reroll the cake gently and place in refrigerator.
In a heatproof bowl, microwave chocolate chips and whipping cream for 1 minute.
Whisk to combine until smooth and glossy.
Pour ganache on rolled cake, and spread any drips onto uncoated patches
Refrigerate or freeze until ready to serve.
Nutrition
| | |
| --- | --- |
| Calories per Serving | 715 |
| Total Fat | 49.2 g |
| Saturated Fat | 22.7 g |
| Trans Fat | 0.1 g |
| Cholesterol | 158.1 mg |
| | |
| --- | --- |
| Total Carbohydrates | 61.5 g |
| Dietary Fiber | 5.2 g |
| Total Sugars | 33.2 g |
| Sodium | 488.4 mg |
| Protein | 11.1 g |