Costco's Keto-Friendly Coffee Syrup Has Shoppers Divided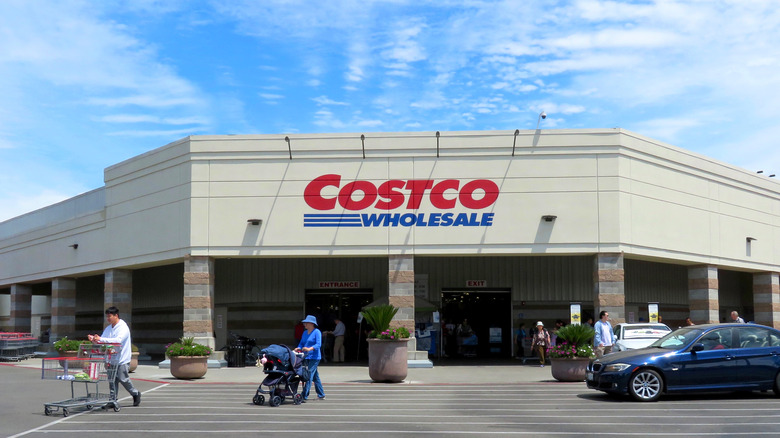 Shutterstock
Costco definitely tries to cater to all its customers, including those who prefer to follow a ketogenic diet to meet their nutritional goals. According to The Healthy, there is no dearth of products for keto customers at Costco who need something to fill them up. From the Good Foods Tableside Chunky Guacamole to Whisps Parmesan Cheese Crisps, shoppers can buy plenty of snacks to keep themselves going through a hectic day. There are also traditional picks available such as the West End Grilled Mediterranean Style Chicken Skewers, Hass avocados, organic green beans, Kirkland Signature Premium sliced bacon, and more.
If you're a lover of caffeine and are disappointed by the lack of tasty keto-friendly coffee syrup options on the market, you'll be pleased to know that Costco does have something available, namely, the Keto Vanilla Bean Syrup with MCT from Skinny Mixes (via Instagram). Customers aren't too sure about this product, though.
Costco shoppers are confused
Skinny Mixes, as per its official website, is a company that focuses on creating low-calorie beverage options that are sugar-free and healthy. It has several keto products, including syrups that promise to make any cup of coffee keto-friendly. "Instead of having to buy a sweetener, a flavoring & an MCT oil to get that Keto coffee you love, you just need our Keto Skinny Syrup & your favorite coffee of choice," the company stated. "It is the perfect way to make your favorite beverages taste indulgent, but without the unwanted calories."
Some of the syrups are now available at Costco, as per Instagram user @costcodeals. However, not everyone is impressed. A customer who tried out the syrup said that it reminded them of cooking oil. Another pointed out that there's a strong after-taste. For a different customer, the product was worth the buy and called it "amazing." Quite a polarizing product, this one!