Little Caesars Just Announced A New Plant-Based Pepperoni Pizza. Here's What We Know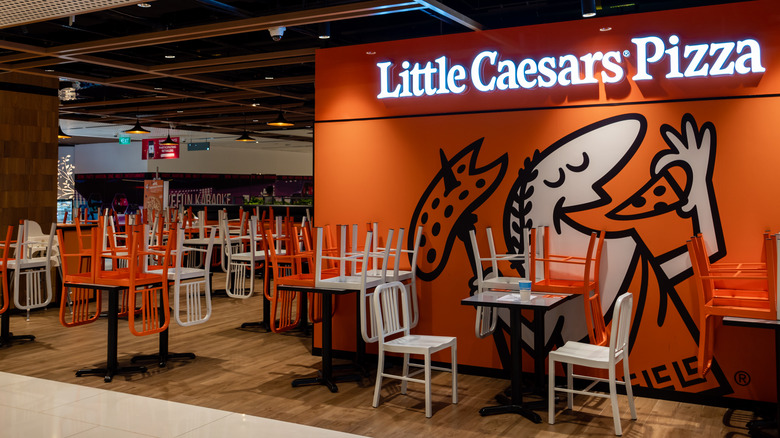 Shutterstock
Starting today, the plant-based tsunami has now washed over the emperor of pizza. In a press release, Little Caesars has announced that select locations in Los Angeles, New York City, Miami, San Francisco, Portland, Oregon, and, of course, their hometown of Detroit will now be selling Planetroni pizzas featuring a meat-free pepperoni topping. 
For $8.49, you can order a regular Planteroni Pizza or opt for the $8 Slices-N-Sticks combo that features a half order of the new vegetarian-friendly pizza alongside some cheesy breadsticks. As well, the new meatless pepperoni can be ordered as a topping on any custom order pizza.
The new offering comes from a collaboration between Little Caesars and Field Roast, a plant-based meat and cheese company. "This is a huge moment for pizza lovers because, for the first time, they have access to a plant-based pepperoni that doesn't sacrifice taste," Dan Curtin, president of Greenleaf Foods that owns Field Roast, said in the press release.
The surging interest in plant-based options that Little Caesars is now a part of has been well documented in recent years. This month, Market Watch shared a report that predicts the demand for plant-based sausage will grow by 26.5% between 2020 and 2028. Little Caesars' press release also cites a customer survey that determined 69% of people would order plant-based meat if the option were available. And thankfully now it is on pizza, too. It should be noted, however, that while Planteroni is plant-based, the pizza is still made with cheese so the meal is only vegetarian, not vegan.
Planteroni is all about the authentic pepperoni taste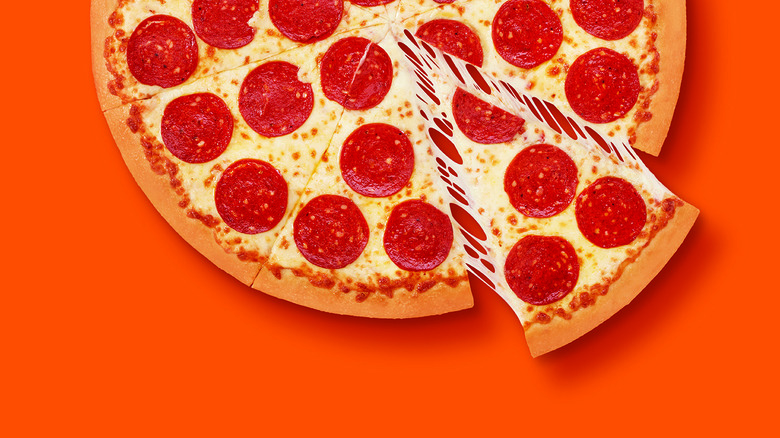 Little Caesars
Even though plant-based meat is still more expensive compared to meat sourced from animals, the consensus is that these products have become a fixed part of the wider food industry — and interest only continues to grow due to personal beliefs, health concerns, and for environmental reasons.
"Planteroni Pizza brings the delicious flavor of America's most popular pizza topping to plant-based eating, and you need to taste it to believe it," Jeff Klein, chief marketing officer at Little Caesars, said in the press release. "We want our customers to set aside their preconceived notions about plant-based meat because this product is really going to surprise them."
In fact, Field Roast's offering stands out from others in that it's "the first pepperoni alternative on the market to be made with pea protein, not soy," said the release. It's also made with pepperoni's traditional zesty spice blend of fennel, garlic, cracked black pepper, and paprika. 
f you can't wait to get your hands on this new pizza offering, and you live in one of the markets where it's being rolled out, you can place an order for delivery using the Little Caesars app, or pay and pickup at the chain's Pizza Portal mobile order station inside select locations.