Authentic Pan Fried Rice Vermicelli Recipe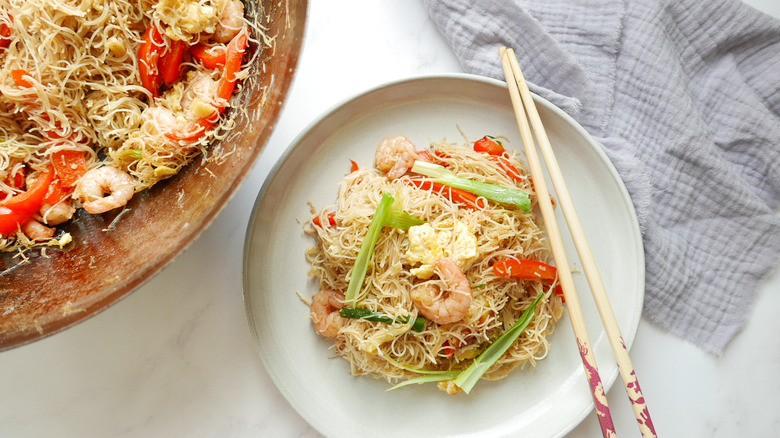 Ting Dalton/Mashed
Rice vermicelli as an ingredient may not be too common in western cuisine, but Southeast Asian and Chinese cooking would be utterly bereft without it. Made with rice flour and water, rice vermicelli can be found in everything from stir-fries to salads and soups. It's even often used as a filling for spring rolls. So, why not cook it up in a pan, too? 
This style of pan-fried vermicelli may be named after Singapore, but Bon Appétit notes that its origins are actually elsewhere. Instead, the dish appears to have come from Hong Kong. There, curry-flavored rice vermicelli is served at restaurants that specialize in Cantonese cooking. 
Regardless of where you think its predecessors hail from, Ting Dalton's version of this comfort food is as authentic as it gets. Cooking up her version of pan-fried rice vermicelli will leave you with a version reminiscent of the noodles you get at any Cantonese eatery. Just remember to eat it the way that locals might do, which is piping hot.
Ingredients you'll need to make pan fried vermicelli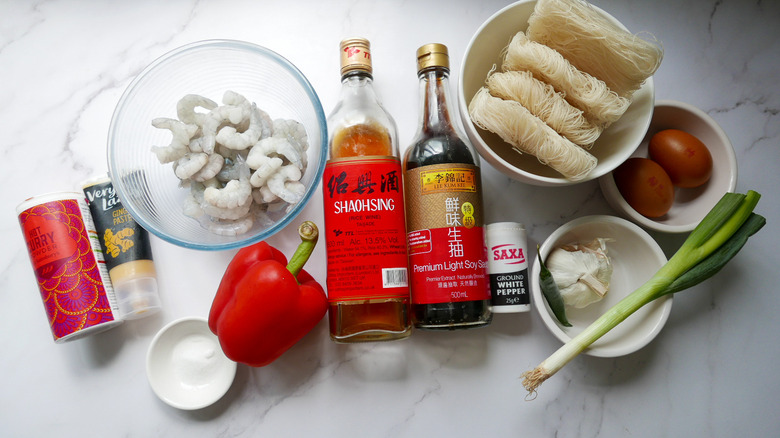 Ting Dalton/Mashed
Because this recipe is about as authentic as it gets, making stir-fried rice vermicelli requires some preparation. At least, that may be the case if you're new to this style of cooking. You will need rice vermicelli, raw prawns, a red bell pepper, a green onion, garlic, a hot green chili pepper, ginger, eggs, Chinese cooking wine, light soy sauce, hot curry powder, ground white pepper, sugar, and vegetable oil for cooking. Take a minute to thinly slice the red bell pepper, green onion, and garlic.
It's okay to make substitutions here if a certain ingredient isn't to your taste or if you need to be mindful of dietary needs. If you're not big on prawns, for instance, sliced chicken would work just fine. You can also mix both proteins if you choose. And you could also make this dish vegetarian and add in some tofu, though Dalton notes that you'll want to add that particular protein in towards the end of the cooking process.
If rice vermicelli isn't readily available, Dalton says swapping noodles is permitted too. "Although traditionally Singapore noodles are made with vermicelli noodles, you can use any other type of noodles you have to hand. It will still taste just as delicious," she says.
Prepare the noodles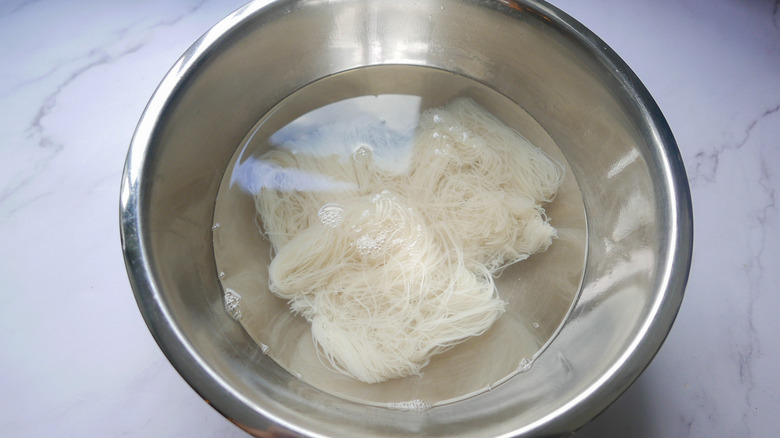 Ting Dalton/Mashed
As with preparing for many other noodle or pasta dishes, cooking with rice vermicelli requires getting the noodles ready before moving on to the rest of the steps. Unlike pasta, which needs to be boiled, you'll need to soak the noodles in just-boiled water for 2 to 3 minutes, until the noodles are soft. Once that's done, simply drain the noodles and set them aside. 
Don't get impatient and boil the noodles directly or soak them in cold water. Either of these alternatives will potentially alter the texture of these thin, delicate noodles, so it's best to stick with the aforementioned method. 
You'll know when the noodles are ready to drain because they will actually change color, though it will be a subtle transformation. Uncooked noodles can be either clear or white, while cooked noodles will be white and opaque.
Create the sauce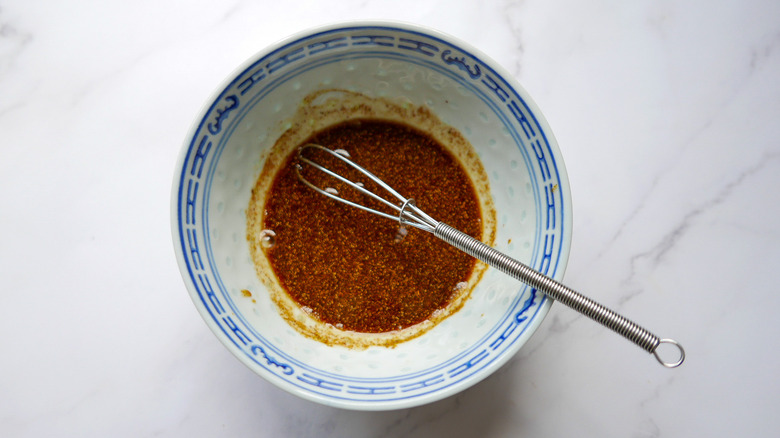 Ting Dalton/Mashed
Once your noodles have been prepped, you'll want to make the sauce ahead of time so it is ready to be poured into your hot pan or wok as soon as the other ingredients are cooked through. To make your rice vermicelli sauce, whisk together the soy sauce, curry powder, Chinese cooking wine, ground white pepper, and sugar. Then, set it aside but keep the sauce close at hand so it's ready to be added to the hot pan.
From there, heat your pan with a tablespoon of oil. Beat your egg and pour that into the pan to form an omelet. When the egg has begun to set up, break your omelet up into pieces, remove it from the pan, and set it aside.
Stir fry the aromatics, then add prawns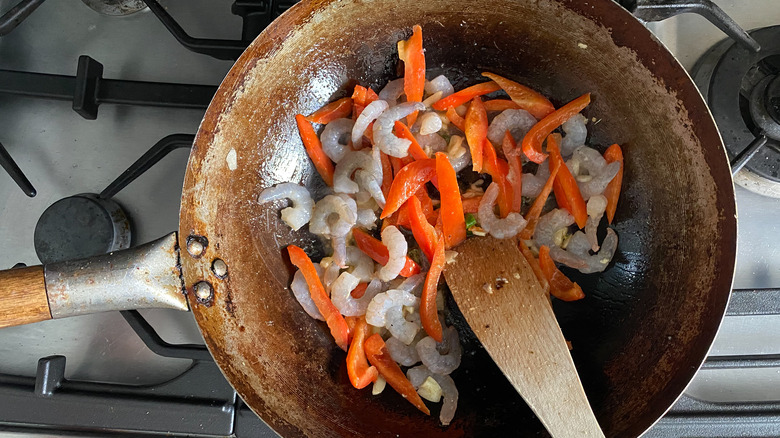 Ting Dalton/Mashed
With your sauce and your egg waiting in the wings, it's time to get started on the main ingredients. Heat your other tablespoon of vegetable oil to high heat in the pan, then add your aromatics. These include the sliced garlic, whole green chili, ginger, and red bell pepper. Stir fry these ingredients for 1 to 2 minutes, after which you will add your prawns (or whatever other protein you've decided to use in its place).
Whatever you do, don't give in to the temptation to replace vegetable oil with olive oil, which cannot be used for Asian cooking. Olive oil has a low smoke point, which makes it unsuitable for high heat stir-fries. That means that, if you subject it to a truly hot pan as this recipe requires, your kitchen will soon be a smoky mess and the oil may even have an odd flavor afterward. If neither you nor your loved ones have nut sensitivities, peanut oil is best for Chinese cooking because it has a high smoke point and can handle the heat just fine. Other high smoke point oils may also be an acceptable option here.
Ensure your sauce coats all the ingredients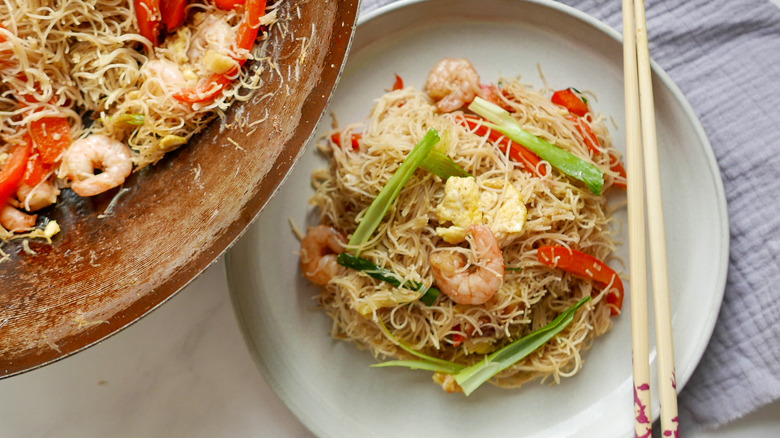 Ting Dalton/Mashed
After you've added the proteins, stir fry the peppers, aromatics, and prawns for up to 2 minutes more. When the prawns begin to change color, add the green onions, sauce, and the drained rice vermicelli. Stir thoroughly to make sure all the ingredients are coated and well-flavored. Once all the ingredients have been combined properly, that's it! Your pan-fried rice vermicelli is ready to serve. Place portions on a plate or in a bowl and serve it up steaming hot and full of flavor.
This pan-fried vermicelli dish can stand up to substitutions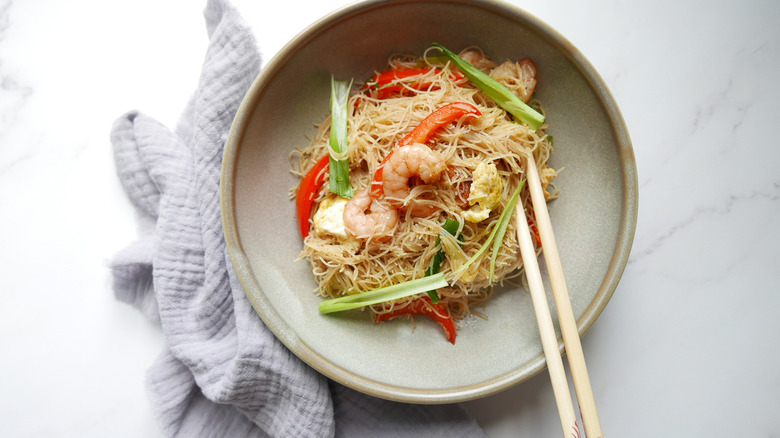 Ting Dalton/Mashed
This pan-fried rice vermicelli dish is incredibly forgiving. Aside from swapping out your noodles, and swapping (or adding) different sorts of proteins, Dalton says it's fine to use different strengths of curry powder, too. If you cannot take the heat, use a mild curry powder and leave out the hot green chili. Omitting the curry powder will leave you with a basic Chinese fried noodle dish, Dalton says. 
As far as vegetables are concerned, you can also add sliced onions and any other vegetables you might have on hand, including sweetcorn or mangetout. If you really want to go hard and pile on the veggies, Dalton recommends different options like napa cabbage, shredded bok choy, bean sprouts, and sliced matchstick carrots, for instance. "The choice is endless and a good way to use up veggies lurking in the fridge," she says.
Authentic Pan Fried Rice Vermicelli Recipe
This at-home version of a classic Southeast Asian comfort food is about as authentic as it gets, with pan-fried rice vermicelli and tons of great flavor.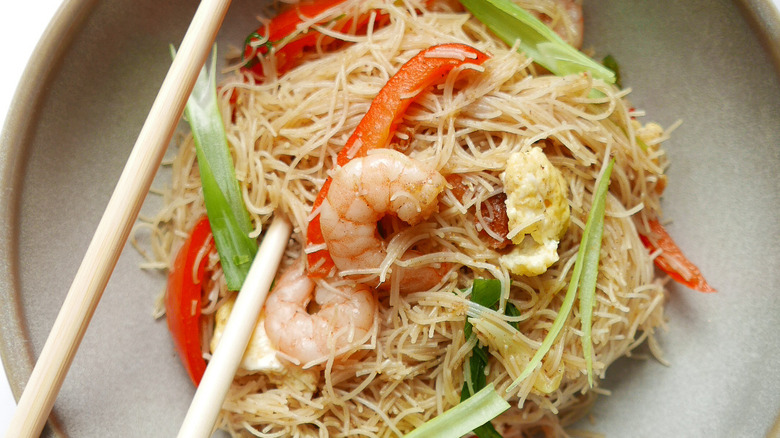 Ingredients
8 ounces rice vermicelli
7 ounces raw prawns, peeled and deveined
1 red bell pepper, thinly sliced
1 green onion, thinly sliced into 1-inch pieces
3 cloves garlic, thinly sliced
1 hot green chili
1 teaspoon ginger
2 eggs, beaten
2 tablespoons Chinese cooking wine
3 tablespoons light soy sauce
3 teaspoons hot curry powder
1 pinch ground white pepper
1 teaspoon sugar
2 tablespoons vegetable oil
Directions
Boil water in a kettle, then pour it over rice vermicelli. Leave to soak for 2-3 minutes until soft. Drain and set aside.
In a bowl, mix together the soy sauce, curry powder, Chinese cooking wine, pepper, and sugar. Set aside.
Heat a large pan or wok with 1 tablespoon of vegetable oil to high heat. When hot, add the beaten egg to the oil and let it cook, forming an omelet. Once cooked, break it up into pieces and set aside.
Add another tablespoon of oil to the same wok and heat. Add the garlic, whole green chili, ginger, and red bell pepper slices. Stir fry for 1-2 minutes.
Add the prawns and stir fry for another 1-2 minutes. As the prawns begin to change color, add green onions, sauce, and rice vermicelli. Stir thoroughly, making sure to coat the rice vermicelli with the sauce.
Serve when all ingredients are thoroughly combined.
Nutrition
| | |
| --- | --- |
| Calories per Serving | 743 |
| Total Fat | 20.5 g |
| Saturated Fat | 2.8 g |
| Trans Fat | 0.1 g |
| Cholesterol | 285.0 mg |
| | |
| --- | --- |
| Total Carbohydrates | 106.0 g |
| Dietary Fiber | 5.5 g |
| Total Sugars | 6.7 g |
| Sodium | 1,693.8 mg |
| Protein | 29.6 g |