This Famous Chicago Restaurant Just Closed Forever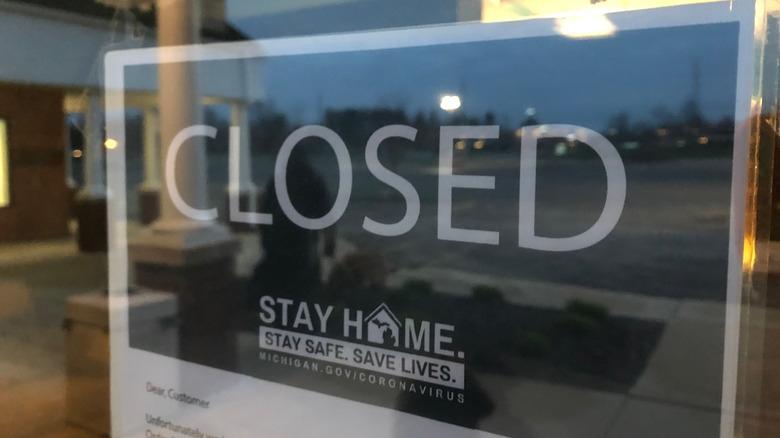 Shutterstock
Former U.S. President, Barack Obama, may well be among those reeling from the news of yet another painful restaurant closure tied to the still-unfolding economic upheaval brought about by the COVID-19 pandemic (via Restaurant Business). The owners of the Michelin-starred, Spiaggia, along with its more casually-styled sister-restaurant, Café Spiaggia, announced that they have made the difficult decision to close their doors permanently after 37 years of business in Chicago, Illinois. 
Spiaggia entered the scene in 1984 as a partnership between chef Tony Mantuano and restaurant operator, Levy Restaurants. Under Mantuano's direction, Spiaggia earned its Michelin stars before Mantuano departed in November 2019, passing the baton to Eric Lees, who has since served as the restaurant's executive chef (via Chicago Tribune). "It's the right time for me," Mantuano told the publication. "Eric is crushing it, and the team is strong. It's time for the next generation to take over, and I get to figure out what I want to do next." Just a few months later, the pandemic forced the two Spiaggio venues to close temporarily, but with every intention of reopening once it was deemed safe, according to Restaurant Business.
Many tears are being shed over the closure of this famous Chicago Italian restaurant
After three decades, during which time it earned Michelin stars and became a standard-bearer the world over for fine Italian dining, Spiaggia has closed forever. Although the restaurant had been closed temporarily during the pandemic, its staff had every intention of re-opening when it was deemed safe to do so, according to a statement that is now all that appears on the Spiaggia website. "Unfortunately," the statement continues, "we were unsuccessful in our efforts with the landlord to restructure our soon-to-expire lease, which was necessary to reflect the realities of operating a restaurant in an office building, post-pandemic."
Spiaggia's proprietors also took to Twitter to mourn the ending of the famed eatery. "Setting the standard for fine Italian dining has been our honor," they wrote. "Celebrating it with you has been our joy." Fans of the food venue were quick to react to the announcement with crying emojis and statements like "so sad" and "such a loss." But the reply that might best capture the feelings surrounding this heartbreaking news is, "Wait...WHAT?!? Nooooo...."