Copycat Red Lobster Crab Alfredo Recipe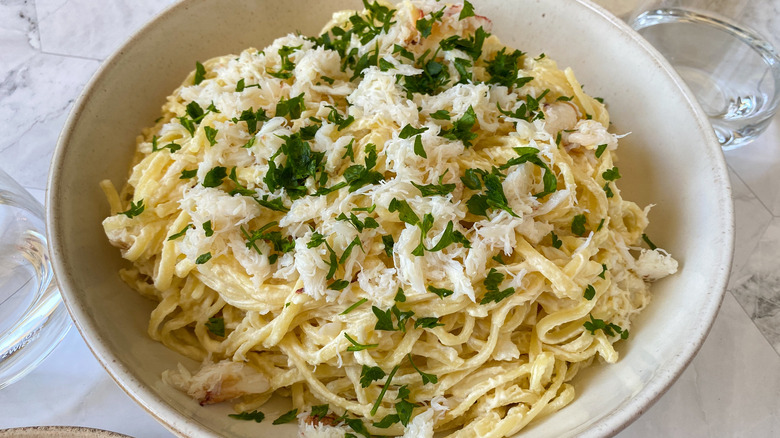 Hayley MacLean/Mashed
Regularly going out for a restaurant meal can become a bit indulgent, but there's no reason you shouldn't be able to enjoy gourmet flavors at home from time to time. While it may seem that everything tastes better when you're out for dinner, a few tricks and carefully chosen ingredients can make any recipe a success. 
It's no secret that Red Lobster has a delicious repertoire of seafood dishes. Why not take the fresh flavors inspired by the sea and make your own version at home? Register dietitian and recipe developer Hayley MacLean of Happy Healthy Hayley was clearly up to the task. She created the perfect rendition of Red Lobster's Crab Alfredo pasta dish, noting that "This recipe was actually pretty easy to throw together." MacLean made a few tweaks to her staple Alfredo recipe and remarks that "it was a just a matter of finding the right proportions for each." 
It's creamy, rich, and just about heavenly when paired with the buttery taste of crab meat. Thanks to the shredded texture, you'll get plenty of crab in each bite as you twirl forkfuls of linguine. With this recipe, you'll wonder why linguine isn't always served with crab. MacLean agrees, "My favorite thing about this dish is definitely the crab." She's no stranger to tasty seafood, "Being a [Pacific Northwest] native, I have grown up with some of the most wonderful seafood around — much like the Dungeness crab I used in this recipe!" 
Gather the ingredients for this copycat Red Lobster crab Alfredo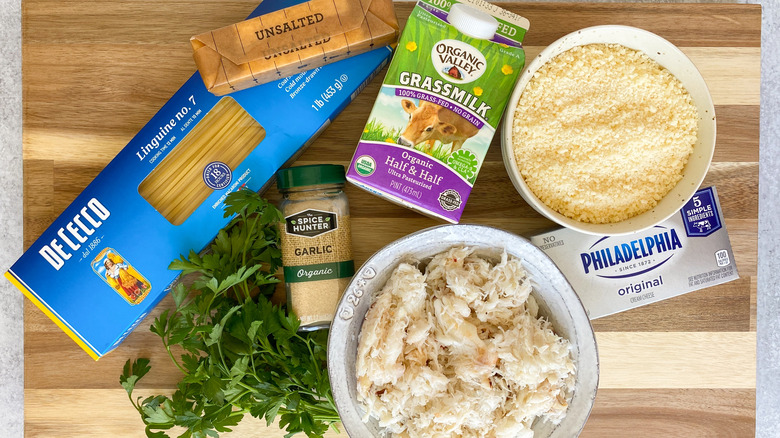 Hayley MacLean/Mashed
Start off by gathering the ingredients you'll need for this decadent crab Alfredo. First, you'll need some butter as a base for the rich sauce, along with cream cheese and half and half. Using a mix of cream-based ingredients is necessary to give your Alfredo sauce a creamy consistency and plenty of flavorful depth. And if that isn't cheesy enough, some grated Parmesan is also added to incorporate a sharper salty flavor. For a slightly different take, MacLean suggests, "using some asiago in the mix to add an earthier, nuttier flavor, or sharp white cheddar for some added tang." A pinch of garlic powder is key for introducing some complex aromas, and MacLean encourages experimenting further with "Italian seasoning, dried mustard, or red pepper flakes to change the flavor profile."
Now that the Alfredo sauce list is complete, you'll need some pasta, of course. MacLean opts for linguine, a flat noodle similar to spaghetti. It holds onto creamy sauce well and is a great match for shredded crab meat. If you can only find spaghetti that will do as well. 
Crab meat is arguably the highlight of the dish, giving it a luxurious element that will make you feel like you're eating out. Either fresh or canned crab can be used for this creamy Alfredo dish. Finally, garnish the pasta with some Italian parsley to add an herbaceous touch and a bit of color. 
Melt the butter in a sauce pan then add the cream cheese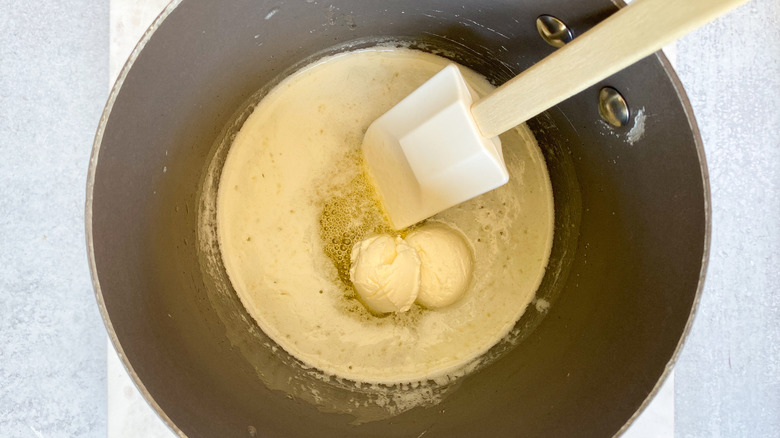 Hayley MacLean/Mashed
First things first: melt the butter in a medium-sized saucepan over medium heat. Keep stirring the butter with a spatula as it melts to produce a smooth consistency and ensure that none of the butter solids are burning or sticking to the bottom of the pan. 
Once the butter has melted completely, it's now time to add the cream cheese to the saucepan. Continue to stir with a spatula until the cream cheese softens and fully mixes in with the butter. 
Stir in the parmesan, half and half, garlic powder, and simmer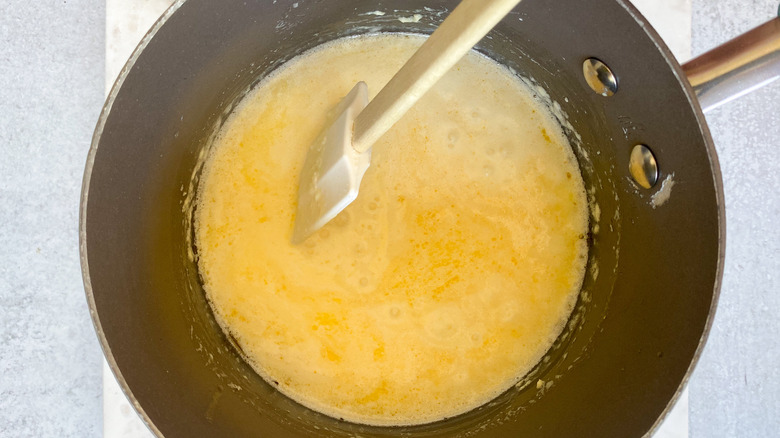 Hayley MacLean/Mashed
Next, stir in the pint of half and half as well as the grated Parmesan into the saucepan. Mix the creamy sauce with a spatula to combine all of the ingredients. Then, add in the garlic powder and mix it well so that it dissolves in the sauce. Now that all of the Alfredo sauce ingredients are in the pan, you can now bring the contents to a simmer. 
Once the mixture is simmering, lower the heat and continue to simmer for 15 to 20 minutes longer. During this time the consistency of the sauce should start to thicken as some of the liquids begin to evaporate. 
It may be tempting to step away now, but don't use this time as a break to catch up on emails or other tasks. When talking about the sauce, MacLean warns that "It can burn quickly so it is important not to turn up the burner too high or walk away for too long! There is nothing worse than a bitter, burnt-tasting sauce, in my opinion." 
Meanwhile, cook the pasta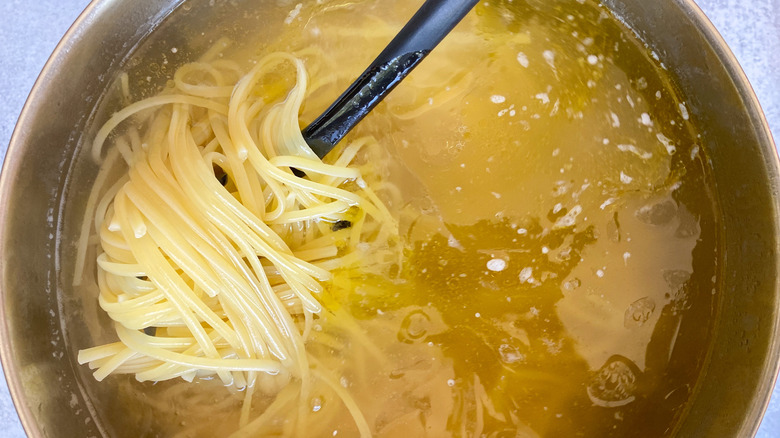 Hayley MacLean/Mashed
While the sauce is simmering, you can prepare the pasta. Bring a large pot of salted water to a boil, then add the pasta. Follow the directions on the package to cook the pasta for the correct duration — we recommend an al dente texture. 
Once the pasta is cooked to your liking, drain the water and set the pasta aside. Yes, it was really that easy. You're another step closer to digging into this delicious dish! It's now time to combine the sauce and the cooked pasta. 
Toss the pasta with the sauce and fold in some of the crab meat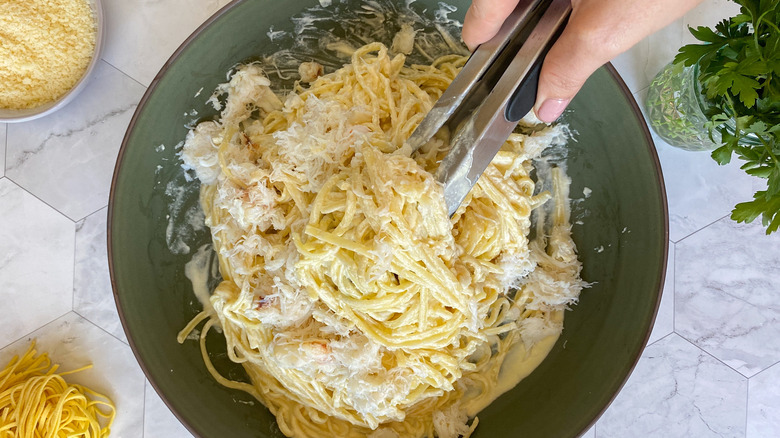 Hayley MacLean/Mashed
Once your sauce has thickened sufficiently, toss it with the pasta in a large bowl. Use tongs to ensure the pasta is properly coated in the rich and creamy Alfredo sauce. 
Once the sauce is evenly distributed throughout the linguine, it's time to add in the superstar of the dish — the crab. Fold in ¾ of the crab meat, mixing it in well. That said, be careful that you incorporate the crab into the dish without overworking the mix, so that you still have visible chunks of crab meat dispersed throughout. 
Top the dish with the rest of the crab meat and parsley and serve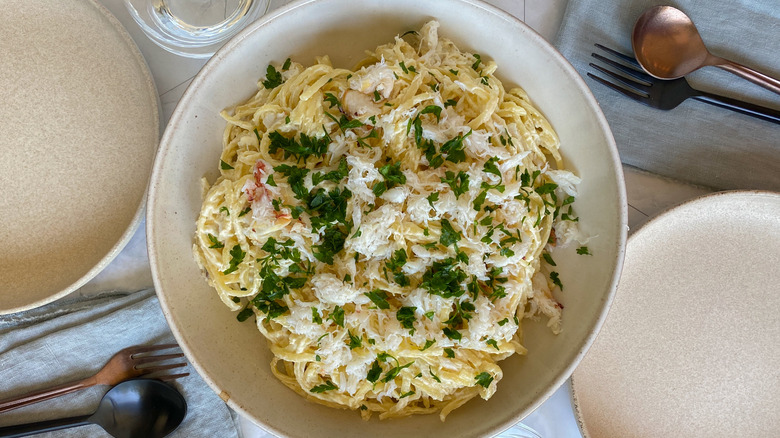 Hayley MacLean/Mashed
Before serving this heavenly Red Lobster copycat crab Alfredo, top the pasta with the remaining crab meat and the chopped Italian parsley. Serve it as your main course and enjoy a restaurant dining experience from the comfort of your own home. Pair it with a simple green salad for a refreshing side dish, some crusty garlic bread, or serve it alone if you want to savor the buttery crab flavors. 
This dish is best served immediately once you've tossed all of the ingredients together, though you do have some options if there are leftovers after dinner is over. MacLean points out that, "Due to the fresh crab in this recipe, I would not store it for any longer than 2-3 days in the fridge." Remember to store those leftovers in an airtight container.
If you want to get a head start, MacLean confirms that it's possible to get going on this dish a bit early. "You can definitely pre-make the sauce a day or two in advance," she says, "and even freeze it for later use." For best results when you go the freezer route, MacLean recommends to "cool [the sauce] completely and then divide it into small portions in freezer bags, laid flat." She cautions, "It is important to do it in small portions so that it will freeze quickly since it is a dairy-based sauce."
Copycat Red Lobster Crab Alfredo Recipe
This copycat Red Lobster crab alfredo recipe is delightfully creamy, rich, and just about heavenly when paired with the rich and buttery taste of crab meat.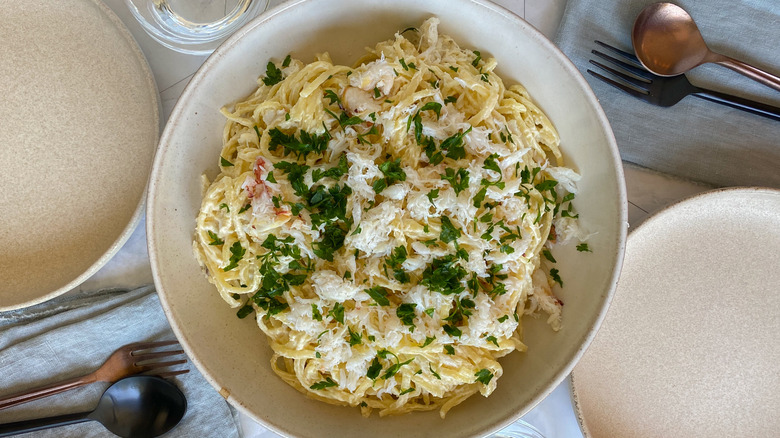 Ingredients
½ cup unsalted butter (1 stick)
2 tablespoons cream cheese
1 pint half & half
¾ cup parmesan cheese, grated
1 teaspoon garlic powder
1 16-ounce package linguine pasta
1 cup crab meat (fresh or canned), divided
1 tablespoon Italian parsley, chopped
Directions
In a medium saucepan, melt the butter over medium heat.
Once melted, add the cream cheese and stir until softened.
When softened, add the half & half and parmesan cheese.
Add the garlic powder and stir well.
Bring to a simmer and then lower the heat.
Continue simmering for 15 to 20 minutes, until the sauce thickens.
While the sauce simmers, cook the pasta according to the package directions.
When the sauce is done, toss it with the pasta to coat evenly.
Gently fold in about ¾ of the crab meat, making sure not to overmix to keep the large pieces intact.
Top with the remaining crab and Italian parsley.
Serve immediately.
Nutrition
| | |
| --- | --- |
| Calories per Serving | 945 |
| Total Fat | 48.5 g |
| Saturated Fat | 29.5 g |
| Trans Fat | 0.9 g |
| Cholesterol | 165.1 mg |
| | |
| --- | --- |
| Total Carbohydrates | 91.7 g |
| Dietary Fiber | 3.7 g |
| Total Sugars | 8.7 g |
| Sodium | 660.6 mg |
| Protein | 35.2 g |