Over 55% Think These 2 Chick-Fil-A Items Are The Best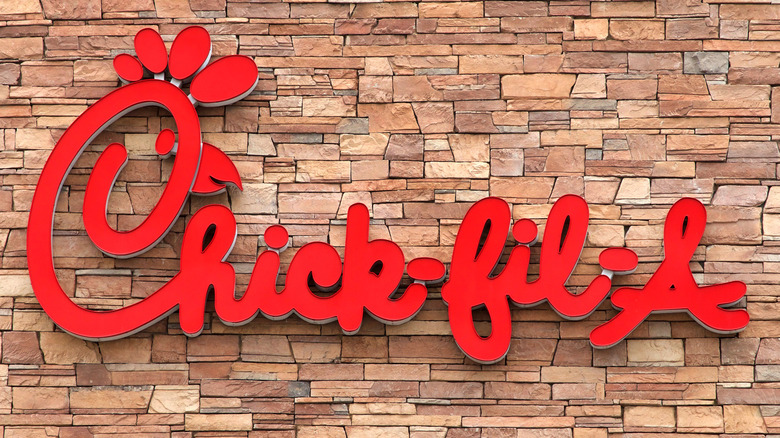 Shutterstock
Burgers are a dime a dozen in the fast food world, but when it's chicken that is calling, there's one particular chain that trumps the rest. Or rather, it trumps the rest on every day of the week except for Sunday. That's right, we're talking about Chick-fil-A, the Georgia-based Southern eatery known for its exceptional customer service, delicious dipping sauces, and, of course, some really good chicken. But if you're about to brave the outrageously long drive-thru line that somehow occurs at nearly all 2,680 Chick-fil-A locations (via Scrape Hero) to get your hands on some of these goodies, you may want to make sure you're ordering the best item on the menu.
To help determine exactly what that is, Mashed conducted a survey in which 649 US-based Chick-fil-A fans were asked what they thought was the best item from the restaurant. There were some clear non-popular picks, based on the results, like the chain's Chick-n-Strips and famous Chicken Biscuit, which received the least amount of votes, 8.47% and 8.78%, respectively. Chick-fil-A's nuggets, meanwhile, fared only slightly better. Despite being the restaurant's best-selling entree item for three years in a row (via The Chicken Wire), the bite-sized pieces of poultry only earned a vote from just 70 people, or 10.79% of respondents in the survey.
The top two Chick-fil-A menu items were neck-in-neck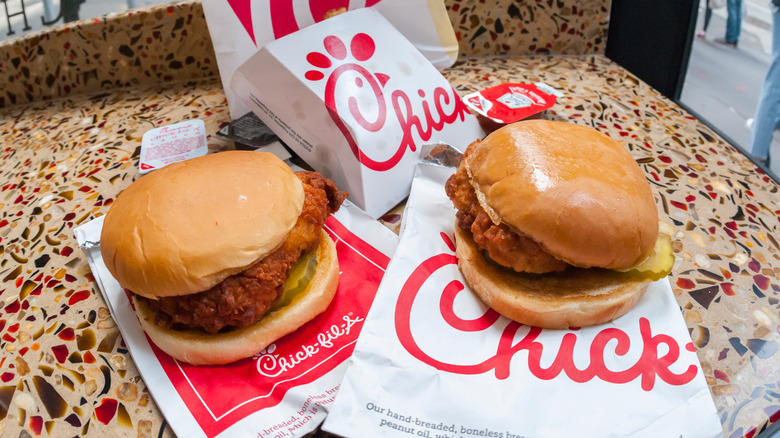 Shutterstock
Chick-fil-A may be battling it out with the other fast food restaurants in the ongoing chicken sandwich wars, but within the realm of its own establishment, one OG menu item reigned supreme. More than half of the respondents in Mashed's survey chose either the original or spicy chicken sandwich as the chain's best menu item. Individually, both entrees beat out the brand's signature waffle fries, which received 15.41% of the vote — but the competition was neck-in-neck when it came down to the ultimate winner between the top two chicken sandwiches.
Proving that hotter isn't always better, it was the classic Chicken Sandwich that claimed the title of best menu item at Chick-fil-A by a mere nine extra votes. A staple of the chain's since its creation in 1964 (via the official website), this somewhat simple sandwich that consists of a breaded, boneless chicken breast served with dill pickle chips on a toasted, buttered bun received 28.97% of the vote from 188 people. It's spicier sibling followed closely behind with 27.58% of the vote. 
With such a small number of respondents deciding between the first and second place winners, it's clear that either one will satisfy a craving for a chicken sandwich — or perhaps you should just order one of each the next time you hit up the drive-thru to get the best of both worlds.