Iron Chef America's David Burke Dishes On His Bobby Flay Rivalry - Exclusive
When David Burke, of "Iron Chef America," rose to prominence during New York City's extravagant '80s, he was among a group of culinary geniuses who spent their days expressing their abundant creativity for the striped-shirt-and-suspenders crowd. Those were the days of extensive wine lists, prix fixe menus, and two-martini lunches. At the literal end of the day — somewhere between 11 p.m. and midnight — when their kitchens finally closed, chefs like Burke needed an outlet. 
If it were now, Burke might have texted his River Café predecessor, Charlie Palmer, or new-kid-in-town, Bobby Flay (who opened the first Mesa Grill in 1991) to ask to meet up. But back in those days, as David Burke noted during an exclusive interview with Mashed, texting wasn't yet invented. Instead, chefs like Burke would close their kitchens and reconvene at restaurants like Blue Ribbon, a classic chef hangout — eating oysters, drinking wine, and swapping stories, as Grub Street noted. While Burke might have spotted Flay once or twice in the banquettes of Blue Ribbon, it wasn't until the pair was face-to-face during Season 2 of "Iron Chef America" that the two chefs really had a chance to compete (via Food Network).
Chef David Burke's rivalry with Bobby Flay is rooted in good sportsmanship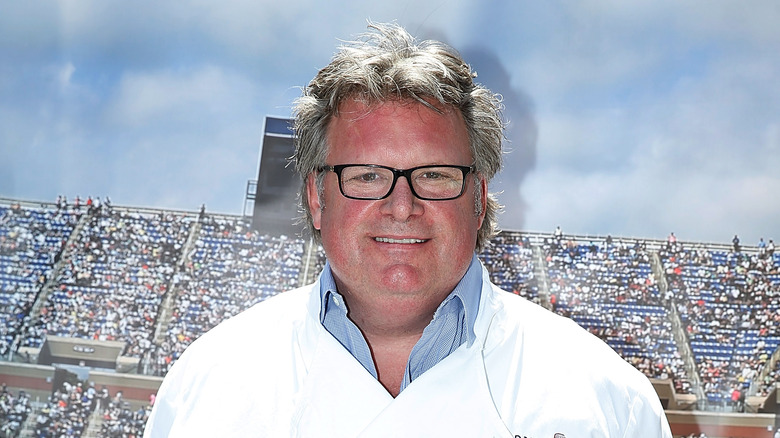 John Lamparski/Getty Images
Just like the rest of us, after a hard days' work, celebrity chefs look to blow off a bit of steam with their buds. Sometimes, that might mean a heartfelt chat over an icy cold brew. Other times, only a bit of friendly competition will do. But whereas your game of choice might be streetball, pool, or darts, culinary titans such as David Burke often turn to cooking competitions like "Iron Chef." In fact, when Mashed asked Burke what it's like competing against other members of the epicurean elite, he told us it's really not all that different from a game of one-on-one basketball. "It's very respectful," Burke explained, although "we're still very competitive at the end of the day."
As for what it's like to go up against chefs like Bobby Flay, Burke had only the nicest things to say. "I always admired Bobby," Burke said. He believes Flay pioneered an entirely new take on Southwestern cuisine and respects his work ethic. The chef also made it pretty darn clear that he's totally cool with the results of his match against Flay on "Iron Chef America," which Flay ultimately won. "When I was on Iron Chef with Bobby, I didn't see everything he made, but I honestly I thought he did a better job," Burke said. But what about ... a rematch? 
Burke would gladly welcome a rematch with Flay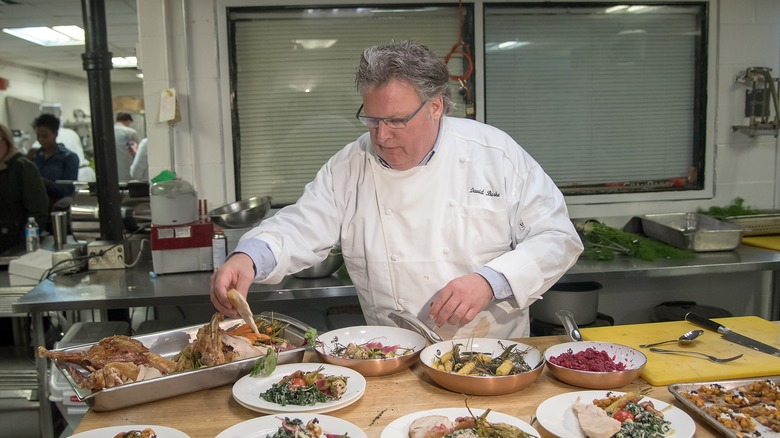 Mike Pont/Getty Images
So, how does chef David Burke feel about a Bobby Flay rematch? "I would love it," he told Mashed. "Hundred percent." In fact, Burke went so far as to suggest that we at Mashed help put those wheels in motion by putting it out there. So, here you have it. Bobby Flay, you are hereby challenged to a rematch against your longtime pal and rival, David Burke. 
"What's fun about a guy like Bobby or any of the other girls or guys that have been in the city since the '80s is you shared a lot," Burke reflected. "Your paths are cemented, you're talking about four decades in the same city cooking together." While we can't say for certain what Flay's response might be, we're confident in Burke's assessment that he will likely "get a kick out of it." In addition to having shared their salad days in New York and, later, facing off on "Iron Chef America," both Burke and Flay spend some of their time in Saratoga, the quaint, upstate New York town famous for its historic racecourse and annual jazz festival (via Saratoga). "[Bobby] comes up to Saratoga in the summer," Burke pointed out, "I usually see him up there." Saratoga is also home to two of Burke's 20+ restaurants, including Salt & Char, per Burke's website.

Stay up to date with Chef David Burke's activities, including his involvement with the Samuel Waxman Cancer Research Foundation, by visiting his website and social media.