Easy Roti Recipe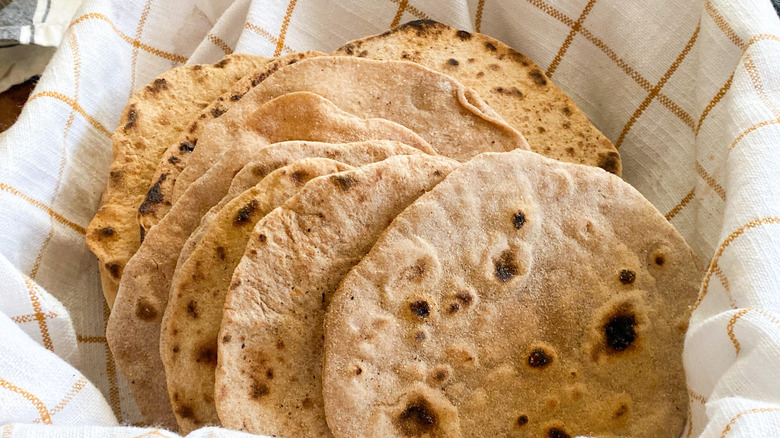 Miriam Hahn/Mashed
Sometimes we love a recipe because its rich flavors instantly make it the star of the meal. Other times, a side dish that might seem as though it was an afterthought ends up being the one that truly shines. This easy roti recipe by Miriam Hahn of YouCare-SelfCare fits into the latter category. Hahn is a passionate recipe developer who's keen to share nutritious recipes with others. Thanks to her enthusiasm, Hahn has all of us obsessed with this versatile recipe, noting, "These are delicious!"
Roti is a type of flatbread that's made without yeast, and it has a pretty convoluted origin story. The Indian Express reported that Persia, East Africa, and India are all possible sources of the bread. The site remarked that nowadays, roti is served alongside most Indian meals. The flatbread is ideal for mopping up extra sauce, as a snack with some dip, or even used as a wrap with filling. As Hahn puts it, "Roti is great with so many things." You might find yourself serving roti with all of your meals once you see how versatile it is.
Gather the ingredients to prepare this easy roti recipe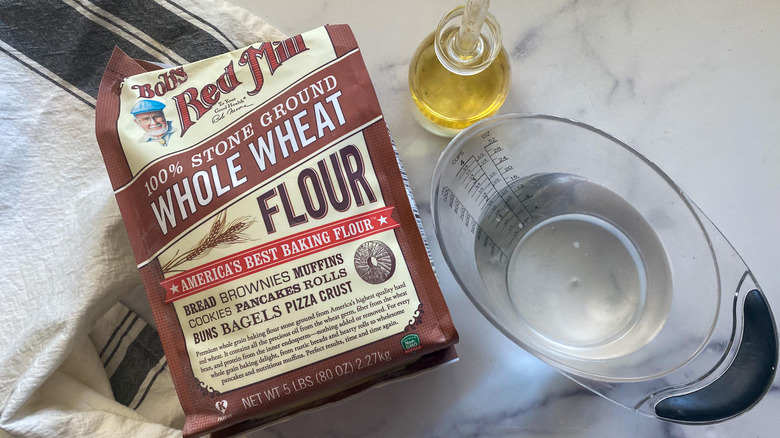 Miriam Hahn/Mashed
Since roti is usually eaten with other dishes, the ingredient list is short. For starters, you'll need some whole wheat flour for the dough, and some extra to help you with the kneading and rolling process. Hahn explains, "Roti is traditionally made with whole wheat flour, also called atta flour, chapati flour, or atta chakka." Atta flour is usually very finely milled and great for making thin flatbreads. Hahn remarks, "I always just stick with the authentic method," but if you want to incorporate all-purpose flour, she recommends using a combo of 1 cup of all purpose-flour and 1 cup of whole wheat flour. To form the dough, you'll need water and oil. Hahn uses avocado oil for the dough, but you can substitute with your preferred type of oil. 
As you can see, the ingredients are quite simple, and Hahn notes, "I usually keep them plain and dip them in something with spice and flavor." All the same, she says you can add other spices if you want to season them to eat alone.
Mix the flour and water in a bowl, then blend in the oil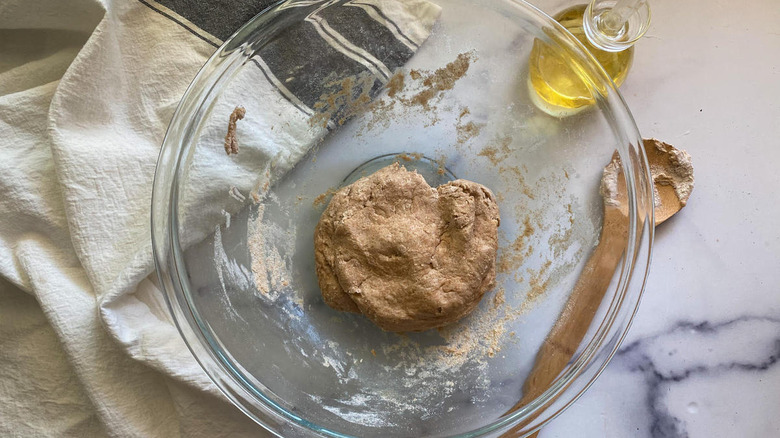 Miriam Hahn/Mashed
To get started preparing your roti, set out a large bowl, and add the whole wheat flour. Slowly add in the water, mixing as you go to avoid adding too much at once. Hahn recommends using a wooden spoon at first to mix the water and the flour together, and then to continue the process with your hands. When the water has been incorporated, add your choice of oil, and keep mixing the dough until it is smooth and supple. The step is really much easier than it sounds.
Knead the dough on a floured surface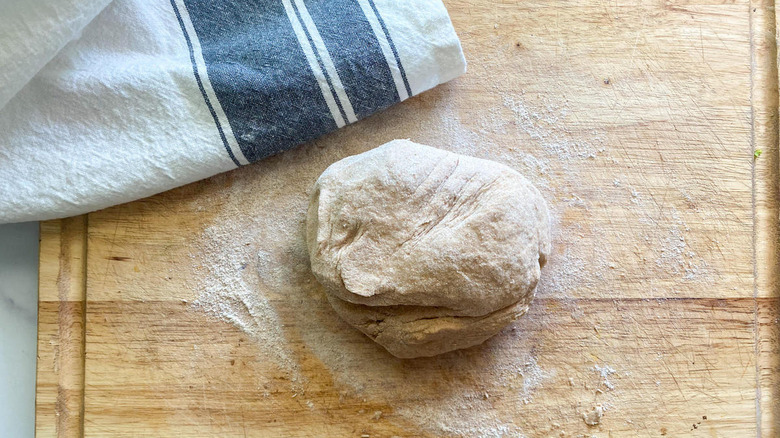 Miriam Hahn/Mashed
When you're satisfied that the dough is smoothly blended, transfer it to a floured surface or board. Next, knead the dough with your hands for three minutes to help form the dough and keep it soft and pliable. Then, you're going to place the kneaded dough into a clean glass bowl, and cover it with a damp dishcloth. Let it set aside for full 30 minutes. Be patient, as this resting step is important. The sitting time will allow the dough come together properly, facilitating the rolling process that you will soon be doing.
Roll the dough into nine balls
Miriam Hahn/Mashed
After the dough has rested for 30 minutes, it's time to divide the mass into nine equal pieces. One by one, roll each of the nine pieces of dough into balls, and then cover them with the damp dishtowel. By rolling all the dough into balls first, you'll be ready for the following step. This will help you be efficient about flattening each ball into a disc to prepare the roti for cooking.
Roll the balls out into five-inch discs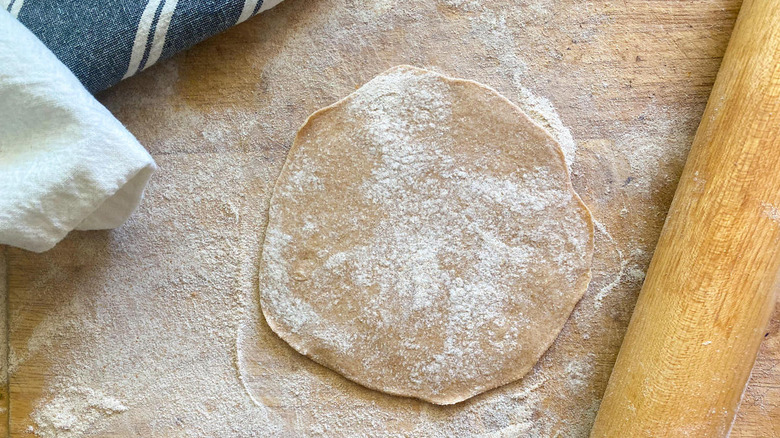 Miriam Hahn/Mashed
Using a rolling pin, flatten out the dough balls one by one into five-inch diameter discs. If you are on a time crunch, Hahn suggests rolling the dough into discs while the previous roti is cooking in the skillet. Hahn advises, "Use lots of flour on your board and rolling pin when rolling out." Meanwhile, she says, "Keep the balls of dough covered when you are working on them one at a time." This will prevent the dough from drying out, as you want your roti to remain as soft and flexible as possible.
Cook the roti one by one in a cast iron skillet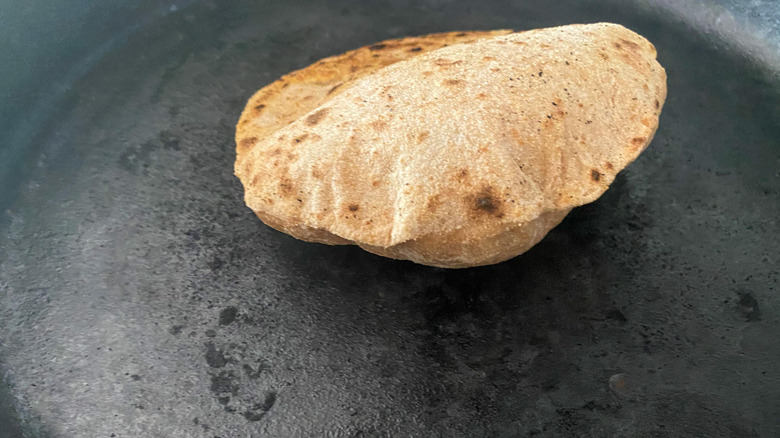 Miriam Hahn/Mashed
For this next step, heat a cast iron skillet on the stove top at medium-high heat. Hahn notes, "The skillet needs to be really hot when you are cooking the roti." Once it is sufficiently hot, place one roti dough disc into the pan, and cook it for 15 to 30 seconds until bubbles start to form on the top. If it's taking some time, Hahn explains, "A cast iron skillet will retain the heat, so the first couple roti you cook will take a little longer." Flip the roti, and cook the second side for 30 to 60 seconds until the bottom side has brown spots. Finally, flip the roti back once more, and it should puff up and inflate like a bubble.
Your first roti is ready! Remove it from the pan, and move on to the next. The following roti should brown quicker since the cast iron skillet has had the time to heat up. Continue the process, flipping the roti to cook each side until all nine discs are ready.
Serve the roti with a dip or a main course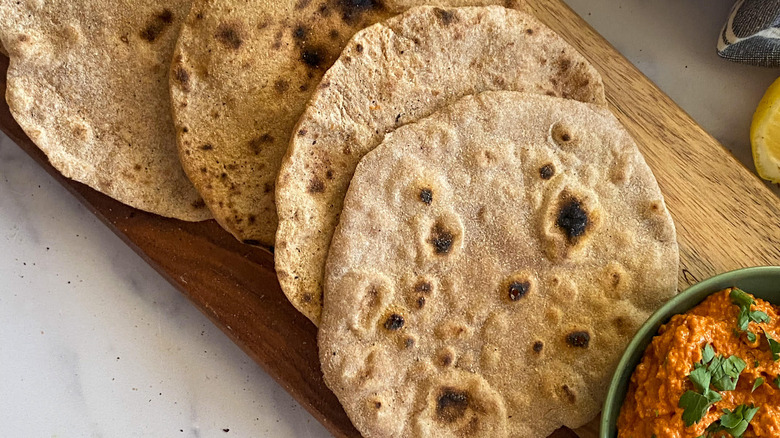 Miriam Hahn/Mashed
Once all nine roti are ready, it's time to dig in, and enjoy them warm. Hahn enjoys serving them with muhammara sauce, which she explains, "is a Middle Eastern roasted red pepper dip." (Yum!) Hummus and butter are other favorites for snacking, and for a main meal Hahn says roti is "great with lentil or curry dishes, dipped in soups, or stuffed with roasted vegetables."
If you don't get through all of your roti in one sitting, you can store them wrapped in aluminum foil or in an airtight container in the fridge for a day or two. Any longer, and you're better off freezing them.
This is such an amazing recipe to whip up for an appetizer or buffet, as it's a definite and instant crowdpleaser.
Easy Roti Recipe
This easy roti recipe is ideal for mopping up extra sauce, to enjoy as a snack with some dip, or even used as a wrap with filling.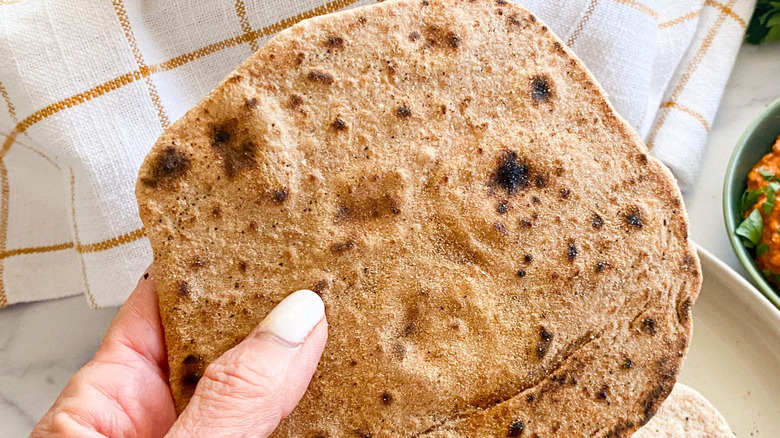 Ingredients
2 cups whole wheat flour + more for kneading
¾ cup water
1 teaspoon avocado oil
Directions
Add the flour to a bowl, and start adding water a little bit at a time as you mix. Mix the dough with a wooden spoon to begin, then use your hands. Add the oil, and keep mixing until the dough is soft and pliable.
Lay the dough onto a floured board, and knead it for 3 minutes.
Put it in a clean glass bowl, and cover it with a damp dishtowel for 30 minutes.
Divide the dough into nine equal parts, and roll each part into a ball.
Cover the dough balls with the damp dishtowel, and roll them flat on a floured surface, one at a time, into 5-inch diameter discs using a rolling pin.
Heat a cast iron skillet to medium-high heat.
When the skillet is hot, add one roti to the pan, and cook it for 15 to 30 seconds until bubbles start to form on top.
Then, flip it, and cook the other side for 30 to 60 seconds until the bottom side has brown spots.
Finally, flip the roti back over, and it should puff up and make a big bubble.
Remove the roti from the pan. Repeat the process with the rest of the dough balls until all nine roti have been cooked.
Nutrition
| | |
| --- | --- |
| Calories per Serving | 95 |
| Total Fat | 1.2 g |
| Saturated Fat | 0.2 g |
| Trans Fat | 0.0 |
| Cholesterol | 0.0 mg |
| | |
| --- | --- |
| Total Carbohydrates | 19.2 g |
| Dietary Fiber | 2.9 g |
| Total Sugars | 0.1 g |
| Sodium | 1.3 mg |
| Protein | 3.5 g |