Eggo's New Emoji Waffles Have People Talking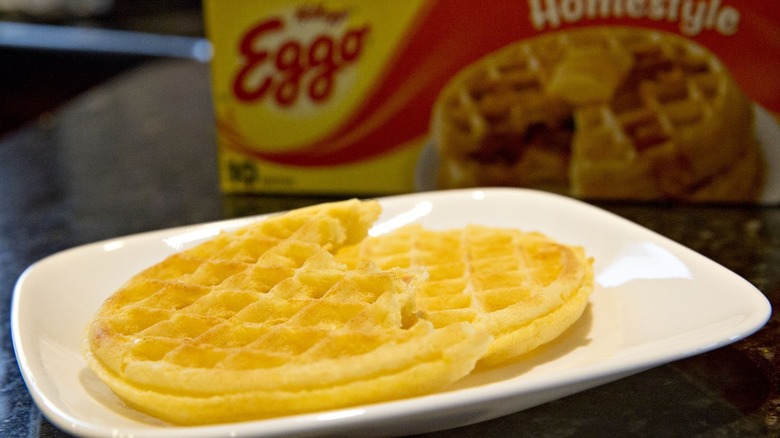 Bloomberg/Getty Images
What's better than a freshly prepared waffle for breakfast? Nothing else quite compares, right? Well, Kellogg's Eggo brand started offering easy-to-make products for customers a long time ago, with delicious frozen waffles that could be made using a common toaster. As the brand states on the LeggoMyEggo website, its founder, Frank Dorsa, always strived to come up with ways to make cooking hassle-free for others. This is how he came up with a delicious waffle mix in the 1930s with his brothers' help. 
"[Frank Dorsa] invented a system by which he made waffles on waffle irons, just like the ones you can find at home, and then flash froze them — thus creating the Eggo frozen waffle," per a description on Eggo's website.
Well, the brand now offers several varieties such as Buttermilk, Blueberry, Apple Cinnamon, Chocolate Chip, Cinnamon Toast, Strawberry, and more. And now, Eggo has something new for its fans: Eggoji waffles (you read that correctly) that are truly perfect for its tech-savvy customers and have a special surprise.
Eggoji waffles are really cute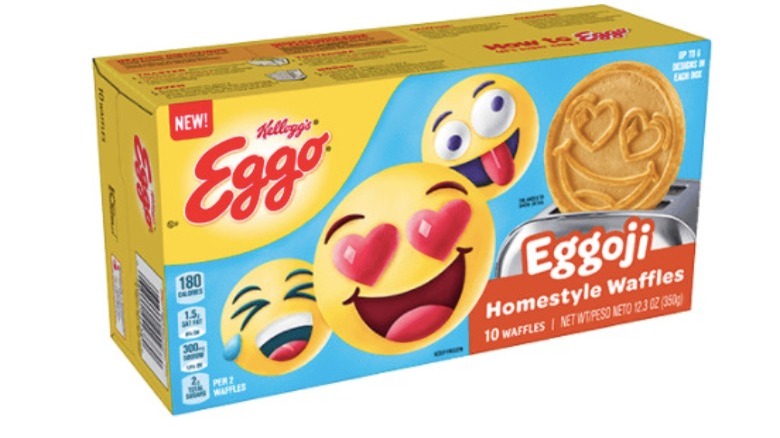 Kellogg's
So, what exactly are Eggoji waffles? Per the brand, these are just like its classic waffles except that they feature "up to six fun character designs in every box." These are bound to be a hit, especially among children. According to PR News Wire, the yummy waffles are inspired from actual emojis and include interesting designs such as the popular emoji with heart eyes. According to the Eggo's marketing director, Joe Beauprez, the Eggoji waffles are meant to commemorate World Emoji Day, which falls on July 17. Well, as Beauprez asked, "What better way for parents to create small wins for their kids than by serving them — quite literally — smiles on a plate?"
Eggo is also using this opportunity to donate half a million breakfast meals to the charity organization, No Kid Hungry. Every post that features the hashtag #EggojiNoKidHungry will help feed families in need.