Aldi Fans Can't Get Enough Of This Vegan Ice Cream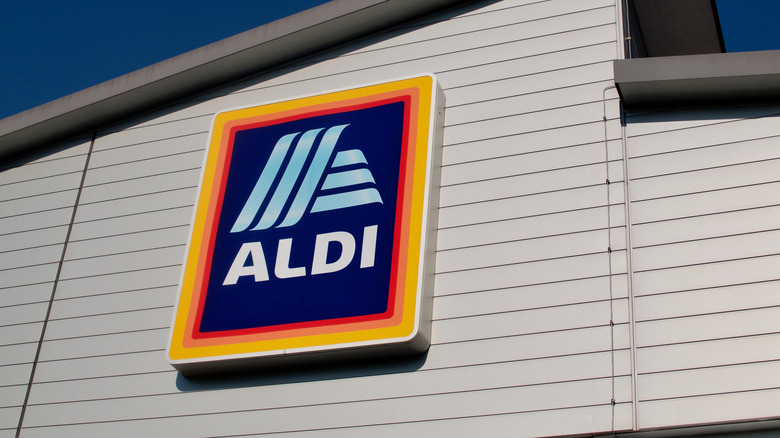 Shutterstock
Ice cream is perhaps the perfect summer treat. It's cool enough to be refreshing, but sweet and creamy enough to be enjoyed as an indulgent dessert. However, for individuals who do not consume dairy, finding a satisfying substitute for this warm weather delight can be very difficult. All too often, vegan and plant-based ice creams fall short when it comes to texture, flavor, or both. Luckily, that does not seem to be the case with Aldi's new Earth Grown vegan ice cream. Made with coconut milk and completely free from animal products, this decadent new dessert is turning heads online, as evidenced by a post from Instagram account @aldifavoritefinds.
This dairy-free frozen treat comes in a variety of tasty flavors, including chocolate peanut butter, raspberry cheesecake, and mint chocolate chip, and each one delivers all the satisfying sweetness of a regular pint of ice cream, but with none of the dairy. But these vegan treats are a special buy, which means they won't stay on Aldi's shelves for long.
Aldi's Earth Grown vegan ice cream received rave reviews online
Aldi fans couldn't stop raving about the store's new Earth Grown vegan products, and many were quick to post their positive reviews on social media. The Instagram account @adventuresinaldi made a post asking their followers: "I'm all about that #dairyfree & #vegan ice cream at Aldi right now! ALL of the flavors sound so dang good to me!! Which one are you grabbing?!" Based on the responses, any one of the flavors would make a good choice. "They are all worth it! Sooo good! We always get the plain chocolate one they have at our store permanently," follower @xoxomanderxoxo replied. "I bought all of them and they are all delicious!!" another Instagram user chimed in.
The only complaint people had about this ice cream is that it doesn't stay in stock long enough. "I just wish they weren't 'seasonal'. I'm dairy free all year round, lol," @ollivia.anne posted. These vegan treats can be found in the special buy freezer section of your local Aldi for just $2.99, per Instagram. So head to your local Aldi to sample all the flavors of these delicious and dairy-free ice creams while they are still available.