Nearly 22% Agree This Is The Best Dish At Olive Garden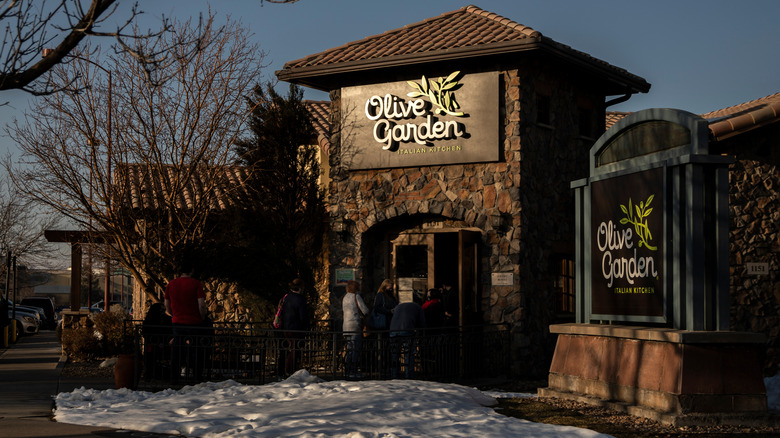 Bloomberg/Getty Images
As a renowned chain of restaurants, Olive Garden always intended to aim high. According to The Daily Meal, even early on its founders envisioned Olive Garden ending up as a successful chain in the US, a dream that did come true as the brand was greeted enthusiastically by customers pretty quickly when it made its debut in Orlando, Florida in the '80s. Olive Garden remains a popular name to this day as it's considered the number-one chain Italian restaurant in America.
Currently, the brand's selling point is that it offers an inviting space for families to come together and make memories over delicious Italian food. On their website, Olive Garden states, "From never-ending servings of our freshly-baked breadsticks and iconic garden salad, to our homemade soups and sauces, there's something for everyone to enjoy."
When it comes to food options at the restaurant, diners can choose from pretty specific dishes like Shrimp Alfredo, Eggplant Parmigiana, Chicken and Shrimp Carbonara, and more. In wondering what is most preferred by diners, Mashed conducted a survey to find out which dish most people love the best.
Tour of Italy is the clear winner at Olive Garden
The survey asked 637 participants around the US to pick their most preferred dish while dining at Olive Garden – and the results were intriguing. While only 8.95% chosen the Chicken Scampi, 20.41% love the Shrimp Scampi. Those going for poultry seemed to favor the Chicken Alfredo more, with that dish pulling in 20.88% of the vote. Pasta dishes were in the mid-range with the Giant Cheese Stuffed Shells netting 14.44% of the vote and the classic Fettuccine Alfredo coming in at only a surprising 13.50%. 
But diners here clearly love variety as the dish that 21.82% of respondents prefer is the Tour of Italy, an option that lets you try out a few different menu staples at once. The Tour of Italy is a good choice to order as it gives you portioned sizes of several dishes, including the Chicken Parmigiana, Lasagna, and Fettuccine Alfredo. Coupled with the restaurant's endless salad and breadsticks, it's a real feast — and probably leaves you with leftovers for the next day, too.